Here are the 95 Bible Verses about Sinners from the Old and New Testaments of The Holy Bible (King James Version) sorted from most to least relevant.
Related topics: Death · Divorce · Pride · Repentance · Self-Control · Tattoos
10 Best Bible Verses about Sinners
For all have sinned, and come short of the glory of God.
If we confess our sins, he is faithful and just to forgive us our sins, and to cleanse us from all unrighteousness.
For the wages of sin is death; but the gift of God is eternal life through Jesus Christ our Lord.
When Jesus heard it, he saith unto them, They that are whole have no need of the physician, but they that are sick: I came not to call the righteous, but sinners to repentance.
But God commendeth his love toward us, in that, while we were yet sinners, Christ died for us.
But the fearful, and unbelieving, and the abominable, and murderers, and whoremongers, and sorcerers, and idolaters, and all liars, shall have their part in the lake which burneth with fire and brimstone: which is the second death.
For there is not a just man upon earth, that doeth good, and sinneth not.
The Lord is not slack concerning his promise, as some men count slackness; but is longsuffering to us-ward, not willing that any should perish, but that all should come to repentance.
If any man see his brother sin a sin which is not unto death, he shall ask, and he shall give him life for them that sin not unto death. There is a sin unto death: I do not say that he shall pray for it.
He that committeth sin is of the devil; for the devil sinneth from the beginning. For this purpose the Son of God was manifested, that he might destroy the works of the devil.
More Bible Verses about Sinners
For whosoever shall keep the whole law, and yet offend in one point, he is guilty of all.
And spared not the old world, but saved Noah the eighth person, a preacher of righteousness, bringing in the flood upon the world of the ungodly; And turning the cities of Sodom and Gomorrha into ashes condemned them with an overthrow, making them an ensample unto those that after should live ungodly
Ye are of your father the devil, and the lusts of your father ye will do. He was a murderer from the beginning, and abode not in the truth, because there is no truth in him. When he speaketh a lie, he speaketh of his own: for he is a liar, and the father of it.
Then drew near unto him all the publicans and sinners for to hear him. And the Pharisees and scribes murmured, saying, This man receiveth sinners, and eateth with them.
Neither is there salvation in any other: for there is none other name under heaven given among men, whereby we must be saved.
Jesus answered them, Verily, verily, I say unto you, Whosoever committeth sin is the servant of sin.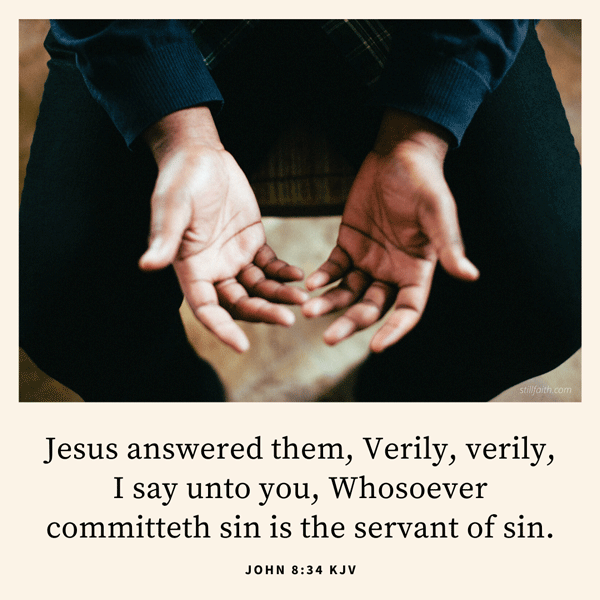 Mortify therefore your members which are upon the earth; fornication, uncleanness, inordinate affection, evil concupiscence, and covetousness, which is idolatry: For which things' sake the wrath of God cometh on the children of disobedience: In the which ye also walked some time, when ye lived in them. But now ye also put off all these; anger, wrath, malice, blasphemy, filthy communication out of your mouth. Lie not one to another, seeing that ye have put off the old man with his deeds; And have put on the new man, which is renewed in knowledge after the image of him that created him.
Now the works of the flesh are manifest, which are these; Adultery, fornication, uncleanness, lasciviousness, Idolatry, witchcraft, hatred, variance, emulations, wrath, strife, seditions, heresies, Envyings, murders, drunkenness, revellings, and such like: of the which I tell you before, as I have also told you in time past, that they which do such things shall not inherit the kingdom of God.
And as it is appointed unto men once to die, but after this the judgment.
For this is the will of God, even your sanctification, that ye should abstain from fornication.
And these shall go away into everlasting punishment: but the righteous into life eternal.
Let him that stole steal no more: but rather let him labour, working with his hands the thing which is good, that he may have to give to him that needeth.
Know ye not that the unrighteous shall not inherit the kingdom of God? Be not deceived: neither fornicators, nor idolaters, nor adulterers, nor effeminate, nor abusers of themselves with mankind, Nor thieves, nor covetous, nor drunkards, nor revilers, nor extortioners, shall inherit the kingdom of God.
For thou wilt not leave my soul in hell; neither wilt thou suffer thine Holy One to see corruption.
For in that he died, he died unto sin once: but in that he liveth, he liveth unto God. Likewise reckon ye also yourselves to be dead indeed unto sin, but alive unto God through Jesus Christ our Lord. Let not sin therefore reign in your mortal body, that ye should obey it in the lusts thereof.
Wherefore, as by one man sin entered into the world, and death by sin; and so death passed upon all men, for that all have sinned.
For the Son of man is come to seek and to save that which was lost.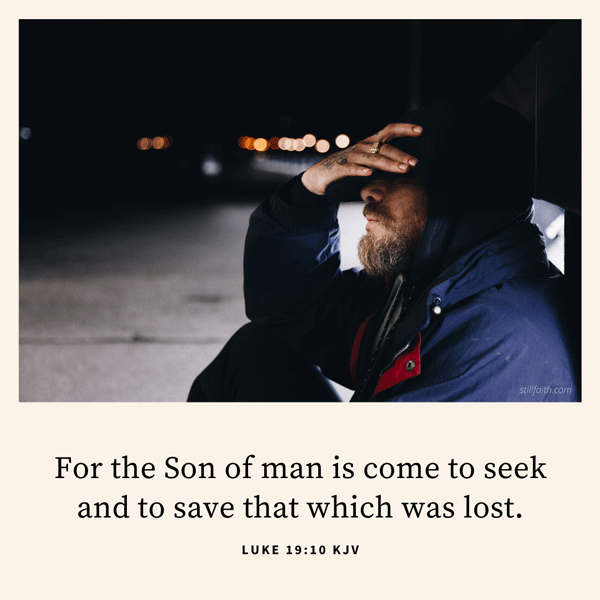 All we like sheep have gone astray; we have turned every one to his own way; and the Lord hath laid on him the iniquity of us all.
Come now, and let us reason together, saith the Lord: though your sins be as scarlet, they shall be as white as snow; though they be red like crimson, they shall be as wool.
What shall we say then? Shall we continue in sin, that grace may abound? God forbid. How shall we, that are dead to sin, live any longer therein?
And fear not them which kill the body, but are not able to kill the soul: but rather fear him which is able to destroy both soul and body in hell.
Who his own self bare our sins in his own body on the tree, that we, being dead to sins, should live unto righteousness: by whose stripes ye were healed.
Therefore to him that knoweth to do good, and doeth it not, to him it is sin.
Then when lust hath conceived, it bringeth forth sin: and sin, when it is finished, bringeth forth death.
Having the understanding darkened, being alienated from the life of God through the ignorance that is in them, because of the blindness of their heart: Who being past feeling have given themselves over unto lasciviousness, to work all uncleanness with greediness. But ye have not so learned Christ; If so be that ye have heard him, and have been taught by him, as the truth is in Jesus: That ye put off concerning the former conversation the old man, which is corrupt according to the deceitful lusts; And be renewed in the spirit of your mind; And that ye put on the new man, which after God is created in righteousness and true holiness.
In whom we have redemption through his blood, the forgiveness of sins, according to the riches of his grace.
Having therefore these promises, dearly beloved, let us cleanse ourselves from all filthiness of the flesh and spirit, perfecting holiness in the fear of God.
For he hath made him to be sin for us, who knew no sin; that we might be made the righteousness of God in him.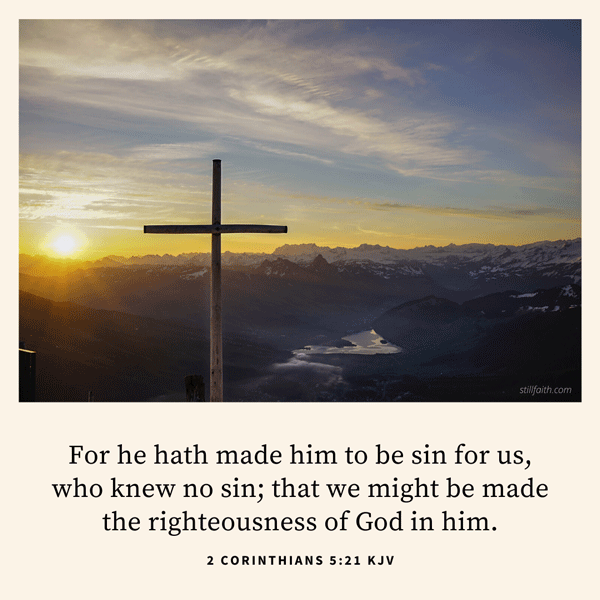 What then? are we better than they? No, in no wise: for we have before proved both Jews and Gentiles, that they are all under sin.
And this is the condemnation, that light is come into the world, and men loved darkness rather than light, because their deeds were evil.
But we are all as an unclean thing, and all our righteousnesses are as filthy rags; and we all do fade as a leaf; and our iniquities, like the wind, have taken us away.
He that covereth his sins shall not prosper: but whoso confesseth and forsaketh them shall have mercy.
If I regard iniquity in my heart, the Lord will not hear me: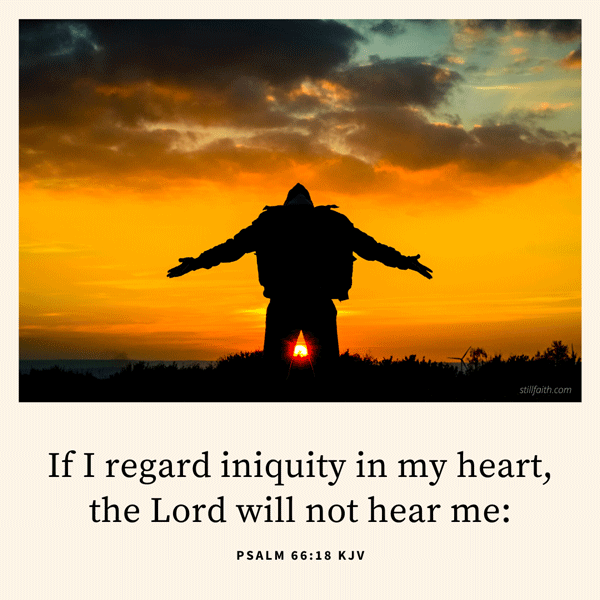 But if we walk in the light, as he is in the light, we have fellowship one with another, and the blood of Jesus Christ his Son cleanseth us from all sin. If we say that we have no sin, we deceive ourselves, and the truth is not in us.
But put ye on the Lord Jesus Christ, and make not provision for the flesh, to fulfil the lusts thereof.
Therefore, brethren, we are debtors, not to the flesh, to live after the flesh.
Or despisest thou the riches of his goodness and forbearance and longsuffering; not knowing that the goodness of God leadeth thee to repentance?
Now we know that God heareth not sinners: but if any man be a worshipper of God, and doeth his will, him he heareth.
And if ye do good to them which do good to you, what thank have ye? for sinners also do even the same.
Many shall be purified, and made white, and tried; but the wicked shall do wickedly: and none of the wicked shall understand; but the wise shall understand.
Behold, I have refined thee, but not with silver; I have chosen thee in the furnace of affliction.
Whoso walketh uprightly shall be saved: but he that is perverse in his ways shall fall at once.
The merciful man doeth good to his own soul: but he that is cruel troubleth his own flesh.
For the upright shall dwell in the land, and the perfect shall remain in it. But the wicked shall be cut off from the earth, and the transgressors shall be rooted out of it.
Who did no sin, neither was guile found in his mouth.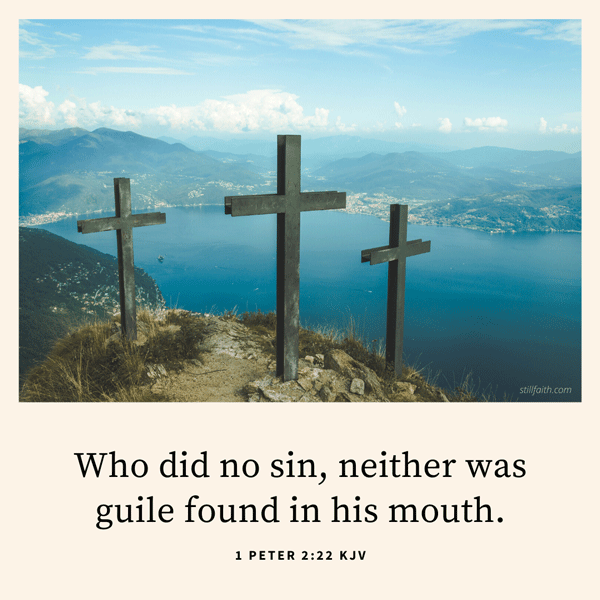 For we have not an high priest which cannot be touched with the feeling of our infirmities; but was in all points tempted like as we are, yet without sin.
For such an high priest became us, who is holy, harmless, undefiled, separate from sinners, and made higher than the heavens.
And ye know that he was manifested to take away our sins; and in him is no sin.
But the scripture hath concluded all under sin, that the promise by faith of Jesus Christ might be given to them that believe.
If they sin against thee, (for there is no man that sinneth not,) and thou be angry with them, and deliver them to the enemy, so that they carry them away captives unto the land of the enemy, far or near.
Good and upright is the Lord: therefore will he teach sinners in the way. The meek will he guide in judgment: and the meek will he teach his way. All the paths of the Lord are mercy and truth unto such as keep his covenant and his testimonies.
And he shall redeem Israel from all his iniquities.
This is a faithful saying, and worthy of all acceptation, that Christ Jesus came into the world to save sinners; of whom I am chief.
For what the law could not do, in that it was weak through the flesh, God sending his own Son in the likeness of sinful flesh, and for sin, condemned sin in the flesh.
There shall be no whore of the daughters of Israel, nor a sodomite of the sons of Israel. Thou shalt not bring the hire of a whore, or the price of a dog, into the house of the Lord thy God for any vow: for even both these are abomination unto the Lord thy God.
And, behold, a woman in the city, which was a sinner, when she knew that Jesus sat at meat in the Pharisee's house, brought an alabaster box of ointment, And stood at his feet behind him weeping, and began to wash his feet with tears, and did wipe them with the hairs of her head, and kissed his feet, and anointed them with the ointment. Now when the Pharisee which had bidden him saw it, he spake within himself, saying, This man, if he were a prophet, would have known who and what manner of woman this is that toucheth him: for she is a sinner.
And if the righteous scarcely be saved, where shall the ungodly and the sinner appear?
Behold, the righteous shall be recompensed in the earth: much more the wicked and the sinner.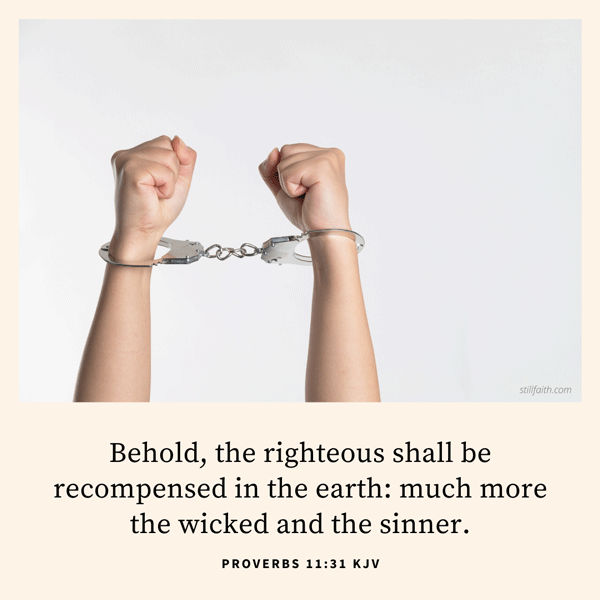 Blessed is the man that walketh not in the counsel of the ungodly, nor standeth in the way of sinners, nor sitteth in the seat of the scornful.
My son, if sinners entice thee, consent thou not. If they say, Come with us, let us lay wait for blood, let us lurk privily for the innocent without cause: Let us swallow them up alive as the grave; and whole, as those that go down into the pit: We shall find all precious substance, we shall fill our houses with spoil: Cast in thy lot among us; let us all have one purse: My son, walk not thou in the way with them; refrain thy foot from their path: For their feet run to evil, and make haste to shed blood.
Let the sinners be consumed out of the earth, and let the wicked be no more. Bless thou the Lord, O my soul. Praise ye the Lord.
Surely thou wilt slay the wicked, O God: depart from me therefore, ye bloody men.
But your iniquities have separated between you and your God, and your sins have hid his face from you, that he will not hear.
The Lord is far from the wicked: but he heareth the prayer of the righteous.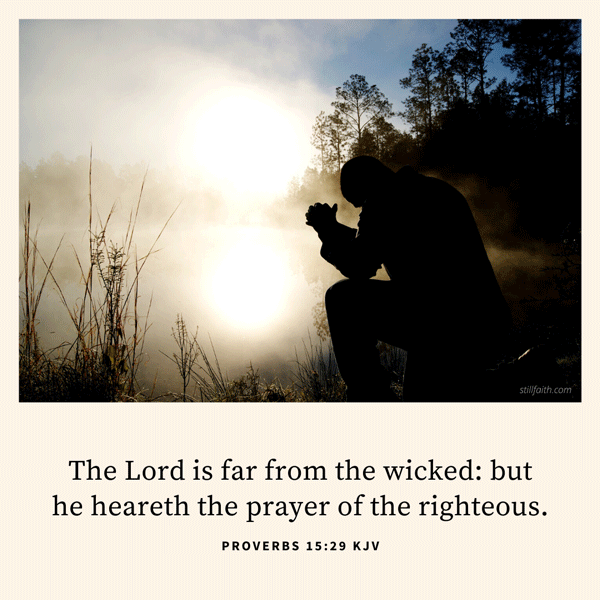 And when ye spread forth your hands, I will hide mine eyes from you: yea, when ye make many prayers, I will not hear: your hands are full of blood.
Evil pursueth sinners: but to the righteous good shall be repayed. A good man leaveth an inheritance to his children's children: and the wealth of the sinner is laid up for the just.
Therefore the ungodly shall not stand in the judgment, nor sinners in the congregation of the righteous.
The face of the Lord is against them that do evil, to cut off the remembrance of them from the earth.
But the transgressors shall be destroyed together: the end of the wicked shall be cut off.
And the destruction of the transgressors and of the sinners shall be together, and they that forsake the Lord shall be consumed.
Behold, the day of the Lord cometh, cruel both with wrath and fierce anger, to lay the land desolate: and he shall destroy the sinners thereof out of it.
The sinners in Zion are afraid; fearfulness hath surprised the hypocrites. Who among us shall dwell with the devouring fire? who among us shall dwell with everlasting burnings?
Thy way and thy doings have procured these things unto thee; this is thy wickedness, because it is bitter, because it reacheth unto thine heart.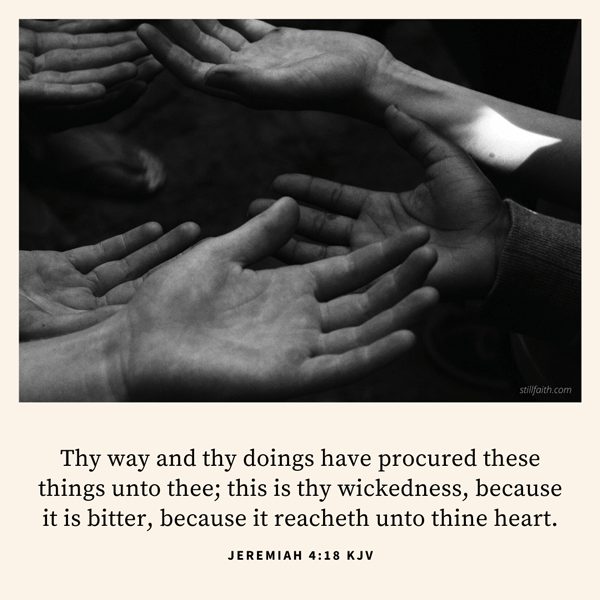 But the heavens and the earth, which are now, by the same word are kept in store, reserved unto fire against the day of judgment and perdition of ungodly men.
And they shall go forth, and look upon the carcases of the men that have transgressed against me: for their worm shall not die, neither shall their fire be quenched; and they shall be an abhorring unto all flesh.
In flaming fire taking vengeance on them that know not God, and that obey not the gospel of our Lord Jesus Christ: Who shall be punished with everlasting destruction from the presence of the Lord, and from the glory of his power.
Behold, I was shapen in iniquity; and in sin did my mother conceive me.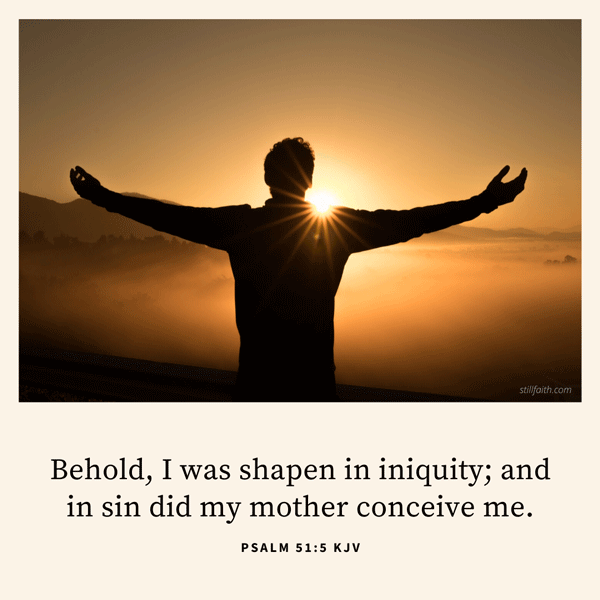 Among whom also we all had our conversation in times past in the lusts of our flesh, fulfilling the desires of the flesh and of the mind; and were by nature the children of wrath, even as others.
For as by one man's disobedience many were made sinners, so by the obedience of one shall many be made righteous.
For we know that the law is spiritual: but I am carnal, sold under sin.
The wicked are estranged from the womb: they go astray as soon as they be born, speaking lies.
And shall cast them into a furnace of fire: there shall be wailing and gnashing of teeth.
I came not to call the righteous, but sinners to repentance.
Two men went up into the temple to pray; the one a Pharisee, and the other a publican. The Pharisee stood and prayed thus with himself, God, I thank thee, that I am not as other men are, extortioners, unjust, adulterers, or even as this publican. I fast twice in the week, I give tithes of all that I possess. And the publican, standing afar off, would not lift up so much as his eyes unto heaven, but smote upon his breast, saying, God be merciful to me a sinner. I tell you, this man went down to his house justified rather than the other: for every one that exalteth himself shall be abased; and he that humbleth himself shall be exalted.
Whosoever is born of God doth not commit sin; for his seed remaineth in him: and he cannot sin, because he is born of God. In this the children of God are manifest, and the children of the devil: whosoever doeth not righteousness is not of God, neither he that loveth not his brother.