Here are the 48 best Bible verses about sickness from the Old and New Testaments of the Holy Bible (King James Version) sorted from most to least relevant.
Beloved, I wish above all things that thou mayest prosper and be in health, even as thy soul prospereth.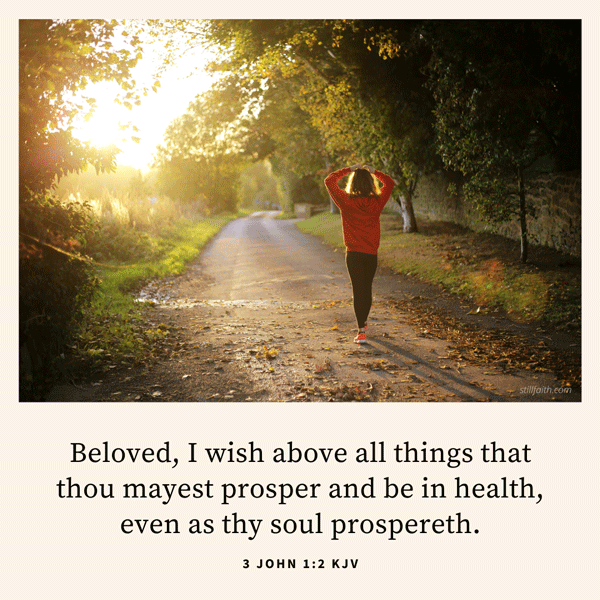 Is any sick among you? let him call for the elders of the church; and let them pray over him, anointing him with oil in the name of the Lord: And the prayer of faith shall save the sick, and the Lord shall raise him up; and if he have committed sins, they shall be forgiven him. Confess your faults one to another, and pray one for another, that ye may be healed. The effectual fervent prayer of a righteous man availeth much.
Who his own self bare our sins in his own body on the tree, that we, being dead to sins, should live unto righteousness: by whose stripes ye were healed.
But he was wounded for our transgressions, he was bruised for our iniquities: the chastisement of our peace was upon him; and with his stripes we are healed.
For our light affliction, which is but for a moment, worketh for us a far more exceeding and eternal weight of glory.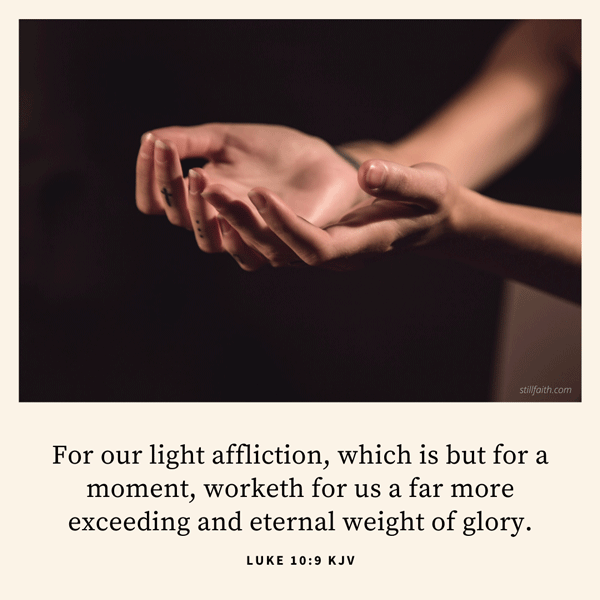 Casting all your care upon him; for he careth for you.
A merry heart doeth good like a medicine: but a broken spirit drieth the bones.
Confess your faults one to another, and pray one for another, that ye may be healed. The effectual fervent prayer of a righteous man availeth much.
The Lord will strengthen him upon the bed of languishing: thou wilt make all his bed in his sickness.
Then he called his twelve disciples together, and gave them power and authority over all devils, and to cure diseases.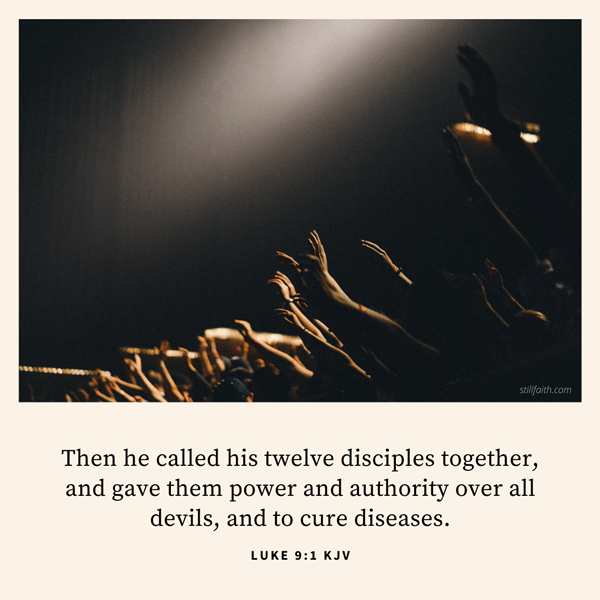 And Jesus looking upon them saith, With men it is impossible, but not with God: for with God all things are possible.
And when he had called unto him his twelve disciples, he gave them power against unclean spirits, to cast them out, and to heal all manner of sickness and all manner of disease.
And Jesus went about all Galilee, teaching in their synagogues, and preaching the gospel of the kingdom, and healing all manner of sickness and all manner of disease among the people. And his fame went throughout all Syria: and they brought unto him all sick people that were taken with divers diseases and torments, and those which were possessed with devils, and those which were lunatick, and those that had the palsy; and he healed them.
And as Jesus passed by, he saw a man which was blind from his birth. And his disciples asked him, saying, Master, who did sin, this man, or his parents, that he was born blind? Jesus answered, Neither hath this man sinned, nor his parents: but that the works of God should be made manifest in him. I must work the works of him that sent me, while it is day: the night cometh, when no man can work. As long as I am in the world, I am the light of the world. When he had thus spoken, he spat on the ground, and made clay of the spittle, and he anointed the eyes of the blind man with the clay, And said unto him, Go, wash in the pool of Siloam, (which is by interpretation, Sent.) He went his way therefore, and washed, and came seeing.
And said, If thou wilt diligently hearken to the voice of the Lord thy God, and wilt do that which is right in his sight, and wilt give ear to his commandments, and keep all his statutes, I will put none of these diseases upon thee, which I have brought upon the Egyptians: for I am the Lord that healeth thee.
Heal me, O Lord, and I shall be healed; save me, and I shall be saved: for thou art my praise.
He healeth the broken in heart, and bindeth up their wounds.
And ye shall serve the Lord your God, and he shall bless thy bread, and thy water; and I will take sickness away from the midst of thee.
He sent his word, and healed them, and delivered them from their destructions.
And Jesus went about all the cities and villages, teaching in their synagogues, and preaching the gospel of the kingdom, and healing every sickness and every disease among the people.
O Lord my God, I cried unto thee, and thou hast healed me.
And he said unto her, Daughter, thy faith hath made thee whole; go in peace, and be whole of thy plague.
Behold, I am the Lord, the God of all flesh: is there any thing too hard for me?
My son, attend to my words; incline thine ear unto my sayings. Let them not depart from thine eyes; keep them in the midst of thine heart. For they are life unto those that find them, and health to all their flesh.
For I will restore health unto thee, and I will heal thee of thy wounds, saith the Lord; because they called thee an Outcast, saying, This is Zion, whom no man seeketh after.
For I reckon that the sufferings of this present time are not worthy to be compared with the glory which shall be revealed in us.
And these signs shall follow them that believe; In my name shall they cast out devils; they shall speak with new tongues; They shall take up serpents; and if they drink any deadly thing, it shall not hurt them; they shall lay hands on the sick, and they shall recover.
Heal the sick, cleanse the lepers, raise the dead, cast out devils: freely ye have received, freely give.
When the even was come, they brought unto him many that were possessed with devils: and he cast out the spirits with his word, and healed all that were sick: That it might be fulfilled which was spoken by Esaias the prophet, saying, Himself took our infirmities, and bare our sicknesses.
Fear thou not; for I am with thee: be not dismayed; for I am thy God: I will strengthen thee; yea, I will help thee; yea, I will uphold thee with the right hand of my righteousness.
Many are the afflictions of the righteous: but the Lord delivereth him out of them all.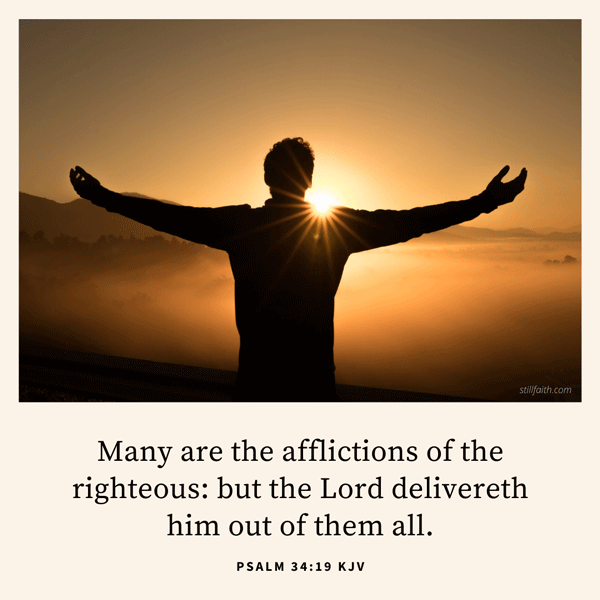 Now when the sun was setting, all they that had any sick with divers diseases brought them unto him; and he laid his hands on every one of them, and healed them.
Be careful for nothing; but in every thing by prayer and supplication with thanksgiving let your requests be made known unto God. And the peace of God, which passeth all understanding, shall keep your hearts and minds through Christ Jesus.
These things I have spoken unto you, that in me ye might have peace. In the world ye shall have tribulation: but be of good cheer; I have overcome the world.
And Jesus went forth, and saw a great multitude, and was moved with compassion toward them, and he healed their sick.
And it came to pass on a certain day, as he was teaching, that there were Pharisees and doctors of the law sitting by, which were come out of every town of Galilee, and Judaea, and Jerusalem: and the power of the Lord was present to heal them.
And when the men of that place had knowledge of him, they sent out into all that country round about, and brought unto him all that were diseased; And besought him that they might only touch the hem of his garment: and as many as touched were made perfectly whole.
And they cast out many devils, and anointed with oil many that were sick, and healed them.
And Jesus said unto the centurion, Go thy way; and as thou hast believed, so be it done unto thee. And his servant was healed in the selfsame hour.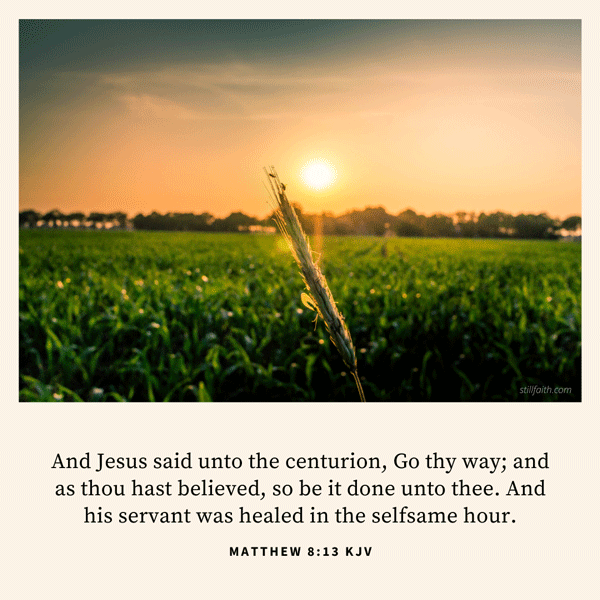 The same came to Jesus by night, and said unto him, Rabbi, we know that thou art a teacher come from God: for no man can do these miracles that thou doest, except God be with him.
Turn again, and tell Hezekiah the captain of my people, Thus saith the Lord, the God of David thy father, I have heard thy prayer, I have seen thy tears: behold, I will heal thee: on the third day thou shalt go up unto the house of the Lord.
Afterward Jesus findeth him in the temple, and said unto him, Behold, thou art made whole: sin no more, lest a worse thing come unto thee.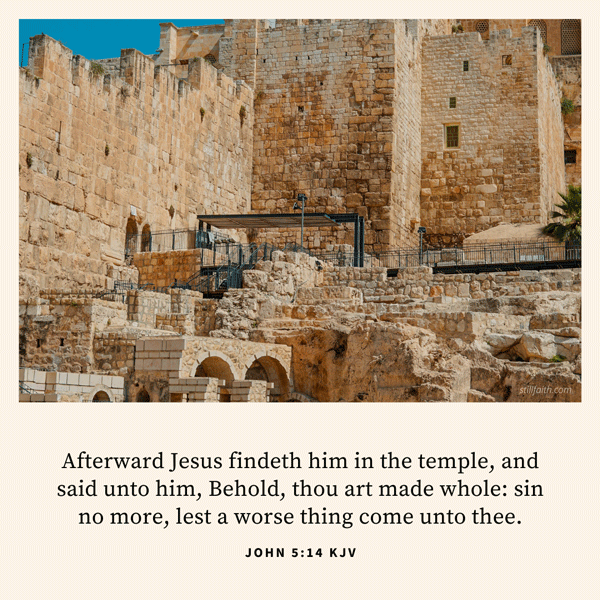 And it came to pass, that the father of Publius lay sick of a fever and of a bloody flux: to whom Paul entered in, and prayed, and laid his hands on him, and healed him.
But the God of all grace, who hath called us unto his eternal glory by Christ Jesus, after that ye have suffered a while, make you perfect, stablish, strengthen, settle you.
Behold, I will bring it health and cure, and I will cure them, and will reveal unto them the abundance of peace and truth.
And the Lord will take away from thee all sickness, and will put none of the evil diseases of Egypt, which thou knowest, upon thee; but will lay them upon all them that hate thee.
How God anointed Jesus of Nazareth with the Holy Ghost and with power: who went about doing good, and healing all that were oppressed of the devil; for God was with him.
And he could there do no mighty work, save that he laid his hands upon a few sick folk, and healed them.