Here are the 58 best Bible verses about sadness from the Old and New Testaments of the Holy Bible (King James Version) sorted from most to least relevant.
The Lord is nigh unto them that are of a broken heart; and saveth such as be of a contrite spirit.
Let not your heart be troubled: ye believe in God, believe also in me.
Cast thy burden upon the Lord, and he shall sustain thee: he shall never suffer the righteous to be moved.
For I know the thoughts that I think toward you, saith the Lord, thoughts of peace, and not of evil, to give you an expected end.
Come unto me, all ye that labour and are heavy laden, and I will give you rest.
The Lord is my rock, and my fortress, and my deliverer; my God, my strength, in whom I will trust; my buckler, and the horn of my salvation, and my high tower.
Casting all your care upon him; for he careth for you.
Is any among you afflicted? let him pray. Is any merry? let him sing psalms.
If ye abide in me, and my words abide in you, ye shall ask what ye will, and it shall be done unto you.
I will not leave you comfortless: I will come to you.
For this God is our God for ever and ever: he will be our guide even unto death.
But the God of all grace, who hath called us unto his eternal glory by Christ Jesus, after that ye have suffered a while, make you perfect, stablish, strengthen, settle you.
I pray not that thou shouldest take them out of the world, but that thou shouldest keep them from the evil.
Be strong and of a good courage, fear not, nor be afraid of them: for the Lord thy God, he it is that doth go with thee; he will not fail thee, nor forsake thee.
And I will pray the Father, and he shall give you another Comforter, that he may abide with you for ever.
He that dwelleth in the secret place of the most High shall abide under the shadow of the Almighty. I will say of the Lord, He is my refuge and my fortress: my God; in him will I trust.
A merry heart maketh a cheerful countenance: but by sorrow of the heart the spirit is broken. The heart of him that hath understanding seeketh knowledge: but the mouth of fools feedeth on foolishness.
And the Lord, he it is that doth go before thee; he will be with thee, he will not fail thee, neither forsake thee: fear not, neither be dismayed.
Submit yourselves therefore to God. Resist the devil, and he will flee from you.
I pray for them: I pray not for the world, but for them which thou hast given me; for they are thine.
Knowing that whatsoever good thing any man doeth, the same shall he receive of the Lord, whether he be bond or free.
Fear thou not; for I am with thee: be not dismayed; for I am thy God: I will strengthen thee; yea, I will help thee; yea, I will uphold thee with the right hand of my righteousness.
These things I have spoken unto you, that in me ye might have peace. In the world ye shall have tribulation: but be of good cheer; I have overcome the world.
Why art thou cast down, O my soul? and why art thou disquieted within me? hope thou in God: for I shall yet praise him, who is the health of my countenance, and my God.
For his anger endureth but a moment; in his favour is life: weeping may endure for a night, but joy cometh in the morning.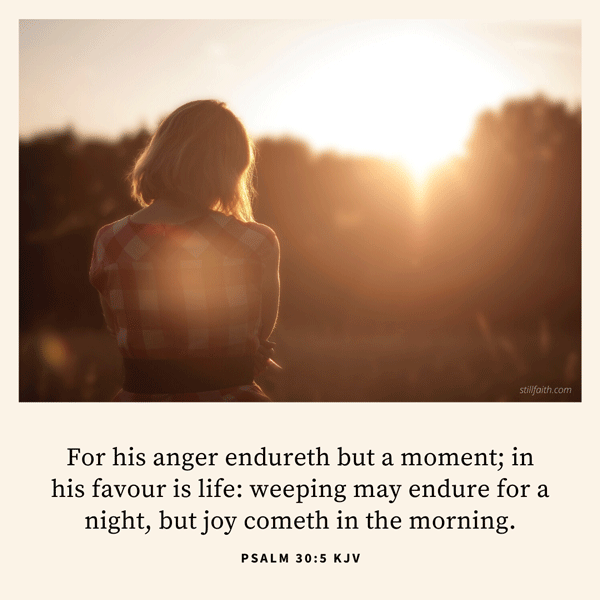 God is not a man, that he should lie; neither the son of man, that he should repent: hath he said, and shall he not do it? or hath he spoken, and shall he not make it good?
Blessed are they that mourn: for they shall be comforted.
The righteous cry, and the Lord heareth, and delivereth them out of all their troubles. The Lord is nigh unto them that are of a broken heart; and saveth such as be of a contrite spirit. Many are the afflictions of the righteous: but the Lord delivereth him out of them all.
And God shall wipe away all tears from their eyes; and there shall be no more death, neither sorrow, nor crying, neither shall there be any more pain: for the former things are passed away.
I can do all things through Christ which strengtheneth me.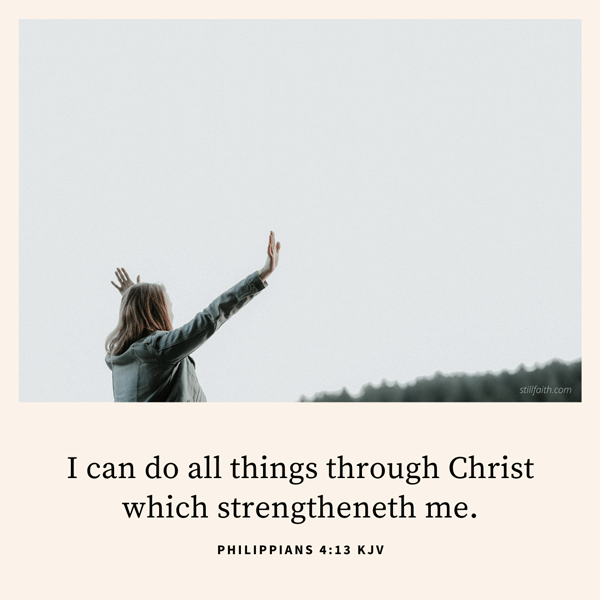 Yea, though I walk through the valley of the shadow of death, I will fear no evil: for thou art with me; thy rod and thy staff they comfort me.
Blessed be God, even the Father of our Lord Jesus Christ, the Father of mercies, and the God of all comfort; Who comforteth us in all our tribulation, that we may be able to comfort them which are in any trouble, by the comfort wherewith we ourselves are comforted of God.
I waited patiently for the Lord; and he inclined unto me, and heard my cry. He brought me up also out of an horrible pit, out of the miry clay, and set my feet upon a rock, and established my goings. And he hath put a new song in my mouth, even praise unto our God: many shall see it, and fear, and shall trust in the Lord.
Many sorrows shall be to the wicked: but he that trusteth in the Lord, mercy shall compass him about.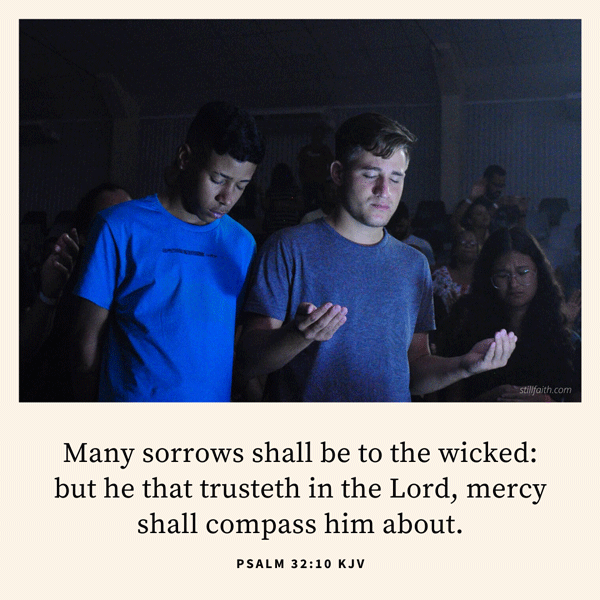 But I would not have you to be ignorant, brethren, concerning them which are asleep, that ye sorrow not, even as others which have no hope.
Be careful for nothing; but in every thing by prayer and supplication with thanksgiving let your requests be made known unto God.
But thou, O Lord, art a shield for me; my glory, and the lifter up of mine head.
Have not I commanded thee? Be strong and of a good courage; be not afraid, neither be thou dismayed: for the Lord thy God is with thee whithersoever thou goest.
The steps of a good man are ordered by the Lord: and he delighteth in his way. Though he fall, he shall not be utterly cast down: for the Lord upholdeth him with his hand.
For godly sorrow worketh repentance to salvation not to be repented of: but the sorrow of the world worketh death.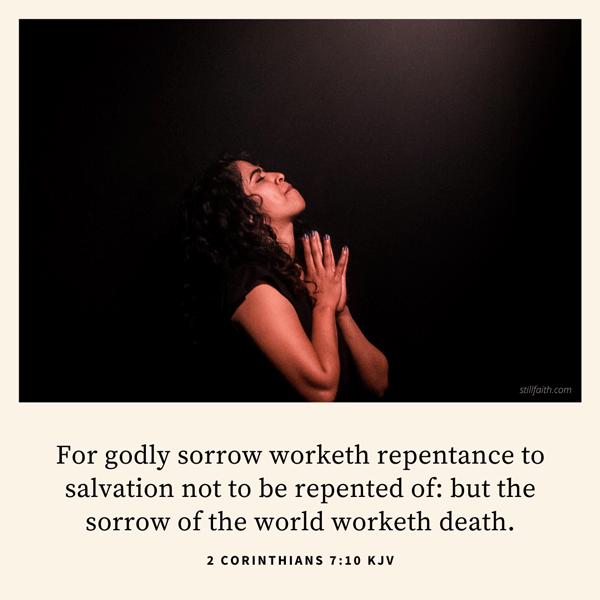 The Lord is my shepherd; I shall not want. He maketh me to lie down in green pastures: he leadeth me beside the still waters. He restoreth my soul: he leadeth me in the paths of righteousness for his name's sake. Yea, though I walk through the valley of the shadow of death, I will fear no evil: for thou art with me; thy rod and thy staff they comfort me. Thou preparest a table before me in the presence of mine enemies: thou anointest my head with oil; my cup runneth over. Surely goodness and mercy shall follow me all the days of my life: and I will dwell in the house of the Lord for ever.
The Lord also will be a refuge for the oppressed, a refuge in times of trouble.
Then he said unto them, Go your way, eat the fat, and drink the sweet, and send portions unto them for whom nothing is prepared: for this day is holy unto our Lord: neither be ye sorry; for the joy of the Lord is your strength.
Beloved, think it not strange concerning the fiery trial which is to try you, as though some strange thing happened unto you: But rejoice, inasmuch as ye are partakers of Christ's sufferings; that, when his glory shall be revealed, ye may be glad also with exceeding joy.
Rejoice evermore. Pray without ceasing. In every thing give thanks: for this is the will of God in Christ Jesus concerning you.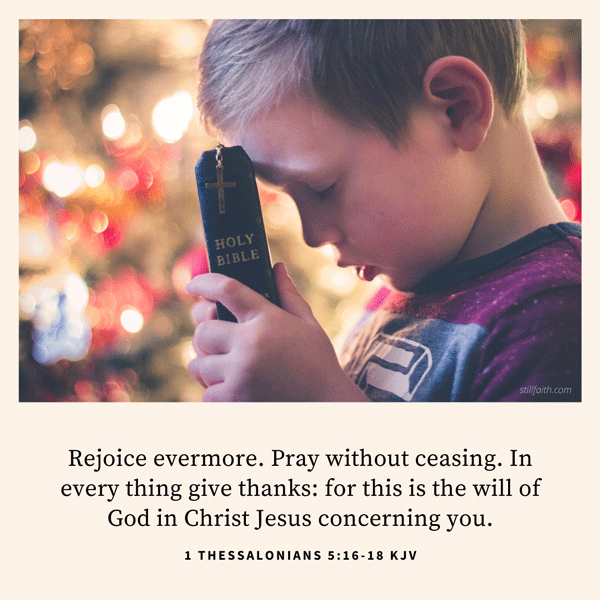 But they that wait upon the Lord shall renew their strength; they shall mount up with wings as eagles; they shall run, and not be weary; and they shall walk, and not faint.
Thou wilt keep him in perfect peace, whose mind is stayed on thee: because he trusteth in thee.
Peace I leave with you, my peace I give unto you: not as the world giveth, give I unto you. Let not your heart be troubled, neither let it be afraid.
Lord, all my desire is before thee; and my groaning is not hid from thee.
Therefore remove sorrow from thy heart, and put away evil from thy flesh: for childhood and youth are vanity.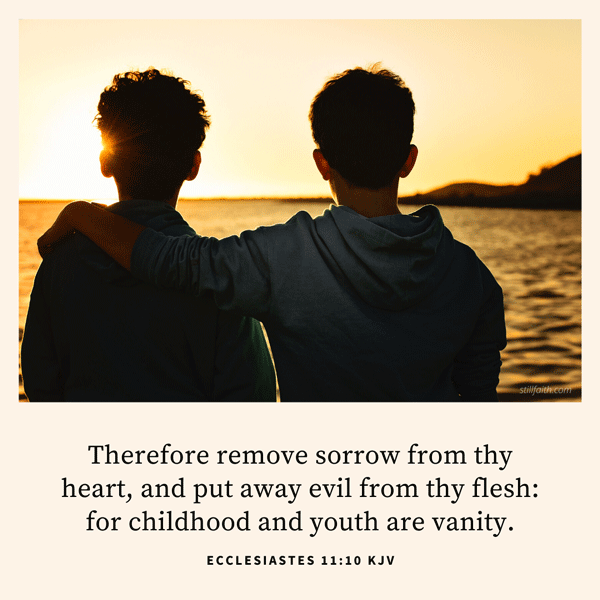 Rejoice with them that do rejoice, and weep with them that weep.
As sorrowful, yet alway rejoicing; as poor, yet making many rich; as having nothing, and yet possessing all things.
They shall hunger no more, neither thirst any more; neither shall the sun light on them, nor any heat. For the Lamb which is in the midst of the throne shall feed them, and shall lead them unto living fountains of waters: and God shall wipe away all tears from their eyes.
Turn again, and tell Hezekiah the captain of my people, Thus saith the Lord, the God of David thy father, I have heard thy prayer, I have seen thy tears: behold, I will heal thee: on the third day thou shalt go up unto the house of the Lord.
Then Job arose, and rent his mantle, and shaved his head, and fell down upon the ground, and worshipped, And said, Naked came I out of my mother's womb, and naked shall I return thither: the Lord gave, and the Lord hath taken away; blessed be the name of the Lord.
There hath no temptation taken you but such as is common to man: but God is faithful, who will not suffer you to be tempted above that ye are able; but will with the temptation also make a way to escape, that ye may be able to bear it.
Wherein ye greatly rejoice, though now for a season, if need be, ye are in heaviness through manifold temptations: That the trial of your faith, being much more precious than of gold that perisheth, though it be tried with fire, might be found unto praise and honour and glory at the appearing of Jesus Christ.
For I reckon that the sufferings of this present time are not worthy to be compared with the glory which shall be revealed in us.