Here are 111 Bible verses about contentment from the Old and New Testaments of the Holy Bible, King James Version, sorted from the most relevant to the least relevant.
Related topics: being still · encouragement · faithfulness of God · God's goodness · grace · obedience · patience
Philippians 4:11-13 KJV
Not that I speak in respect of want: for I have learned, in whatsoever state I am, therewith to be content. I know both how to be abased, and I know how to abound: every where and in all things I am instructed both to be full and to be hungry, both to abound and to suffer need. I can do all things through Christ which strengtheneth me.
Matthew 6:25-26 KJV
Therefore I say unto you, Take no thought for your life, what ye shall eat, or what ye shall drink; nor yet for your body, what ye shall put on. Is not the life more than meat, and the body than raiment? Behold the fowls of the air: for they sow not, neither do they reap, nor gather into barns; yet your heavenly Father feedeth them. Are ye not much better than they?
1 Timothy 6:6-10 KJV
But godliness with contentment is great gain. For we brought nothing into this world, and it is certain we can carry nothing out. And having food and raiment let us be therewith content. But they that will be rich fall into temptation and a snare, and into many foolish and hurtful lusts, which drown men in destruction and perdition. For the love of money is the root of all evil: which while some coveted after, they have erred from the faith, and pierced themselves through with many sorrows.
Hebrews 13:5 KJV
Let your conversation be without covetousness; and be content with such things as ye have: for he hath said, I will never leave thee, nor forsake thee.
Proverbs 19:23 KJV
The fear of the Lord tendeth to life: and he that hath it shall abide satisfied; he shall not be visited with evil.
Matthew 6:32-33 KJV
(For after all these things do the Gentiles seek:) for your heavenly Father knoweth that ye have need of all these things. But seek ye first the kingdom of God, and his righteousness; and all these things shall be added unto you.
Matthew 6:33 KJV
But seek ye first the kingdom of God, and his righteousness; and all these things shall be added unto you.
Luke 12:15 KJV
And he said unto them, Take heed, and beware of covetousness: for a man's life consisteth not in the abundance of the things which he possesseth.
2 Corinthians 12:9-10 KJV
And he said unto me, My grace is sufficient for thee: for my strength is made perfect in weakness. Most gladly therefore will I rather glory in my infirmities, that the power of Christ may rest upon me. Therefore I take pleasure in infirmities, in reproaches, in necessities, in persecutions, in distresses for Christ's sake: for when I am weak, then am I strong.
2 Corinthians 11:23-25 KJV
Are they ministers of Christ? (I speak as a fool) I am more; in labours more abundant, in stripes above measure, in prisons more frequent, in deaths oft. Of the Jews five times received I forty stripes save one. Thrice was I beaten with rods, once was I stoned, thrice I suffered shipwreck, a night and a day I have been in the deep;
2 Corinthians 12:9-10 KJV
And he said unto me, My grace is sufficient for thee: for my strength is made perfect in weakness. Most gladly therefore will I rather glory in my infirmities, that the power of Christ may rest upon me. Therefore I take pleasure in infirmities, in reproaches, in necessities, in persecutions, in distresses for Christ's sake: for when I am weak, then am I strong.
Matthew 5:6 KJV
Blessed are they which do hunger and thirst after righteousness: for they shall be filled.
Isaiah 26:3 KJV
Thou wilt keep him in perfect peace, whose mind is stayed on thee: because he trusteth in thee.
Proverbs 14:30 KJV
A sound heart is the life of the flesh: but envy the rottenness of the bones.
Romans 8:28 KJV
And we know that all things work together for good to them that love God, to them who are the called according to his purpose.
Habakkuk 3:17-19 KJV
Although the fig tree shall not blossom, neither shall fruit be in the vines; the labour of the olive shall fail, and the fields shall yield no meat; the flock shall be cut off from the fold, and there shall be no herd in the stalls: Yet I will rejoice in the Lord, I will joy in the God of my salvation. The Lord God is my strength, and he will make my feet like hinds' feet, and he will make me to walk upon mine high places. To the chief singer on my stringed instruments.
1 Timothy 4:8 KJV
For bodily exercise profiteth little: but godliness is profitable unto all things, having promise of the life that now is, and of that which is to come.
Luke 3:14 KJV
And the soldiers likewise demanded of him, saying, And what shall we do? And he said unto them, Do violence to no man, neither accuse any falsely; and be content with your wages.
Job 36:11 KJV
If they obey and serve him, they shall spend their days in prosperity, and their years in pleasures.
Psalm 37:3-4 KJV
Trust in the Lord, and do good; so shalt thou dwell in the land, and verily thou shalt be fed. Delight thyself also in the Lord: and he shall give thee the desires of thine heart.
1 Corinthians 7:17 KJV
But as God hath distributed to every man, as the Lord hath called every one, so let him walk. And so ordain I in all churches.
Psalm 23:1 KJV
The Lord is my shepherd; I shall not want.
Psalm 34:10 KJV
The young lions do lack, and suffer hunger: but they that seek the Lord shall not want any good thing.
Nehemiah 8:10 KJV
Then he said unto them, Go your way, eat the fat, and drink the sweet, and send portions unto them for whom nothing is prepared: for this day is holy unto our Lord: neither be ye sorry; for the joy of the Lord is your strength.
1 Corinthians 7:24 KJV
Brethren, let every man, wherein he is called, therein abide with God.
Isaiah 58:10-11 KJV
And if thou draw out thy soul to the hungry, and satisfy the afflicted soul; then shall thy light rise in obscurity, and thy darkness be as the noon day: And the Lord shall guide thee continually, and satisfy thy soul in drought, and make fat thy bones: and thou shalt be like a watered garden, and like a spring of water, whose waters fail not.
Philippians 2:14 KJV
Do all things without murmurings and disputings:
Philippians 4:19 KJV
But my God shall supply all your need according to his riches in glory by Christ Jesus.
Romans 12:2 KJV
And be not conformed to this world: but be ye transformed by the renewing of your mind, that ye may prove what is that good, and acceptable, and perfect, will of God.
Colossians 1:24 KJV
Who now rejoice in my sufferings for you, and fill up that which is behind of the afflictions of Christ in my flesh for his body's sake, which is the church:
Proverbs 16:8 KJV
Better is a little with righteousness than great revenues without right.
Psalm 119:36-37 KJV
Incline my heart unto thy testimonies, and not to covetousness. Turn away mine eyes from beholding vanity; and quicken thou me in thy way.
Proverbs 30:7-9 KJV
Two things have I required of thee; deny me them not before I die: Remove far from me vanity and lies: give me neither poverty nor riches; feed me with food convenient for me: Lest I be full, and deny thee, and say, Who is the Lord? or lest I be poor, and steal, and take the name of my God in vain.
Romans 12:16 KJV
Be of the same mind one toward another. Mind not high things, but condescend to men of low estate. Be not wise in your own conceits.
Ecclesiastes 3:12 KJV
I know that there is no good in them, but for a man to rejoice, and to do good in his life.
Proverbs 16:16 KJV
How much better is it to get wisdom than gold! and to get understanding rather to be chosen than silver!
1 Timothy 6:10-11 KJV
For the love of money is the root of all evil: which while some coveted after, they have erred from the faith, and pierced themselves through with many sorrows. But thou, O man of God, flee these things; and follow after righteousness, godliness, faith, love, patience, meekness.
John 4:13-15 KJV
Jesus answered and said unto her, Whosoever drinketh of this water shall thirst again: But whosoever drinketh of the water that I shall give him shall never thirst; but the water that I shall give him shall be in him a well of water springing up into everlasting life. The woman saith unto him, Sir, give me this water, that I thirst not, neither come hither to draw.
Ecclesiastes 3:13 KJV
And also that every man should eat and drink, and enjoy the good of all his labour, it is the gift of God.
Proverbs 15:16 KJV
Better is little with the fear of the Lord than great treasure and trouble therewith.
John 14:8 KJV
Philip saith unto him, Lord, show us the Father, and it sufficeth us.
Ecclesiastes 4:6 KJV
Better is an handful with quietness, than both the hands full with travail and vexation of spirit.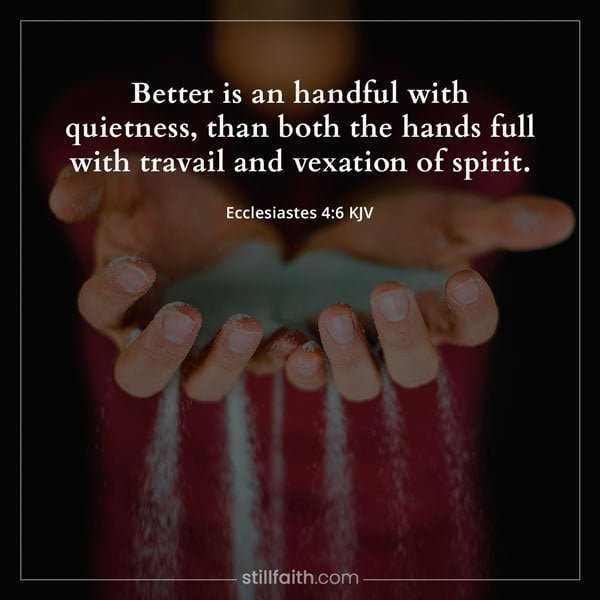 Proverbs 28:6 KJV
Better is the poor that walketh in his uprightness, than he that is perverse in his ways, though he be rich.
Luke 12:22-23 KJV
And he said unto his disciples, Therefore I say unto you, Take no thought for your life, what ye shall eat; neither for the body, what ye shall put on. The life is more than meat, and the body is more than raiment.
Ecclesiastes 6:9 KJV
Better is the sight of the eyes than the wandering of the desire: this is also vanity and vexation of spirit.
2 Timothy 3:2 KJV
For men shall be lovers of their own selves, covetous, boasters, proud, blasphemers, disobedient to parents, unthankful, unholy,
Proverbs 15:17 KJV
Better is a dinner of herbs where love is, than a stalled ox and hatred therewith.
Job 1:20-21 KJV
Then Job arose, and rent his mantle, and shaved his head, and fell down upon the ground, and worshipped, And said, Naked came I out of my mother's womb, and naked shall I return thither: the Lord gave, and the Lord hath taken away; blessed be the name of the Lord.
James 2:5 KJV
Hearken, my beloved brethren, Hath not God chosen the poor of this world rich in faith, and heirs of the kingdom which he hath promised to them that love him?
Colossians 3:5 KJV
Mortify therefore your members which are upon the earth; fornication, uncleanness, inordinate affection, evil concupiscence, and covetousness, which is idolatry:
Matthew 6:19-24 KJV
Lay not up for yourselves treasures upon earth, where moth and rust doth corrupt, and where thieves break through and steal: But lay up for yourselves treasures in heaven, where neither moth nor rust doth corrupt, and where thieves do not break through nor steal: For where your treasure is, there will your heart be also. The light of the body is the eye: if therefore thine eye be single, thy whole body shall be full of light. But if thine eye be evil, thy whole body shall be full of darkness. If therefore the light that is in thee be darkness, how great is that darkness! No man can serve two masters: for either he will hate the one, and love the other; or else he will hold to the one, and despise the other. Ye cannot serve God and mammon.
James 4:2 KJV
Ye lust, and have not: ye kill, and desire to have, and cannot obtain: ye fight and war, yet ye have not, because ye ask not.
Psalm 62:10 KJV
Trust not in oppression, and become not vain in robbery: if riches increase, set not your heart upon them.
Psalm 118:24 KJV
This is the day which the Lord hath made; we will rejoice and be glad in it.
Proverbs 3:5 KJV
Trust in the Lord with all thine heart; and lean not unto thine own understanding.
James 4:8 KJV
Draw nigh to God, and he will draw nigh to you. Cleanse your hands, ye sinners; and purify your hearts, ye double minded.
Proverbs 16:18 KJV
Pride goeth before destruction, and an haughty spirit before a fall.
Psalm 84:11 KJV
For the Lord God is a sun and shield: the Lord will give grace and glory: no good thing will he withhold from them that walk uprightly.
Matthew 24:45 KJV
Who then is a faithful and wise servant, whom his lord hath made ruler over his household, to give them meat in due season?
1 Timothy 6:17 KJV
Charge them that are rich in this world, that they be not highminded, nor trust in uncertain riches, but in the living God, who giveth us richly all things to enjoy;
Proverbs 28:25 KJV
He that is of a proud heart stirreth up strife: but he that putteth his trust in the Lord shall be made fat.
Deuteronomy 8:3-4 KJV
And he humbled thee, and suffered thee to hunger, and fed thee with manna, which thou knewest not, neither did thy fathers know; that he might make thee know that man doth not live by bread only, but by every word that proceedeth out of the mouth of the Lord doth man live. Thy raiment waxed not old upon thee, neither did thy foot swell, these forty years.
Psalm 16:11 KJV
Thou wilt shew me the path of life: in thy presence is fulness of joy; at thy right hand there are pleasures for evermore.
Proverbs 10:22 KJV
The blessing of the Lord, it maketh rich, and he addeth no sorrow with it.
Psalm 37:16 KJV
A little that a righteous man hath is better than the riches of many wicked.
Proverbs 14:14 KJV
The backslider in heart shall be filled with his own ways: and a good man shall be satisfied from himself.
Proverbs 28:20 KJV
A faithful man shall abound with blessings: but he that maketh haste to be rich shall not be innocent.
Psalm 34:8 KJV
O taste and see that the Lord is good: blessed is the man that trusteth in him.
Psalm 37:7 KJV
Rest in the Lord, and wait patiently for him: fret not thyself because of him who prospereth in his way, because of the man who bringeth wicked devices to pass.
Psalm 55:22 KJV
Cast thy burden upon the Lord, and he shall sustain thee: he shall never suffer the righteous to be moved.
Romans 14:17 KJV
For the kingdom of God is not meat and drink; but righteousness, and peace, and joy in the Holy Ghost.
1 Corinthians 7:20 KJV
Let every man abide in the same calling wherein he was called.
Acts 15:7-10 KJV
And when there had been much disputing, Peter rose up, and said unto them, Men and brethren, ye know how that a good while ago God made choice among us, that the Gentiles by my mouth should hear the word of the gospel, and believe. And God, which knoweth the hearts, bare them witness, giving them the Holy Ghost, even as he did unto us; And put no difference between us and them, purifying their hearts by faith. Now therefore why tempt ye God, to put a yoke upon the neck of the disciples, which neither our fathers nor we were able to bear?
Mark 10:23 KJV
And Jesus looked round about, and saith unto his disciples, How hardly shall they that have riches enter into the kingdom of God!
1 John 5:20 KJV
And we know that the Son of God is come, and hath given us an understanding, that we may know him that is true, and we are in him that is true, even in his Son Jesus Christ. This is the true God, and eternal life.
Psalm 127:2 KJV
It is vain for you to rise up early, to sit up late, to eat the bread of sorrows: for so he giveth his beloved sleep.
Deuteronomy 8:18 KJV
But thou shalt remember the Lord thy God: for it is he that giveth thee power to get wealth, that he may establish his covenant which he sware unto thy fathers, as it is this day.
1 Timothy 6:8 KJV
And having food and raiment let us be therewith content.
Galatians 5:26 KJV
Let us not be desirous of vain glory, provoking one another, envying one another.
Proverbs 17:22 KJV
A merry heart doeth good like a medicine: but a broken spirit drieth the bones.
1 Peter 5:6-7 KJV
Humble yourselves therefore under the mighty hand of God, that he may exalt you in due time: Casting all your care upon him; for he careth for you.
Philippians 2:13 KJV
For it is God which worketh in you both to will and to do of his good pleasure.
Matthew 22:37-39 KJV
Jesus said unto him, Thou shalt love the Lord thy God with all thy heart, and with all thy soul, and with all thy mind. This is the first and great commandment. And the second is like unto it, Thou shalt love thy neighbour as thyself.
Jeremiah 15:16 KJV
Thy words were found, and I did eat them; and thy word was unto me the joy and rejoicing of mine heart: for I am called by thy name, O Lord God of hosts.
Ecclesiastes 8:15 KJV
Then I commended mirth, because a man hath no better thing under the sun, than to eat, and to drink, and to be merry: for that shall abide with him of his labour the days of his life, which God giveth him under the sun.
Psalm 34:17 KJV
The righteous cry, and the Lord heareth, and delivereth them out of all their troubles.
1 Samuel 2:7-8 KJV
The Lord maketh poor, and maketh rich: he bringeth low, and lifteth up. He raiseth up the poor out of the dust, and lifteth up the beggar from the dunghill, to set them among princes, and to make them inherit the throne of glory: for the pillars of the earth are the Lord's, and he hath set the world upon them.
Philippians 3:7-8 KJV
But what things were gain to me, those I counted loss for Christ. Yea doubtless, and I count all things but loss for the excellency of the knowledge of Christ Jesus my Lord: for whom I have suffered the loss of all things, and do count them but dung, that I may win Christ,
Ecclesiastes 5:10 KJV
He that loveth silver shall not be satisfied with silver; nor he that loveth abundance with increase: this is also vanity.
Proverbs 17:1 KJV
Better is a dry morsel, and quietness therewith, than an house full of sacrifices with strife.
Proverbs 15:30 KJV
The light of the eyes rejoiceth the heart: and a good report maketh the bones fat.
Proverbs 15:13 KJV
A merry heart maketh a cheerful countenance: but by sorrow of the heart the spirit is broken.
Psalm 131:2 KJV
Surely I have behaved and quieted myself, as a child that is weaned of his mother: my soul is even as a weaned child.
Psalm 2:12 KJV
Kiss the Son, lest he be angry, and ye perish from the way, when his wrath is kindled but a little. Blessed are all they that put their trust in him.
2 Corinthians 9:8 KJV
And God is able to make all grace abound toward you; that ye, always having all sufficiency in all things, may abound to every good work:
John 21:18 KJV
Verily, verily, I say unto thee, When thou wast young, thou girdest thyself, and walkedst whither thou wouldest: but when thou shalt be old, thou shalt stretch forth thy hands, and another shall gird thee, and carry thee whither thou wouldest not.
John 15:26 KJV
But when the Comforter is come, whom I will send unto you from the Father, even the Spirit of truth, which proceedeth from the Father, he shall testify of me:
Proverbs 27:20 KJV
Hell and destruction are never full; so the eyes of man are never satisfied.
Proverbs 22:7 KJV
The rich ruleth over the poor, and the borrower is servant to the lender.
Luke 6:20 KJV
And he lifted up his eyes on his disciples, and said, Blessed be ye poor: for yours is the kingdom of God.
Isaiah 26:7 KJV
The way of the just is uprightness: thou, most upright, dost weigh the path of the just.
Ecclesiastes 9:7-9 KJV
Go thy way, eat thy bread with joy, and drink thy wine with a merry heart; for God now accepteth thy works. Let thy garments be always white; and let thy head lack no ointment. Live joyfully with the wife whom thou lovest all the days of the life of thy vanity, which he hath given thee under the sun, all the days of thy vanity: for that is thy portion in this life, and in thy labour which thou takest under the sun.
Psalm 22:26 KJV
The meek shall eat and be satisfied: they shall praise the Lord that seek him: your heart shall live for ever.
Psalm 17:15 KJV
As for me, I will behold thy face in righteousness: I shall be satisfied, when I awake, with thy likeness.
Psalm 103:1-5 KJV
Bless the Lord, O my soul: and all that is within me, bless his holy name. Bless the Lord, O my soul, and forget not all his benefits: Who forgiveth all thine iniquities; who healeth all thy diseases; Who redeemeth thy life from destruction; who crowneth thee with lovingkindness and tender mercies; Who satisfieth thy mouth with good things; so that thy youth is renewed like the eagle's.
Psalm 1:1-3 KJV
Blessed is the man that walketh not in the counsel of the ungodly, nor standeth in the way of sinners, nor sitteth in the seat of the scornful. But his delight is in the law of the Lord; and in his law doth he meditate day and night. And he shall be like a tree planted by the rivers of water, that bringeth forth his fruit in his season; his leaf also shall not wither; and whatsoever he doeth shall prosper.
2 Kings 4:13 KJV
And he said unto him, Say now unto her, Behold, thou hast been careful for us with all this care; what is to be done for thee? wouldest thou be spoken for to the king, or to the captain of the host? And she answered, I dwell among mine own people.
Acts 12:1-6 KJV
Now about that time Herod the king stretched forth his hands to vex certain of the church. And he killed James the brother of John with the sword. And because he saw it pleased the Jews, he proceeded further to take Peter also. (Then were the days of unleavened bread.) And when he had apprehended him, he put him in prison, and delivered him to four quaternions of soldiers to keep him; intending after Easter to bring him forth to the people. Peter therefore was kept in prison: but prayer was made without ceasing of the church unto God for him. And when Herod would have brought him forth, the same night Peter was sleeping between two soldiers, bound with two chains: and the keepers before the door kept the prison.
Ecclesiastes 2:24 KJV
There is nothing better for a man, than that he should eat and drink, and that he should make his soul enjoy good in his labour. This also I saw, that it was from the hand of God.
1 Kings 3:11-13 KJV
And God said unto him, Because thou hast asked this thing, and hast not asked for thyself long life; neither hast asked riches for thyself, nor hast asked the life of thine enemies; but hast asked for thyself understanding to discern judgment; Behold, I have done according to thy words: lo, I have given thee a wise and an understanding heart; so that there was none like thee before thee, neither after thee shall any arise like unto thee. And I have also given thee that which thou hast not asked, both riches, and honour: so that there shall not be any among the kings like unto thee all thy days.
Genesis 33:11 KJV
Take, I pray thee, my blessing that is brought to thee; because God hath dealt graciously with me, and because I have enough. And he urged him, and he took it.