Here are the 49 best Bible verses about change from the Old and New Testaments of the Holy Bible (King James Version) sorted from most to least relevant.
Have not I commanded thee? Be strong and of a good courage; be not afraid, neither be thou dismayed: for the LORD thy God is with thee whithersoever thou goest.
For I know the thoughts that I think toward you, saith the LORD, thoughts of peace, and not of evil, to give you an expected end.
Jesus Christ the same yesterday, and to day, and for ever.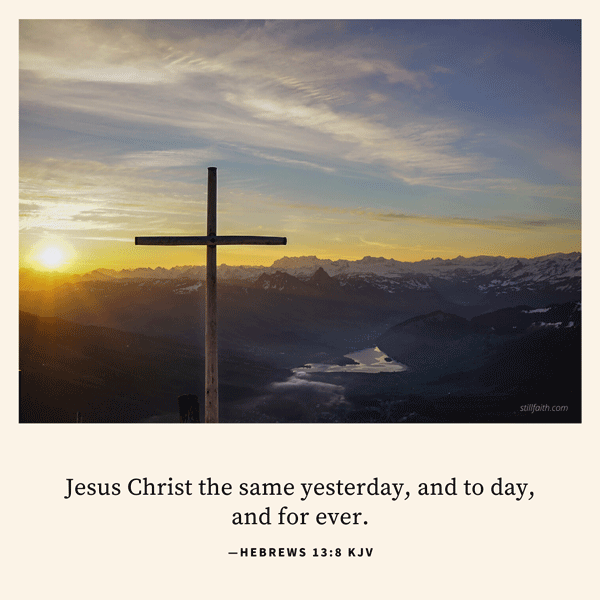 To every thing there is a season, and a time to every purpose under the heaven.
And the LORD, he it is that doth go before thee; he will be with thee, he will not fail thee, neither forsake thee: fear not, neither be dismayed.
Trust in the Lord with all thine heart; and lean not unto thine own understanding. In all thy ways acknowledge him, and he shall direct thy paths.
For I am the LORD, I change not; therefore ye sons of Jacob are not consumed.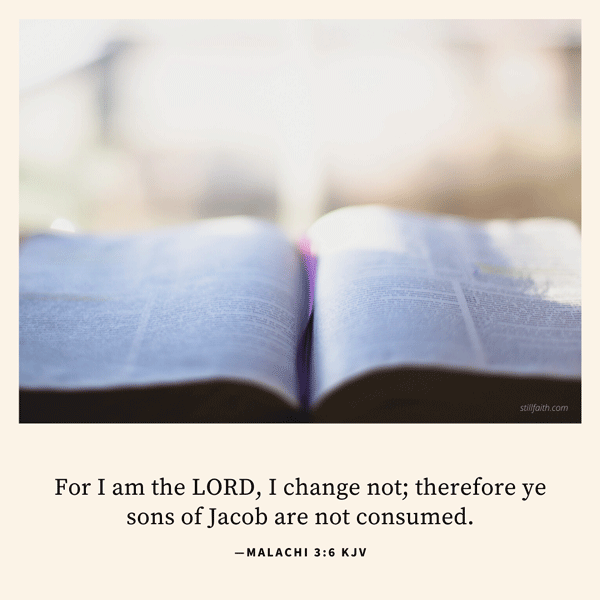 I will instruct thee and teach thee in the way which thou shalt go: I will guide thee with mine eye.
And be not conformed to this world: but be ye transformed by the renewing of your mind, that ye may prove what is that good, and acceptable, and perfect, will of God.
Be careful for nothing; but in every thing by prayer and supplication with thanksgiving let your requests be made known unto God. And the peace of God, which passeth all understanding, shall keep your hearts and minds through Christ Jesus. Finally, brethren, whatsoever things are true, whatsoever things are honest, whatsoever things are just, whatsoever things are pure, whatsoever things are lovely, whatsoever things are of good report; if there be any virtue, and if there be any praise, think on these things.
Be strong and of a good courage, fear not, nor be afraid of them: for the LORD thy God, he it is that doth go with thee; he will not fail thee, nor forsake thee.
For our light affliction, which is but for a moment, worketh for us a far more exceeding and eternal weight of glory; while we look not at the things which are seen, but at the things which are not seen: for the things which are seen are temporal; but the things which are not seen are eternal.
Therefore if any man be in Christ, he is a new creature: old things are passed away; behold, all things are become new.
Every good gift and every perfect gift is from above, and cometh down from the Father of lights, with whom is no variableness, neither shadow of turning.
Behold, I shew you a mystery; We shall not all sleep, but we shall all be changed.
The heart of the prudent getteth knowledge; and the ear of the wise seeketh knowledge.
The Lord is not slack concerning his promise, as some men count slackness; but is longsuffering to us-ward, not willing that any should perish, but that all should come to repentance.
Also, that the soul be without knowledge, it is not good; and he that hasteth with his feet sinneth.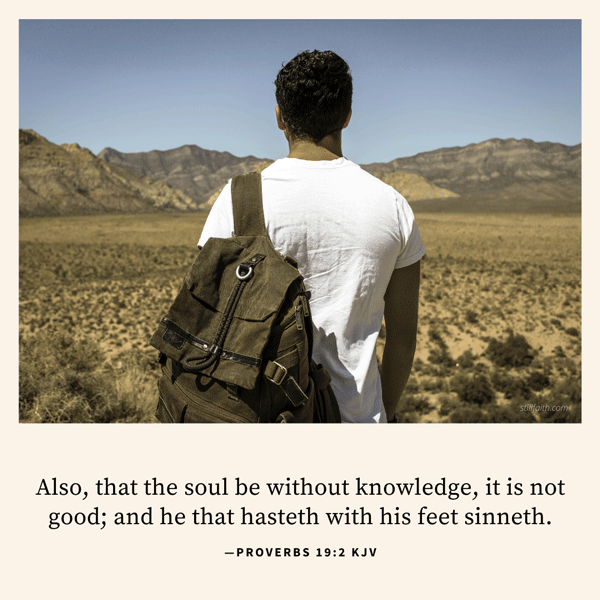 All scripture is given by inspiration of God, and is profitable for doctrine, for reproof, for correction, for instruction in righteousness: That the man of God may be perfect, thoroughly furnished unto all good works.
That ye put off concerning the former conversation the old man, which is corrupt according to the deceitful lusts; And be renewed in the spirit of your mind; And that ye put on the new man, which after God is created in righteousness and true holiness.
I tell you, Nay: but, except ye repent, ye shall all likewise perish.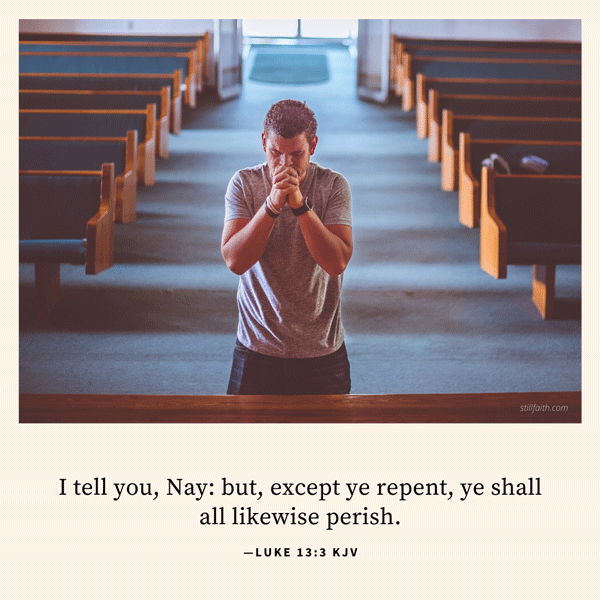 Remember ye not the former things, neither consider the things of old. Behold, I will do a new thing; now it shall spring forth; shall ye not know it? I will even make a way in the wilderness, and rivers in the desert.
As thou knowest not what is the way of the spirit, nor how the bones do grow in the womb of her that is with child: even so thou knowest not the works of God who maketh all.
For there is hope of a tree, if it be cut down, that it will sprout again, and that the tender branch thereof will not cease.
A wise man will hear, and will increase learning; and a man of understanding shall attain unto wise counsels.
But grow in grace, and in the knowledge of our Lord and Saviour Jesus Christ. To him be glory both now and for ever. Amen.
Meditate upon these things; give thyself wholly to them; that thy profiting may appear to all.
But when that which is perfect is come, then that which is in part shall be done away. When I was a child, I spake as a child, I understood as a child, I thought as a child: but when I became a man, I put away childish things. For now we see through a glass, darkly; but then face to face: now I know in part; but then shall I know even as also I am known.
The LORD is my rock, and my fortress, and my deliverer; my God, my strength, in whom I will trust; my buckler, and the horn of my salvation, and my high tower.
These things command and teach. Let no man despise thy youth; but be thou an example of the believers, in word, in conversation, in charity, in spirit, in faith, in purity. Till I come, give attendance to reading, to exhortation, to doctrine. Neglect not the gift that is in thee, which was given thee by prophecy, with the laying on of the hands of the presbytery. Meditate upon these things; give thyself wholly to them; that thy profiting may appear to all.
Brethren, be not children in understanding: howbeit in malice be ye children, but in understanding be men.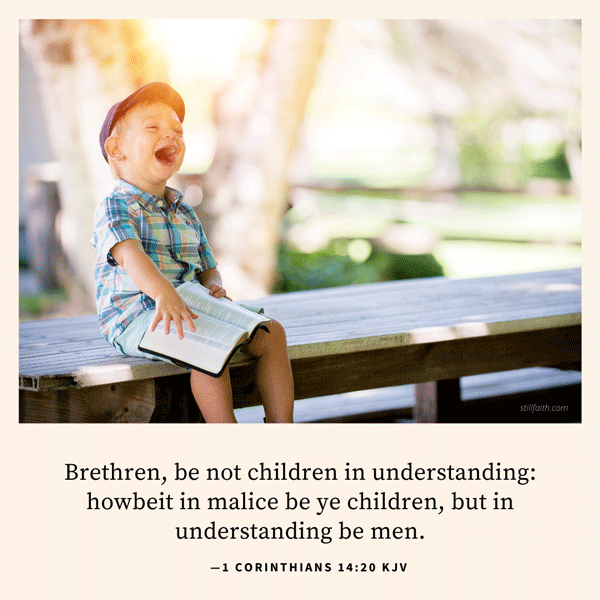 That we henceforth be no more children, tossed to and fro, and carried about with every wind of doctrine, by the sleight of men, and cunning craftiness, whereby they lie in wait to deceive;
Let us therefore, as many as be perfect, be thus minded: and if in any thing ye be otherwise minded, God shall reveal even this unto you.
Beloved, now are we the sons of God, and it doth not yet appear what we shall be: but we know that, when he shall appear, we shall be like him; for we shall see him as he is.
God is not a man, that he should lie; neither the son of man, that he should repent: hath he said, and shall he not do it? or hath he spoken, and shall he not make it good?
They shall perish, but thou shalt endure: yea, all of them shall wax old like a garment; as a vesture shalt thou change them, and they shall be changed.
If we confess our sins, he is faithful and just to forgive us our sins, and to cleanse us from all unrighteousness.
And they said, Believe on the Lord Jesus Christ, and thou shalt be saved, and thy house.
Jesus saith unto him, Rise, take up thy bed, and walk.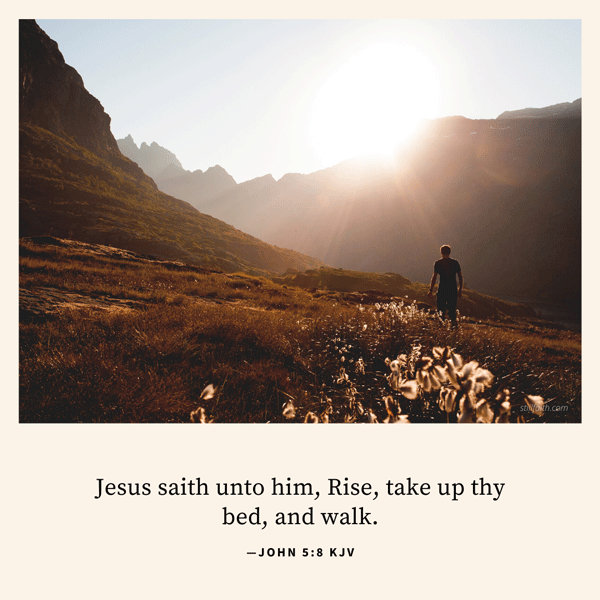 Let that therefore abide in you, which ye have heard from the beginning. If that which ye have heard from the beginning shall remain in you, ye also shall continue in the Son, and in the Father.
They shall perish; but thou remainest; and they all shall wax old as doth a garment
Behold, at that time I will undo all that afflict thee: and I will save her that halteth, and gather her that was driven out; and I will get them praise and fame in every land where they have been put to shame.
Not by works of righteousness which we have done, but according to his mercy he saved us, by the washing of regeneration, and renewing of the Holy Ghost
For by grace are ye saved through faith; and that not of yourselves: it is the gift of God: Not of works, lest any man should boast.
And he that sat upon the throne said, Behold, I make all things new. And he said unto me, Write: for these words are true and faithful.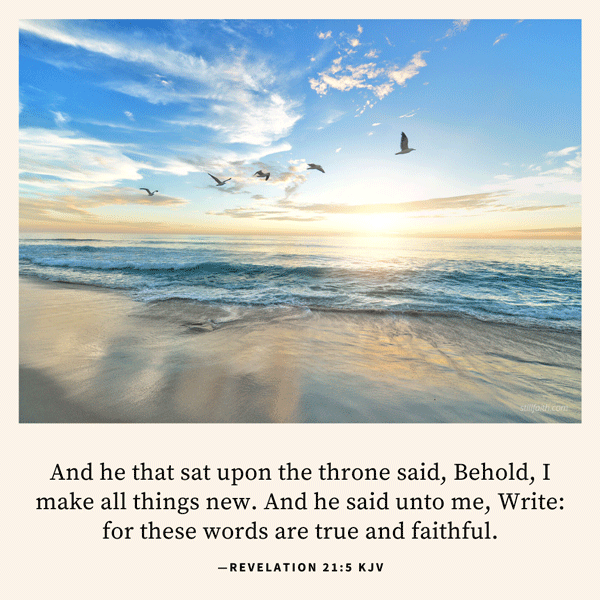 For the priesthood being changed, there is made of necessity a change also of the law.
And such were some of you: but ye are washed, but ye are sanctified, but ye are justified in the name of the Lord Jesus, and by the Spirit of our God.
This I recall to my mind, therefore have I hope. It is of the Lord's mercies that we are not consumed, because his compassions fail not. They are new every morning: great is thy faithfulness.
Bless the Lord, O my soul: and all that is within me, bless his holy name. Bless the Lord, O my soul, and forget not all his benefits: Who forgiveth all thine iniquities; who healeth all thy diseases; Who redeemeth thy life from destruction; who crowneth thee with lovingkindness and tender mercies; Who satisfieth thy mouth with good things; so that thy youth is renewed like the eagle's.