Here are 154 Bible verses about bravery from the Old and New Testaments of the Holy Bible, King James Version, sorted from the most relevant to the least relevant.
Related topics: being strong · confidence · courage · discipline · encouragement · endurance · enemies defeated · faith · men · not giving up
2 Timothy 1:7 KJV
For God hath not given us the spirit of fear; but of power, and of love, and of a sound mind.
Deuteronomy 31:6 KJV
Be strong and of a good courage, fear not, nor be afraid of them: for the Lord thy God, he it is that doth go with thee; he will not fail thee, nor forsake thee.
Psalm 56:3-4 KJV
What time I am afraid, I will trust in thee. In God I will praise his word, in God I have put my trust; I will not fear what flesh can do unto me.
Numbers 13:20 KJV
And what the land is, whether it be fat or lean, whether there be wood therein, or not. And be ye of good courage, and bring of the fruit of the land. Now the time was the time of the firstripe grapes.
1 Chronicles 28:20 KJV
And David said to Solomon his son, Be strong and of good courage, and do it: fear not, nor be dismayed: for the Lord God, even my God, will be with thee; he will not fail thee, nor forsake thee, until thou hast finished all the work for the service of the house of the Lord.
Matthew 28:20 KJV
Teaching them to observe all things whatsoever I have commanded you: and, lo, I am with you always, even unto the end of the world. Amen.
1 Corinthians 15:58 KJV
Therefore, my beloved brethren, be ye stedfast, unmoveable, always abounding in the work of the Lord, forasmuch as ye know that your labour is not in vain in the Lord.
Proverbs 3:5-6 KJV
Trust in the Lord with all thine heart; and lean not unto thine own understanding. In all thy ways acknowledge him, and he shall direct thy paths.
1 Corinthians 16:13 KJV
Watch ye, stand fast in the faith, quit you like men, be strong.
Joshua 1:6 KJV
Be strong and of a good courage: for unto this people shalt thou divide for an inheritance the land, which I sware unto their fathers to give them.
Isaiah 41:10 KJV
Fear thou not; for I am with thee: be not dismayed; for I am thy God: I will strengthen thee; yea, I will help thee; yea, I will uphold thee with the right hand of my righteousness.
Isaiah 41:13 KJV
For I the Lord thy God will hold thy right hand, saying unto thee, Fear not; I will help thee.
Psalm 27:1 KJV
The Lord is my light and my salvation; whom shall I fear? the Lord is the strength of my life; of whom shall I be afraid?
Psalm 22:19 KJV
But be not thou far from me, O Lord: O my strength, haste thee to help me.
Joshua 1:9 KJV
Have not I commanded thee? Be strong and of a good courage; be not afraid, neither be thou dismayed: for the Lord thy God is with thee whithersoever thou goest.
Deuteronomy 31:23 KJV
And he gave Joshua the son of Nun a charge, and said, Be strong and of a good courage: for thou shalt bring the children of Israel into the land which I sware unto them: and I will be with thee.
1 Peter 5:7 KJV
Casting all your care upon him; for he careth for you.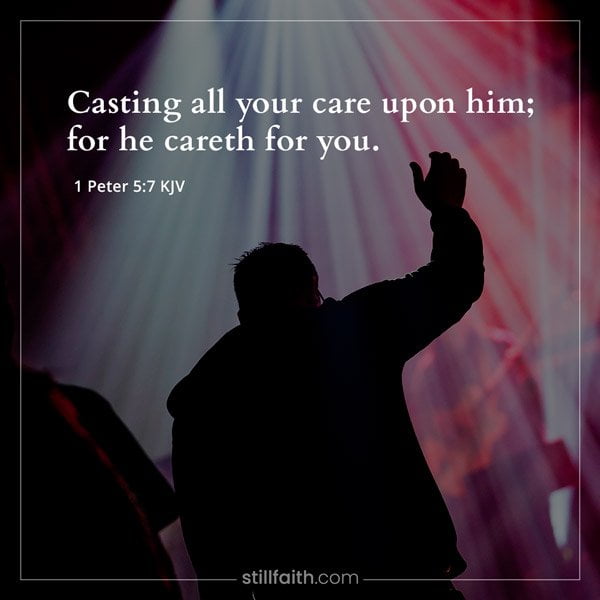 Matthew 10:28 KJV
And fear not them which kill the body, but are not able to kill the soul: but rather fear him which is able to destroy both soul and body in hell.
Ephesians 6:10 KJV
Finally, my brethren, be strong in the Lord, and in the power of his might.
Romans 8:31 KJV
What shall we then say to these things? If God be for us, who can be against us?
Joshua 1:18 KJV
Whosoever he be that doth rebel against thy commandment, and will not hearken unto thy words in all that thou commandest him, he shall be put to death: only be strong and of a good courage.
Isaiah 54:4 KJV
Fear not; for thou shalt not be ashamed: neither be thou confounded; for thou shalt not be put to shame: for thou shalt forget the shame of thy youth, and shalt not remember the reproach of thy widowhood any more.
Psalm 46:2-5 KJV
Therefore will not we fear, though the earth be removed, and though the mountains be carried into the midst of the sea; Though the waters thereof roar and be troubled, though the mountains shake with the swelling thereof. Selah. There is a river, the streams whereof shall make glad the city of God, the holy place of the tabernacles of the most High. God is in the midst of her; she shall not be moved: God shall help her, and that right early.
John 14:27 KJV
Peace I leave with you, my peace I give unto you: not as the world giveth, give I unto you. Let not your heart be troubled, neither let it be afraid.
Philippians 1:28 KJV
And in nothing terrified by your adversaries: which is to them an evident token of perdition, but to you of salvation, and that of God.
Psalm 31:24 KJV
Be of good courage, and he shall strengthen your heart, all ye that hope in the Lord.
Philippians 1:12-14 KJV
But I would ye should understand, brethren, that the things which happened unto me have fallen out rather unto the furtherance of the gospel; So that my bonds in Christ are manifest in all the palace, and in all other places; And many of the brethren in the Lord, waxing confident by my bonds, are much more bold to speak the word without fear.
Joshua 2:11 KJV
And as soon as we had heard these things, our hearts did melt, neither did there remain any more courage in any man, because of you: for the Lord your God, he is God in heaven above, and in earth beneath.
1 John 4:18 KJV
There is no fear in love; but perfect love casteth out fear: because fear hath torment. He that feareth is not made perfect in love.
Romans 14:1-23 KJV
Him that is weak in the faith receive ye, but not to doubtful disputations. For one believeth that he may eat all things: another, who is weak, eateth herbs. Let not him that eateth despise him that eateth not; and let not him which eateth not judge him that eateth: for God hath received him. Who art thou that judgest another man's servant? to his own master he standeth or falleth. Yea, he shall be holden up: for God is able to make him stand. One man esteemeth one day above another: another esteemeth every day alike. Let every man be fully persuaded in his own mind. He that regardeth the day, regardeth it unto the Lord; and he that regardeth not the day, to the Lord he doth not regard it. He that eateth, eateth to the Lord, for he giveth God thanks; and he that eateth not, to…
Hebrews 13:5-6 KJV
Let your conversation be without covetousness; and be content with such things as ye have: for he hath said, I will never leave thee, nor forsake thee. So that we may boldly say, The Lord is my helper, and I will not fear what man shall do unto me.
Joshua 10:25 KJV
And Joshua said unto them, Fear not, nor be dismayed, be strong and of good courage: for thus shall the Lord do to all your enemies against whom ye fight.
Isaiah 61:7 KJV
For your shame ye shall have double; and for confusion they shall rejoice in their portion: therefore in their land they shall possess the double: everlasting joy shall be unto them.
Deuteronomy 31:8 KJV
And the Lord, he it is that doth go before thee; he will be with thee, he will not fail thee, neither forsake thee: fear not, neither be dismayed.
Romans 8:26-27 KJV
Likewise the Spirit also helpeth our infirmities: for we know not what we should pray for as we ought: but the Spirit itself maketh intercession for us with groanings which cannot be uttered. And he that searcheth the hearts knoweth what is the mind of the Spirit, because he maketh intercession for the saints according to the will of God.
Joshua 23:6 KJV
Be ye therefore very courageous to keep and to do all that is written in the book of the law of Moses, that ye turn not aside therefrom to the right hand or to the left;
Colossians 1:11 KJV
Strengthened with all might, according to his glorious power, unto all patience and longsuffering with joyfulness;
2 Thessalonians 3:16 KJV
Now the Lord of peace himself give you peace always by all means. The Lord be with you all.
Job 23:10 KJV
But he knoweth the way that I take: when he hath tried me, I shall come forth as gold.
1 Corinthians 2:3 KJV
And I was with you in weakness, and in fear, and in much trembling.
1 Samuel 14:6 KJV
And Jonathan said to the young man that bare his armour, Come, and let us go over unto the garrison of these uncircumcised: it may be that the Lord will work for us: for there is no restraint to the Lord to save by many or by few.
Psalm 18:2 KJV
The Lord is my rock, and my fortress, and my deliverer; my God, my strength, in whom I will trust; my buckler, and the horn of my salvation, and my high tower.
2 Timothy 4:22 KJV
The Lord Jesus Christ be with thy spirit. Grace be with you. Amen.
1 Samuel 17:37 KJV
David said moreover, The Lord that delivered me out of the paw of the lion, and out of the paw of the bear, he will deliver me out of the hand of this Philistine. And Saul said unto David, Go, and the Lord be with thee.
Isaiah 40:29 KJV
He giveth power to the faint; and to them that have no might he increaseth strength.
Romans 8:15 KJV
For ye have not received the spirit of bondage again to fear; but ye have received the Spirit of adoption, whereby we cry, Abba, Father.
Psalm 56:3 KJV
What time I am afraid, I will trust in thee.
1 Peter 5:2-5 KJV
Feed the flock of God which is among you, taking the oversight thereof, not by constraint, but willingly; not for filthy lucre, but of a ready mind; Neither as being lords over God's heritage, but being examples to the flock. And when the chief Shepherd shall appear, ye shall receive a crown of glory that fadeth not away. Likewise, ye younger, submit yourselves unto the elder. Yea, all of you be subject one to another, and be clothed with humility: for God resisteth the proud, and giveth grace to the humble.
2 Samuel 7:27 KJV
For thou, O Lord of hosts, God of Israel, hast revealed to thy servant, saying, I will build thee an house: therefore hath thy servant found in his heart to pray this prayer unto thee.
1 Samuel 30:6 KJV
And David was greatly distressed; for the people spake of stoning him, because the soul of all the people was grieved, every man for his sons and for his daughters: but David encouraged himself in the Lord his God.
Jeremiah 32:27 KJV
Behold, I am the Lord, the God of all flesh: is there any thing too hard for me?
Philippians 4:12-13 KJV
I know both how to be abased, and I know how to abound: every where and in all things I am instructed both to be full and to be hungry, both to abound and to suffer need. I can do all things through Christ which strengtheneth me.
2 Samuel 10:12 KJV
Be of good courage, and let us play the men for our people, and for the cities of our God: and the Lord do that which seemeth him good.
Matthew 19:26 KJV
But Jesus beheld them, and said unto them, With men this is impossible; but with God all things are possible.
2 Chronicles 15:7 KJV
Be ye strong therefore, and let not your hands be weak: for your work shall be rewarded.
2 Samuel 13:28 KJV
Now Absalom had commanded his servants, saying, Mark ye now when Amnon's heart is merry with wine, and when I say unto you, Smite Amnon; then kill him, fear not: have not I commanded you? be courageous, and be valiant.
Psalm 27:14 KJV
Wait on the Lord: be of good courage, and he shall strengthen thine heart: wait, I say, on the Lord.
Philippians 4:6 KJV
Be careful for nothing; but in every thing by prayer and supplication with thanksgiving let your requests be made known unto God.
Psalm 29:1-11 KJV
Give unto the Lord, O ye mighty, give unto the Lord glory and strength. Give unto the Lord the glory due unto his name; worship the Lord in the beauty of holiness. The voice of the Lord is upon the waters: the God of glory thundereth: the Lord is upon many waters. The voice of the Lord is powerful; the voice of the Lord is full of majesty. The voice of the Lord breaketh the cedars; yea, the Lord breaketh the cedars of Lebanon. He maketh them also to skip like a calf; Lebanon and Sirion like a young unicorn. The voice of the Lord divideth the flames of fire. The voice of the Lord shaketh the wilderness; the Lord shaketh the wilderness of Kadesh. The voice of the Lord maketh the hinds to calve, and discovereth the forests: and in his temple doth every one speak of his glory…
1 Chronicles 19:13 KJV
Be of good courage, and let us behave ourselves valiantly for our people, and for the cities of our God: and let the Lord do that which is good in his sight.
Psalm 91:2 KJV
I will say of the Lord, He is my refuge and my fortress: my God; in him will I trust.
2 Corinthians 4:8-11 KJV
We are troubled on every side, yet not distressed; we are perplexed, but not in despair; Persecuted, but not forsaken; cast down, but not destroyed; Always bearing about in the body the dying of the Lord Jesus, that the life also of Jesus might be made manifest in our body. For we which live are always delivered unto death for Jesus' sake, that the life also of Jesus might be made manifest in our mortal flesh.
Psalm 23:4 KJV
Yea, though I walk through the valley of the shadow of death, I will fear no evil: for thou art with me; thy rod and thy staff they comfort me.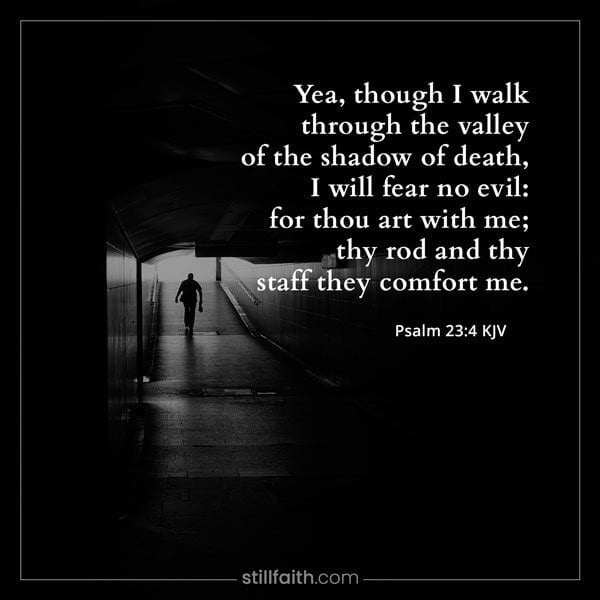 1 Peter 1:3 KJV
Blessed be the God and Father of our Lord Jesus Christ, which according to his abundant mercy hath begotten us again unto a lively hope by the resurrection of Jesus Christ from the dead,
Ezra 7:28 KJV
And hath extended mercy unto me before the king, and his counsellors, and before all the king's mighty princes. And I was strengthened as the hand of the Lord my God was upon me, and I gathered together out of Israel chief men to go up with me.
1 Chronicles 22:13 KJV
Then shalt thou prosper, if thou takest heed to fulfil the statutes and judgments which the Lord charged Moses with concerning Israel: be strong, and of good courage; dread not, nor be dismayed.
Psalm 62:8 KJV
Trust in him at all times; ye people, pour out your heart before him: God is a refuge for us. Selah.
Matthew 10:26 KJV
Fear them not therefore: for there is nothing covered, that shall not be revealed; and hid, that shall not be known.
Proverbs 1:7 KJV
The fear of the Lord is the beginning of knowledge: but fools despise wisdom and instruction.
Ezekiel 22:14 KJV
Can thine heart endure, or can thine hands be strong, in the days that I shall deal with thee? I the Lord have spoken it, and will do it.
Mark 5:36 KJV
As soon as Jesus heard the word that was spoken, he saith unto the ruler of the synagogue, Be not afraid, only believe.
Psalm 25:3 KJV
Yea, let none that wait on thee be ashamed: let them be ashamed which transgress without cause.
1 Peter 1:2 KJV
Elect according to the foreknowledge of God the Father, through sanctification of the Spirit, unto obedience and sprinkling of the blood of Jesus Christ: Grace unto you, and peace, be multiplied.
Daniel 10:19 KJV
And said, O man greatly beloved, fear not: peace be unto thee, be strong, yea, be strong. And when he had spoken unto me, I was strengthened, and said, Let my lord speak; for thou hast strengthened me.
2 Chronicles 15:8 KJV
And when Asa heard these words, and the prophecy of Oded the prophet, he took courage, and put away the abominable idols out of all the land of Judah and Benjamin, and out of the cities which he had taken from mount Ephraim, and renewed the altar of the Lord, that was before the porch of the Lord.
Proverbs 28:1 KJV
The wicked flee when no man pursueth: but the righteous are bold as a lion.
2 Corinthians 5:8 KJV
We are confident, I say, and willing rather to be absent from the body, and to be present with the Lord.
2 Chronicles 19:11 KJV
And, behold, Amariah the chief priest is over you in all matters of the Lord; and Zebadiah the son of Ishmael, the ruler of the house of Judah, for all the king's matters: also the Levites shall be officers before you. Deal courageously, and the Lord shall be with the good.
Psalm 112:7 KJV
He shall not be afraid of evil tidings: his heart is fixed, trusting in the Lord.
2 Samuel 2:6-7 KJV
And now the Lord shew kindness and truth unto you: and I also will requite you this kindness, because ye have done this thing. Therefore now let your hands be strengthened, and be ye valiant: for your master Saul is dead, and also the house of Judah have anointed me king over them.
Philippians 1:20 KJV
According to my earnest expectation and my hope, that in nothing I shall be ashamed, but that with all boldness, as always, so now also Christ shall be magnified in my body, whether it be by life, or by death.
2 Chronicles 25:8 KJV
But if thou wilt go, do it; be strong for the battle: God shall make thee fall before the enemy: for God hath power to help, and to cast down.
1 Samuel 16:17-18 KJV
And Saul said unto his servants, Provide me now a man that can play well, and bring him to me. Then answered one of the servants, and said, Behold, I have seen a son of Jesse the Bethlehemite, that is cunning in playing, and a mighty valiant man, and a man of war, and prudent in matters, and a comely person, and the Lord is with him.
Titus 3:10 KJV
A man that is an heretick after the first and second admonition reject;
Matthew 14:27 KJV
But straightway Jesus spake unto them, saying, Be of good cheer; it is I; be not afraid.
2 Chronicles 32:7 KJV
Be strong and courageous, be not afraid nor dismayed for the king of Assyria, nor for all the multitude that is with him: for there be more with us than with him:
1 Samuel 14:52 KJV
And there was sore war against the Philistines all the days of Saul: and when Saul saw any strong man, or any valiant man, he took him unto him.
James 1:27 KJV
Pure religion and undefiled before God and the Father is this, To visit the fatherless and widows in their affliction, and to keep himself unspotted from the world.
Ezra 10:4 KJV
Arise; for this matter belongeth unto thee: we also will be with thee: be of good courage, and do it.
2 Peter 1:1 KJV
Simon Peter, a servant and an apostle of Jesus Christ, to them that have obtained like precious faith with us through the righteousness of God and our Saviour Jesus Christ:
2 Timothy 3:5 KJV
Having a form of godliness, but denying the power thereof: from such turn away.
Proverbs 14:26 KJV
In the fear of the Lord is strong confidence: and his children shall have a place of refuge.
Colossians 2:9 KJV
For in him dwelleth all the fulness of the Godhead bodily.
Isaiah 41:6 KJV
They helped every one his neighbour; and every one said to his brother, Be of good courage.
Daniel 11:25 KJV
And he shall stir up his power and his courage against the king of the south with a great army; and the king of the south shall be stirred up to battle with a very great and mighty army; but he shall not stand: for they shall forecast devices against him.
Amos 2:16 KJV
And he that is courageous among the mighty shall flee away naked in that day, saith the Lord.
Acts 4:13 KJV
Now when they saw the boldness of Peter and John, and perceived that they were unlearned and ignorant men, they marvelled; and they took knowledge of them, that they had been with Jesus.
Acts 4:29-31 KJV
And now, Lord, behold their threatenings: and grant unto thy servants, that with all boldness they may speak thy word, By stretching forth thine hand to heal; and that signs and wonders may be done by the name of thy holy child Jesus. And when they had prayed, the place was shaken where they were assembled together; and they were all filled with the Holy Ghost, and they spake the word of God with boldness.
Acts 28:15 KJV
And from thence, when the brethren heard of us, they came to meet us as far as Appii forum, and The three taverns: whom when Paul saw, he thanked God, and took courage.
2 Corinthians 10:1-2 KJV
Now I Paul myself beseech you by the meekness and gentleness of Christ, who in presence am base among you, but being absent am bold toward you: But I beseech you, that I may not be bold when I am present with that confidence, wherewith I think to be bold against some, which think of us as if we walked according to the flesh.
Hebrews 4:16 KJV
Let us therefore come boldly unto the throne of grace, that we may obtain mercy, and find grace to help in time of need.
Hebrews 10:19 KJV
Having therefore, brethren, boldness to enter into the holiest by the blood of Jesus,
1 John 4:17 KJV
Herein is our love made perfect, that we may have boldness in the day of judgment: because as he is, so are we in this world.
Psalm 144:1 KJV
Blessed be the Lord my strength which teacheth my hands to war, and my fingers to fight:
Hebrews 9:14 KJV
How much more shall the blood of Christ, who through the eternal Spirit offered himself without spot to God, purge your conscience from dead works to serve the living God?
1 Thessalonians 2:16 KJV
Forbidding us to speak to the Gentiles that they might be saved, to fill up their sins alway: for the wrath is come upon them to the uttermost.
2 Corinthians 8:18-21 KJV
And we have sent with him the brother, whose praise is in the gospel throughout all the churches; And not that only, but who was also chosen of the churches to travel with us with this grace, which is administered by us to the glory of the same Lord, and declaration of your ready mind: Avoiding this, that no man should blame us in this abundance which is administered by us: Providing for honest things, not only in the sight of the Lord, but also in the sight of men.
2 Timothy 4:3-4 KJV
For the time will come when they will not endure sound doctrine; but after their own lusts shall they heap to themselves teachers, having itching ears; And they shall turn away their ears from the truth, and shall be turned unto fables.
Galatians 6:10-18 KJV
As we have therefore opportunity, let us do good unto all men, especially unto them who are of the household of faith. Ye see how large a letter I have written unto you with mine own hand. As many as desire to make a fair shew in the flesh, they constrain you to be circumcised; only lest they should suffer persecution for the cross of Christ. For neither they themselves who are circumcised keep the law; but desire to have you circumcised, that they may glory in your flesh. But God forbid that I should glory, save in the cross of our Lord Jesus Christ, by whom the world is crucified unto me, and I unto the world. For in Christ Jesus neither circumcision availeth any thing, nor uncircumcision, but a new creature. And as many as walk according to this rule, peace be on them, and mercy, and upon…
1 Corinthians 10:13 KJV
There hath no temptation taken you but such as is common to man: but God is faithful, who will not suffer you to be tempted above that ye are able; but will with the temptation also make a way to escape, that ye may be able to bear it.
1 Corinthians 2:16 KJV
For who hath known the mind of the Lord, that he may instruct him? but we have the mind of Christ.
Romans 8:28 KJV
And we know that all things work together for good to them that love God, to them who are the called according to his purpose.
Hebrews 11:32-40 KJV
And what shall I more say? for the time would fail me to tell of Gedeon, and of Barak, and of Samson, and of Jephthae; of David also, and Samuel, and of the prophets: Who through faith subdued kingdoms, wrought righteousness, obtained promises, stopped the mouths of lions. Quenched the violence of fire, escaped the edge of the sword, out of weakness were made strong, waxed valiant in fight, turned to flight the armies of the aliens. Women received their dead raised to life again: and others were tortured, not accepting deliverance; that they might obtain a better resurrection: And others had trial of cruel mockings and scourgings, yea, moreover of bonds and imprisonment: They were stoned, they were sawn asunder, were tempted, were slain with the sword: they wandered about in sheepskins and goatskins; being destitute, afflicted, tormented; (Of whom the world was not worthy:) they wandered in deserts,…
Hebrews 10:29 KJV
Of how much sorer punishment, suppose ye, shall he be thought worthy, who hath trodden under foot the Son of God, and hath counted the blood of the covenant, wherewith he was sanctified, an unholy thing, and hath done despite unto the Spirit of grace?
2 Thessalonians 1:1-12 KJV
Paul, and Silvanus, and Timotheus, unto the church of the Thessalonians in God our Father and the Lord Jesus Christ: Grace unto you, and peace, from God our Father and the Lord Jesus Christ. We are bound to thank God always for you, brethren, as it is meet, because that your faith groweth exceedingly, and the charity of every one of you all toward each other aboundeth; So that we ourselves glory in you in the churches of God for your patience and faith in all your persecutions and tribulations that ye endure: Which is a manifest token of the righteous judgment of God, that ye may be counted worthy of the kingdom of God, for which ye also suffer: Seeing it is a righteous thing with God to recompense tribulation to them that trouble you; And to you who are troubled rest with us, when the Lord Jesus shall…
Colossians 2:18-19 KJV
Let no man beguile you of your reward in a voluntary humility and worshipping of angels, intruding into those things which he hath not seen, vainly puffed up by his fleshly mind, And not holding the Head, from which all the body by joints and bands having nourishment ministered, and knit together, increaseth with the increase of God.
Proverbs 19:23-27 KJV
The fear of the Lord tendeth to life: and he that hath it shall abide satisfied; he shall not be visited with evil. A slothful man hideth his hand in his bosom, and will not so much as bring it to his mouth again. Smite a scorner, and the simple will beware: and reprove one that hath understanding, and he will understand knowledge. He that wasteth his father, and chaseth away his mother, is a son that causeth shame, and bringeth reproach. Cease, my son, to hear the instruction that causeth to err from the words of knowledge.
Esther 4:13-16 KJV
Then Mordecai commanded to answer Esther, Think not with thyself that thou shalt escape in the king's house, more than all the Jews. For if thou altogether holdest thy peace at this time, then shall there enlargement and deliverance arise to the Jews from another place; but thou and thy father's house shall be destroyed: and who knoweth whether thou art come to the kingdom for such a time as this? Then Esther bade them return Mordecai this answer, Go, gather together all the Jews that are present in Shushan, and fast ye for me, and neither eat nor drink three days, night or day: I also and my maidens will fast likewise; and so will I go in unto the king, which is not according to the law: and if I perish, I perish.
Genesis 28:15 KJV
And, behold, I am with thee, and will keep thee in all places whither thou goest, and will bring thee again into this land; for I will not leave thee, until I have done that which I have spoken to thee of.
1 Thessalonians 1:6 KJV
And ye became followers of us, and of the Lord, having received the word in much affliction, with joy of the Holy Ghost.
Colossians 1:16-17 KJV
For by him were all things created, that are in heaven, and that are in earth, visible and invisible, whether they be thrones, or dominions, or principalities, or powers: all things were created by him, and for him: And he is before all things, and by him all things consist.
Ephesians 5:1 KJV
Be ye therefore followers of God, as dear children;
Ephesians 4:1 KJV
I therefore, the prisoner of the Lord, beseech you that ye walk worthy of the vocation wherewith ye are called,
Ephesians 1:17 KJV
That the God of our Lord Jesus Christ, the Father of glory, may give unto you the spirit of wisdom and revelation in the knowledge of him:
2 Corinthians 3:12-18 KJV
Seeing then that we have such hope, we use great plainness of speech: And not as Moses, which put a veil over his face, that the children of Israel could not stedfastly look to the end of that which is abolished: But their minds were blinded: for until this day remaineth the same vail untaken away in the reading of the old testament; which vail is done away in Christ. But even unto this day, when Moses is read, the vail is upon their heart. Nevertheless when it shall turn to the Lord, the vail shall be taken away. Now the Lord is that Spirit: and where the Spirit of the Lord is, there is liberty. But we all, with open face beholding as in a glass the glory of the Lord, are changed into the same image from glory to glory, even as by the Spirit of the Lord.
1 Corinthians 16:15 KJV
I beseech you, brethren, (ye know the house of Stephanas, that it is the firstfruits of Achaia, and that they have addicted themselves to the ministry of the saints,)
1 Corinthians 15:50-54 KJV
Now this I say, brethren, that flesh and blood cannot inherit the kingdom of God; neither doth corruption inherit incorruption. Behold, I shew you a mystery; We shall not all sleep, but we shall all be changed, In a moment, in the twinkling of an eye, at the last trump: for the trumpet shall sound, and the dead shall be raised incorruptible, and we shall be changed. For this corruptible must put on incorruption, and this mortal must put on immortality. So when this corruptible shall have put on incorruption, and this mortal shall have put on immortality, then shall be brought to pass the saying that is written, Death is swallowed up in victory.
Romans 11:17 KJV
And if some of the branches be broken off, and thou, being a wild olive tree, wert grafted in among them, and with them partakest of the root and fatness of the olive tree;
Titus 1:12 KJV
One of themselves, even a prophet of their own, said, the Cretians are alway liars, evil beasts, slow bellies.
2 Timothy 4:5-9 KJV
But watch thou in all things, endure afflictions, do the work of an evangelist, make full proof of thy ministry. For I am now ready to be offered, and the time of my departure is at hand. I have fought a good fight, I have finished my course, I have kept the faith: Henceforth there is laid up for me a crown of righteousness, which the Lord, the righteous judge, shall give me at that day: and not to me only, but unto all them also that love his appearing. Do thy diligence to come shortly unto me:
2 Timothy 1:1 KJV
Paul, an apostle of Jesus Christ by the will of God, according to the promise of life which is in Christ Jesus,
1 Timothy 2:6-10 KJV
Who gave himself a ransom for all, to be testified in due time. Whereunto I am ordained a preacher, and an apostle, (I speak the truth in Christ, and lie not;) a teacher of the Gentiles in faith and verity. I will therefore that men pray every where, lifting up holy hands, without wrath and doubting. In like manner also, that women adorn themselves in modest apparel, with shamefacedness and sobriety; not with broided hair, or gold, or pearls, or costly array; But (which becometh women professing godliness) with good works.
1 Timothy 1:1-10 KJV
Paul, an apostle of Jesus Christ by the commandment of God our Saviour, and Lord Jesus Christ, which is our hope; Unto Timothy, my own son in the faith: Grace, mercy, and peace, from God our Father and Jesus Christ our Lord. As I besought thee to abide still at Ephesus, when I went into Macedonia, that thou mightest charge some that they teach no other doctrine, Neither give heed to fables and endless genealogies, which minister questions, rather than godly edifying which is in faith: so do. Now the end of the commandment is charity out of a pure heart, and of a good conscience, and of faith unfeigned: From which some having swerved have turned aside unto vain jangling; Desiring to be teachers of the law; understanding neither what they say, nor whereof they affirm. But we know that the law is good, if a man use it…
2 Thessalonians 2:16 KJV
Now our Lord Jesus Christ himself, and God, even our Father, which hath loved us, and hath given us everlasting consolation and good hope through grace,
1 Thessalonians 1:10 KJV
And to wait for his Son from heaven, whom he raised from the dead, even Jesus, which delivered us from the wrath to come.
Colossians 2:10-15 KJV
And ye are complete in him, which is the head of all principality and power: In whom also ye are circumcised with the circumcision made without hands, in putting off the body of the sins of the flesh by the circumcision of Christ: Buried with him in baptism, wherein also ye are risen with him through the faith of the operation of God, who hath raised him from the dead. And you, being dead in your sins and the uncircumcision of your flesh, hath he quickened together with him, having forgiven you all trespasses; Blotting out the handwriting of ordinances that was against us, which was contrary to us, and took it out of the way, nailing it to his cross; And having spoiled principalities and powers, he made a shew of them openly, triumphing over them in it.
Ephesians 4:3 KJV
Endeavouring to keep the unity of the Spirit in the bond of peace.
Ephesians 1:3 KJV
Blessed be the God and Father of our Lord Jesus Christ, who hath blessed us with all spiritual blessings in heavenly places in Christ:
2 Corinthians 8:1-4 KJV
Moreover, brethren, we do you to wit of the grace of God bestowed on the churches of Macedonia; How that in a great trial of affliction the abundance of their joy and their deep poverty abounded unto the riches of their liberality. For to their power, I bear record, yea, and beyond their power they were willing of themselves; Praying us with much intreaty that we would receive the gift, and take upon us the fellowship of the ministering to the saints.
1 Corinthians 9:19-22 KJV
For though I be free from all men, yet have I made myself servant unto all, that I might gain the more. And unto the Jews I became as a Jew, that I might gain the Jews; to them that are under the law, as under the law, that I might gain them that are under the law; To them that are without law, as without law, (being not without law to God, but under the law to Christ,) that I might gain them that are without law. To the weak became I as weak, that I might gain the weak: I am made all things to all men, that I might by all means save some.
1 Corinthians 2:9-10 KJV
But as it is written, Eye hath not seen, nor ear heard, neither have entered into the heart of man, the things which God hath prepared for them that love him. But God hath revealed them unto us by his Spirit: for the Spirit searcheth all things, yea, the deep things of God.
1 Corinthians 1:18-31 KJV
For the preaching of the cross is to them that perish foolishness; but unto us which are saved it is the power of God. For it is written, I will destroy the wisdom of the wise, and will bring to nothing the understanding of the prudent. Where is the wise? where is the scribe? where is the disputer of this world? hath not God made foolish the wisdom of this world? For after that in the wisdom of God the world by wisdom knew not God, it pleased God by the foolishness of preaching to save them that believe. For the Jews require a sign, and the Greeks seek after wisdom: But we preach Christ crucified, unto the Jews a stumblingblock, and unto the Greeks foolishness; But unto them which are called, both Jews and Greeks, Christ the power of God, and the wisdom of God. Because the foolishness of…
Romans 15:30 KJV
Now I beseech you, brethren, for the Lord Jesus Christ's sake, and for the love of the Spirit, that ye strive together with me in your prayers to God for me;
Romans 15:12 KJV
And again, Esaias saith, There shall be a root of Jesse, and he that shall rise to reign over the Gentiles; in him shall the Gentiles trust.
Romans 15:5-6 KJV
Now the God of patience and consolation grant you to be likeminded one toward another according to Christ Jesus: That ye may with one mind and one mouth glorify God, even the Father of our Lord Jesus Christ.
Acts 20:31 KJV
Therefore watch, and remember, that by the space of three years I ceased not to warn every one night and day with tears.
Acts 20:9-12 KJV
And there sat in a window a certain young man named Eutychus, being fallen into a deep sleep: and as Paul was long preaching, he sunk down with sleep, and fell down from the third loft, and was taken up dead. And Paul went down, and fell on him, and embracing him said, Trouble not yourselves; for his life is in him. When he therefore was come up again, and had broken bread, and eaten, and talked a long while, even till break of day, so he departed. And they brought the young man alive, and were not a little comforted.
Acts 19:1-41 KJV
And it came to pass, that, while Apollos was at Corinth, Paul having passed through the upper coasts came to Ephesus: and finding certain disciples, He said unto them, Have ye received the Holy Ghost since ye believed? And they said unto him, We have not so much as heard whether there be any Holy Ghost. And he said unto them, Unto what then were ye baptized? And they said, Unto John's baptism. Then said Paul, John verily baptized with the baptism of repentance, saying unto the people, that they should believe on him which should come after him, that is, on Christ Jesus. When they heard this, they were baptized in the name of the Lord Jesus. And when Paul had laid his hands upon them, the Holy Ghost came on them; and they spake with tongues, and prophesied. And all the men were about twelve. And he went…
Acts 18:24-28 KJV
And a certain Jew named Apollos, born at Alexandria, an eloquent man, and mighty in the scriptures, came to Ephesus. This man was instructed in the way of the Lord; and being fervent in the spirit, he spake and taught diligently the things of the Lord, knowing only the baptism of John. And he began to speak boldly in the synagogue: whom when Aquila and Priscilla had heard, they took him unto them, and expounded unto him the way of God more perfectly. And when he was disposed to pass into Achaia, the brethren wrote, exhorting the disciples to receive him: who, when he was come, helped them much which had believed through grace: For he mightily convinced the Jews, and that publicly, shewing by the scriptures that Jesus was Christ.
John 16:33 KJV
These things I have spoken unto you, that in me ye might have peace. In the world ye shall have tribulation: but be of good cheer; I have overcome the world.
Revelation 14:7-12 KJV
Saying with a loud voice, Fear God, and give glory to him; for the hour of his judgment is come: and worship him that made heaven, and earth, and the sea, and the fountains of waters. And there followed another angel, saying, Babylon is fallen, is fallen, that great city, because she made all nations drink of the wine of the wrath of her fornication. And the third angel followed them, saying with a loud voice, If any man worship the beast and his image, and receive his mark in his forehead, or in his hand, The same shall drink of the wine of the wrath of God, which is poured out without mixture into the cup of his indignation; and he shall be tormented with fire and brimstone in the presence of the holy angels, and in the presence of the Lamb: And the smoke of their torment ascendeth…
Titus 1:1 KJV
Paul, a servant of God, and an apostle of Jesus Christ, according to the faith of God's elect, and the acknowledging of the truth which is after godliness;
2 Timothy 3:8-9 KJV
Now as Jannes and Jambres withstood Moses, so do these also resist the truth: men of corrupt minds, reprobate concerning the faith. But they shall proceed no further: for their folly shall be manifest unto all men, as their's also was.
Acts 5:27-33 KJV
And when they had brought them, they set them before the council: and the high priest asked them, Saying, Did not we straitly command you that ye should not teach in this name? and, behold, ye have filled Jerusalem with your doctrine, and intend to bring this man's blood upon us. Then Peter and the other apostles answered and said, We ought to obey God rather than men. The God of our fathers raised up Jesus, whom ye slew and hanged on a tree. Him hath God exalted with his right hand to be a Prince and a Saviour, for to give repentance to Israel, and forgiveness of sins. And we are his witnesses of these things; and so is also the Holy Ghost, whom God hath given to them that obey him. When they heard that, they were cut to the heart, and took counsel to slay them.