Here are 125 Bible verses about the Trinity from the Old and New Testaments of the Holy Bible, King James Version, sorted from the most relevant to the least relevant.
Related topics: Christianity · faith · God · Jesus' birth · the Holy Spirit · who Jesus is
Matthew 28:19 KJV
Go ye therefore, and teach all nations, baptizing them in the name of the Father, and of the Son, and of the Holy Ghost:
1 Corinthians 8:6 KJV
But to us there is but one God, the Father, of whom are all things, and we in him; and one Lord Jesus Christ, by whom are all things, and we by him.
Matthew 3:16 KJV
And Jesus, when he was baptized, went up straightway out of the water: and, lo, the heavens were opened unto him, and he saw the Spirit of God descending like a dove, and lighting upon him:
Isaiah 9:6 KJV
For unto us a child is born, unto us a son is given: and the government shall be upon his shoulder: and his name shall be called Wonderful, Counsellor, The mighty God, The everlasting Father, The Prince of Peace.
Genesis 1:26 KJV
And God said, Let us make man in our image, after our likeness: and let them have dominion over the fish of the sea, and over the fowl of the air, and over the cattle, and over all the earth, and over every creeping thing that creepeth upon the earth.
1 John 5:7 KJV
For there are three that bear record in heaven, the Father, the Word, and the Holy Ghost: and these three are one.
John 10:30 KJV
I and my Father are one.
2 Corinthians 3:17 KJV
Now the Lord is that Spirit: and where the Spirit of the Lord is, there is liberty.
Matthew 12:28 KJV
But if I cast out devils by the Spirit of God, then the kingdom of God is come unto you.
John 1:14 KJV
And the Word was made flesh, and dwelt among us, (and we beheld his glory, the glory as of the only begotten of the Father,) full of grace and truth.
Genesis 3:22 KJV
And the Lord God said, Behold, the man is become as one of us, to know good and evil: and now, lest he put forth his hand, and take also of the tree of life, and eat, and live for ever:
1 Corinthians 12:4-6 KJV
Now there are diversities of gifts, but the same Spirit. And there are differences of administrations, but the same Lord. And there are diversities of operations, but it is the same God which worketh all in all.
2 Corinthians 13:14 KJV
The grace of the Lord Jesus Christ, and the love of God, and the communion of the Holy Ghost, be with you all. Amen.
Colossians 2:9 KJV
For in him dwelleth all the fulness of the Godhead bodily.
Genesis 11:7 KJV
Go to, let us go down, and there confound their language, that they may not understand one another's speech.
Psalm 33:6 KJV
By the word of the Lord were the heavens made; and all the host of them by the breath of his mouth.
Luke 3:22 KJV
And the Holy Ghost descended in a bodily shape like a dove upon him, and a voice came from heaven, which said, Thou art my beloved Son; in thee I am well pleased.
Hebrews 1:3 KJV
Who being the brightness of his glory, and the express image of his person, and upholding all things by the word of his power, when he had by himself purged our sins, sat down on the right hand of the Majesty on high:
Isaiah 6:8 KJV
Also I heard the voice of the Lord, saying, Whom shall I send, and who will go for us? Then said I, Here am I; send me.
John 16:15 KJV
All things that the Father hath are mine: therefore said I, that he shall take of mine, and shall shew it unto you.
Genesis 1:1-2 KJV
In the beginning God created the heaven and the earth. And the earth was without form, and void; and darkness was upon the face of the deep. And the Spirit of God moved upon the face of the waters.
John 14:26 KJV
But the Comforter, which is the Holy Ghost, whom the Father will send in my name, he shall teach you all things, and bring all things to your remembrance, whatsoever I have said unto you.
Colossians 1:15-17 KJV
Who is the image of the invisible God, the firstborn of every creature: For by him were all things created, that are in heaven, and that are in earth, visible and invisible, whether they be thrones, or dominions, or principalities, or powers: all things were created by him, and for him: And he is before all things, and by him all things consist.
1 Peter 1:1-2 KJV
Peter, an apostle of Jesus Christ, to the strangers scattered throughout Pontus, Galatia, Cappadocia, Asia, and Bithynia, Elect according to the foreknowledge of God the Father, through sanctification of the Spirit, unto obedience and sprinkling of the blood of Jesus Christ: Grace unto you, and peace, be multiplied.
Isaiah 44:6 KJV
Thus saith the Lord the King of Israel, and his redeemer the Lord of hosts; I am the first, and I am the last; and beside me there is no God.
John 15:26 KJV
But when the Comforter is come, whom I will send unto you from the Father, even the Spirit of truth, which proceedeth from the Father, he shall testify of me:
Luke 3:21 KJV
Now when all the people were baptized, it came to pass, that Jesus also being baptized, and praying, the heaven was opened,
Romans 11:36 KJV
For of him, and through him, and to him, are all things: to whom be glory for ever. Amen.
Romans 14:17-18 KJV
For the kingdom of God is not meat and drink; but righteousness, and peace, and joy in the Holy Ghost. For he that in these things serveth Christ is acceptable to God, and approved of men.
Acts 1:4 KJV
And, being assembled together with them, commanded them that they should not depart from Jerusalem, but wait for the promise of the Father, which, saith he, ye have heard of me.
Proverbs 8:22 KJV
The Lord possessed me in the beginning of his way, before his works of old.
Acts 2:33 KJV
Therefore being by the right hand of God exalted, and having received of the Father the promise of the Holy Ghost, he hath shed forth this, which ye now see and hear.
Acts 20:28 KJV
Take heed therefore unto yourselves, and to all the flock, over the which the Holy Ghost hath made you overseers, to feed the church of God, which he hath purchased with his own blood.
Isaiah 48:16 KJV
Come ye near unto me, hear ye this; I have not spoken in secret from the beginning; from the time that it was, there am I: and now the Lord God, and his Spirit, hath sent me.
Luke 1:35 KJV
And the angel answered and said unto her, The Holy Ghost shall come upon thee, and the power of the Highest shall overshadow thee: therefore also that holy thing which shall be born of thee shall be called the Son of God.
Acts 10:38 KJV
How God anointed Jesus of Nazareth with the Holy Ghost and with power: who went about doing good, and healing all that were oppressed of the devil; for God was with him.
John 14:16-17 KJV
And I will pray the Father, and he shall give you another Comforter, that he may abide with you for ever; Even the Spirit of truth; whom the world cannot receive, because it seeth him not, neither knoweth him: but ye know him; for he dwelleth with you, and shall be in you.
Matthew 1:23 KJV
Behold, a virgin shall be with child, and shall bring forth a son, and they shall call his name Emmanuel, which being interpreted is, God with us.
Romans 1:4 KJV
And declared to be the Son of God with power, according to the spirit of holiness, by the resurrection from the dead:
Romans 8:9 KJV
But ye are not in the flesh, but in the Spirit, if so be that the Spirit of God dwell in you. Now if any man have not the Spirit of Christ, he is none of his.
Matthew 3:13 KJV
Then cometh Jesus from Galilee to Jordan unto John, to be baptized of him.
1 Corinthians 6:11 KJV
And such were some of you: but ye are washed, but ye are sanctified, but ye are justified in the name of the Lord Jesus, and by the Spirit of our God.
Genesis 32:27 KJV
And he said unto him, What is thy name? And he said, Jacob.
Ephesians 4:4-6 KJV
There is one body, and one Spirit, even as ye are called in one hope of your calling; One Lord, one faith, one baptism, One God and Father of all, who is above all, and through all, and in you all.
Deuteronomy 6:4 KJV
Hear, O Israel: The Lord our God is one Lord:
Galatians 4:6 KJV
And because ye are sons, God hath sent forth the Spirit of his Son into your hearts, crying, Abba, Father.
Philippians 2:5-8 KJV
Let this mind be in you, which was also in Christ Jesus: Who, being in the form of God, thought it not robbery to be equal with God: But made himself of no reputation, and took upon him the form of a servant, and was made in the likeness of men: And being found in fashion as a man, he humbled himself, and became obedient unto death, even the death of the cross.
Mark 12:32 KJV
And the scribe said unto him, Well, Master, thou hast said the truth: for there is one God; and there is none other but he:
1 Corinthians 13:13 KJV
And now abideth faith, hope, charity, these three; but the greatest of these is charity.
John 1:1 KJV
In the beginning was the Word, and the Word was with God, and the Word was God.
Ephesians 1:17 KJV
That the God of our Lord Jesus Christ, the Father of glory, may give unto you the spirit of wisdom and revelation in the knowledge of him:
Romans 3:30 KJV
Seeing it is one God, which shall justify the circumcision by faith, and uncircumcision through faith.
1 John 5:8 KJV
And there are three that bear witness in earth, the Spirit, and the water, and the blood: and these three agree in one.
Ephesians 2:18 KJV
For through him we both have access by one Spirit unto the Father.
James 2:19 KJV
Thou believest that there is one God; thou doest well: the devils also believe, and tremble.
Proverbs 3:19 KJV
The Lord by wisdom hath founded the earth; by understanding hath he established the heavens.
Ephesians 2:22 KJV
In whom ye also are builded together for an habitation of God through the Spirit.
Titus 3:6 KJV
Which he shed on us abundantly through Jesus Christ our Saviour;
1 Corinthians 8:4 KJV
As concerning therefore the eating of those things that are offered in sacrifice unto idols, we know that an idol is nothing in the world, and that there is none other God but one.
Genesis 18:2 KJV
And he lift up his eyes and looked, and, lo, three men stood by him: and when he saw them, he ran to meet them from the tent door, and bowed himself toward the ground,
2 Corinthians 1:21-22 KJV
Now he which stablisheth us with you in Christ, and hath anointed us, is God; Who hath also sealed us, and given the earnest of the Spirit in our hearts.
Hebrews 9:14 KJV
How much more shall the blood of Christ, who through the eternal Spirit offered himself without spot to God, purge your conscience from dead works to serve the living God?
Zechariah 14:9 KJV
And the Lord shall be king over all the earth: in that day shall there be one Lord, and his name one.
1 Thessalonians 3:12 KJV
And the Lord make you to increase and abound in love one toward another, and toward all men, even as we do toward you:
2 Corinthians 8:6 KJV
Insomuch that we desired Titus, that as he had begun, so he would also finish in you the same grace also.
John 17:22-23 KJV
And the glory which thou gavest me I have given them; that they may be one, even as we are one: I in them, and thou in me, that they may be made perfect in one; and that the world may know that thou hast sent me, and hast loved them, as thou hast loved me.
John 14:9-11 KJV
Jesus saith unto him, Have I been so long time with you, and yet hast thou not known me, Philip? he that hath seen me hath seen the Father; and how sayest thou then, Show us the Father? Believest thou not that I am in the Father, and the Father in me? the words that I speak unto you I speak not of myself: but the Father that dwelleth in me, he doeth the works. Believe me that I am in the Father, and the Father in me: or else believe me for the very works' sake.
Romans 11:29 KJV
For the gifts and calling of God are without repentance.
Acts 5:3-4 KJV
But Peter said, Ananias, why hath Satan filled thine heart to lie to the Holy Ghost, and to keep back part of the price of the land? Whiles it remained, was it not thine own? and after it was sold, was it not in thine own power? why hast thou conceived this thing in thine heart? thou hast not lied unto men, but unto God.
Genesis 32:30 KJV
And Jacob called the name of the place Peniel: for I have seen God face to face, and my life is preserved.
Romans 15:30 KJV
Now I beseech you, brethren, for the Lord Jesus Christ's sake, and for the love of the Spirit, that ye strive together with me in your prayers to God for me;
2 Timothy 1:9 KJV
Who hath saved us, and called us with an holy calling, not according to our works, but according to his own purpose and grace, which was given us in Christ Jesus before the world began,
2 Thessalonians 3:5 KJV
And the Lord direct your hearts into the love of God, and into the patient waiting for Christ.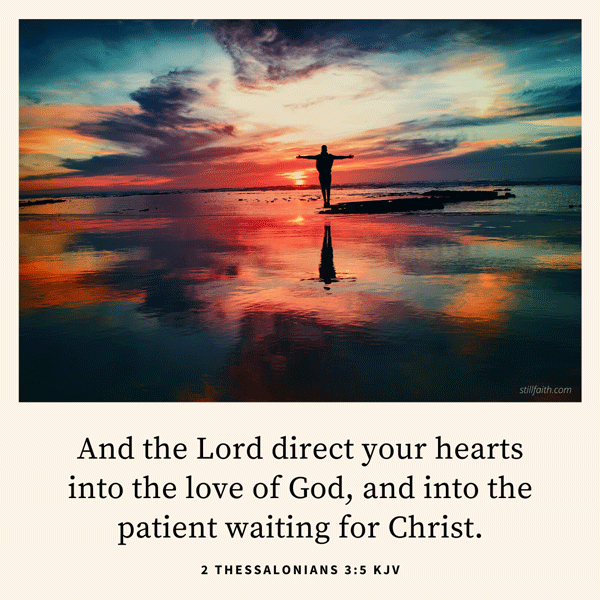 Ephesians 3:17 KJV
That Christ may dwell in your hearts by faith; that ye, being rooted and grounded in love,
Romans 11:16 KJV
For if the firstfruit be holy, the lump is also holy: and if the root be holy, so are the branches.
Revelation 1:8 KJV
I am Alpha and Omega, the beginning and the ending, saith the Lord, which is, and which was, and which is to come, the Almighty.
Titus 1:3 KJV
But hath in due times manifested his word through preaching, which is committed unto me according to the commandment of God our Saviour;
Matthew 3:17 KJV
And lo a voice from heaven, saying, This is my beloved Son, in whom I am well pleased.
Ephesians 1:3 KJV
Blessed be the God and Father of our Lord Jesus Christ, who hath blessed us with all spiritual blessings in heavenly places in Christ:
Deuteronomy 29:29 KJV
The secret things belong unto the Lord our God: but those things which are revealed belong unto us and to our children for ever, that we may do all the words of this law.
1 Thessalonians 3:11 KJV
Now God himself and our Father, and our Lord Jesus Christ, direct our way unto you.
Galatians 5:22-23 KJV
But the fruit of the Spirit is love, joy, peace, longsuffering, gentleness, goodness, faith, Meekness, temperance: against such there is no law.
Romans 4:17 KJV
(As it is written, I have made thee a father of many nations,) before him whom he believed, even God, who quickeneth the dead, and calleth those things which be not as though they were.
Romans 4:18 KJV
Who against hope believed in hope, that he might become the father of many nations, according to that which was spoken, So shall thy seed be.
Hebrews 7:24 KJV
But this man, because he continueth ever, hath an unchangeable priesthood.
1 Corinthians 2:9-10 KJV
But as it is written, Eye hath not seen, nor ear heard, neither have entered into the heart of man, the things which God hath prepared for them that love him. But God hath revealed them unto us by his Spirit: for the Spirit searcheth all things, yea, the deep things of God.
Jeremiah 23:23-24 KJV
Am I a God at hand, saith the Lord, and not a God afar off? Can any hide himself in secret places that I shall not see him? saith the Lord. Do not I fill heaven and earth? saith the Lord.
John 17:3 KJV
And this is life eternal, that they might know thee the only true God, and Jesus Christ, whom thou hast sent.
Mark 2:8 KJV
And immediately when Jesus perceived in his spirit that they so reasoned within themselves, he said unto them, Why reason ye these things in your hearts?
John 20:28 KJV
And Thomas answered and said unto him, My Lord and my God.
1 Timothy 2:5 KJV
For there is one God, and one mediator between God and men, the man Christ Jesus;
John 14:10 KJV
Believest thou not that I am in the Father, and the Father in me? the words that I speak unto you I speak not of myself: but the Father that dwelleth in me, he doeth the works.
John 14:28 KJV
Ye have heard how I said unto you, I go away, and come again unto you. If ye loved me, ye would rejoice, because I said, I go unto the Father: for my Father is greater than I.
John 1:3 KJV
All things were made by him; and without him was not any thing made that was made.
John 20:17 KJV
Jesus saith unto her, Touch me not; for I am not yet ascended to my Father: but go to my brethren, and say unto them, I ascend unto my Father, and your Father; and to my God, and your God.
Romans 8:11 KJV
But if the Spirit of him that raised up Jesus from the dead dwell in you, he that raised up Christ from the dead shall also quicken your mortal bodies by his Spirit that dwelleth in you.
John 8:58 KJV
Jesus said unto them, Verily, verily, I say unto you, Before Abraham was, I am.
Revelation 22:13 KJV
I am Alpha and Omega, the beginning and the end, the first and the last.
Isaiah 43:10 KJV
Ye are my witnesses, saith the Lord, and my servant whom I have chosen: that ye may know and believe me, and understand that I am he: before me there was no God formed, neither shall there be after me.
Jude 1:20-21 KJV
But ye, beloved, building up yourselves on your most holy faith, praying in the Holy Ghost, Keep yourselves in the love of God, looking for the mercy of our Lord Jesus Christ unto eternal life.
John 3:16 KJV
For God so loved the world, that he gave his only begotten Son, that whosoever believeth in him should not perish, but have everlasting life.
Titus 2:13 KJV
Looking for that blessed hope, and the glorious appearing of the great God and our Saviour Jesus Christ;
Hebrews 1:8 KJV
But unto the Son he saith, Thy throne, O God, is for ever and ever: a sceptre of righteousness is the sceptre of thy kingdom.
1 Corinthians 3:16 KJV
Know ye not that ye are the temple of God, and that the Spirit of God dwelleth in you?
Acts 13:2 KJV
As they ministered to the Lord, and fasted, the Holy Ghost said, Separate me Barnabas and Saul for the work whereunto I have called them.
Luke 22:42 KJV
Saying, Father, if thou be willing, remove this cup from me: nevertheless not my will, but thine, be done.
Isaiah 46:9 KJV
Remember the former things of old: for I am God, and there is none else; I am God, and there is none like me,
John 16:7 KJV
Nevertheless I tell you the truth; It is expedient for you that I go away: for if I go not away, the Comforter will not come unto you; but if I depart, I will send him unto you.
Colossians 1:16 KJV
For by him were all things created, that are in heaven, and that are in earth, visible and invisible, whether they be thrones, or dominions, or principalities, or powers: all things were created by him, and for him:
Revelation 1:1 KJV
The Revelation of Jesus Christ, which God gave unto him, to shew unto his servants things which must shortly come to pass; and he sent and signified it by his angel unto his servant John:
John 1:18 KJV
No man hath seen God at any time, the only begotten Son, which is in the bosom of the Father, he hath declared him.
Psalm 110:1 KJV
The Lord said unto my Lord, Sit thou at my right hand, until I make thine enemies thy footstool.
1 John 5:20 KJV
And we know that the Son of God is come, and hath given us an understanding, that we may know him that is true, and we are in him that is true, even in his Son Jesus Christ. This is the true God, and eternal life.
Philippians 1:2 KJV
Grace be unto you, and peace, from God our Father, and from the Lord Jesus Christ.
Matthew 28:20 KJV
Teaching them to observe all things whatsoever I have commanded you: and, lo, I am with you always, even unto the end of the world. Amen.
Isaiah 61:1 KJV
The Spirit of the Lord God is upon me; because the Lord hath anointed me to preach good tidings unto the meek; he hath sent me to bind up the brokenhearted, to proclaim liberty to the captives, and the opening of the prison to them that are bound;
1 John 1:3 KJV
That which we have seen and heard declare we unto you, that ye also may have fellowship with us: and truly our fellowship is with the Father, and with his Son Jesus Christ.
Titus 1:4 KJV
To Titus, mine own son after the common faith: Grace, mercy, and peace, from God the Father and the Lord Jesus Christ our Saviour.
1 Corinthians 12:11 KJV
But all these worketh that one and the selfsame Spirit, dividing to every man severally as he will.
Psalm 2:7 KJV
I will declare the decree: the Lord hath said unto me, Thou art my Son; this day have I begotten thee.
1 John 3:20 KJV
For if our heart condemn us, God is greater than our heart, and knoweth all things.
John 4:24 KJV
God is a Spirit: and they that worship him must worship him in spirit and in truth.
Isaiah 44:8 KJV
Fear ye not, neither be afraid: have not I told thee from that time, and have declared it? ye are even my witnesses. Is there a God beside me? yea, there is no God; I know not any.
John 5:18 KJV
Therefore the Jews sought the more to kill him, because he not only had broken the sabbath, but said also that God was his Father, making himself equal with God.
Mark 12:29 KJV
And Jesus answered him, The first of all the commandments is, Hear, O Israel; The Lord our God is one Lord: