Here are the 63 best Bible verses about loneliness from the Old and New Testaments of the Holy Bible (King James Version) sorted from most to least relevant.
Fear thou not; for I am with thee: be not dismayed; for I am thy God: I will strengthen thee; yea, I will help thee; yea, I will uphold thee with the right hand of my righteousness.
Be strong and of a good courage, fear not, nor be afraid of them: for the Lord thy God, he it is that doth go with thee; he will not fail thee, nor forsake thee.
Come unto me, all ye that labour and are heavy laden, and I will give you rest.
Teaching them to observe all things whatsoever I have commanded you: and, lo, I am with you always, even unto the end of the world. Amen.
And the Lord God said, It is not good that the man should be alone; I will make him a help meet for him.
Casting all your care upon him; for he careth for you.
When my father and my mother forsake me, then the Lord will take me up.
Yea, though I walk through the valley of the shadow of death, I will fear no evil: for thou art with me; thy rod and thy staff they comfort me.
Let your conversation be without covetousness; and be content with such things as ye have: for he hath said, I will never leave thee, nor forsake thee. So that we may boldly say, The Lord is my helper, and I will not fear what man shall do unto me.
There shall not any man be able to stand before thee all the days of thy life: as I was with Moses, so I will be with thee: I will not fail thee, nor forsake thee.
I will not leave you comfortless: I will come to you.
Be careful for nothing; but in every thing by prayer and supplication with thanksgiving let your requests be made known unto God. And the peace of God, which passeth all understanding, shall keep your hearts and minds through Christ Jesus.
Lord, all my desire is before thee; and my groaning is not hid from thee.
He healeth the broken in heart, and bindeth up their wounds.
A father of the fatherless, and a judge of the widows, is God in his holy habitation. God setteth the solitary in families: he bringeth out those which are bound with chains: but the rebellious dwell in a dry land.
At my first answer no man stood with me, but all men forsook me: I pray God that it may not be laid to their charge. Notwithstanding the Lord stood with me, and strengthened me; that by me the preaching might be fully known, and that all the Gentiles might hear: and I was delivered out of the mouth of the lion. And the Lord shall deliver me from every evil work, and will preserve me unto his heavenly kingdom: to whom be glory for ever and ever. Amen.
Trust in him at all times; ye people, pour out your heart before him: God is a refuge for us. Selah.
A man that hath friends must shew himself friendly: and there is a friend that sticketh closer than a brother.
Turn thee unto me, and have mercy upon me; for I am desolate and afflicted.
Hereby know we that we dwell in him, and he in us, because he hath given us of his Spirit.
For the Lord will not forsake his people for his great name's sake: because it hath pleased the Lord to make you his people.
Hast thou not known? hast thou not heard, that the everlasting God, the Lord, the Creator of the ends of the earth, fainteth not, neither is weary? there is no searching of his understanding. He giveth power to the faint; and to them that have no might he increaseth strength. Even the youths shall faint and be weary, and the young men shall utterly fall: But they that wait upon the Lord shall renew their strength; they shall mount up with wings as eagles; they shall run, and not be weary; and they shall walk, and not faint.
And about the ninth hour Jesus cried with a loud voice, saying, Eli, Eli, lama sabachthani? that is to say, My God, my God, why hast thou forsaken me?
And he withdrew himself into the wilderness, and prayed.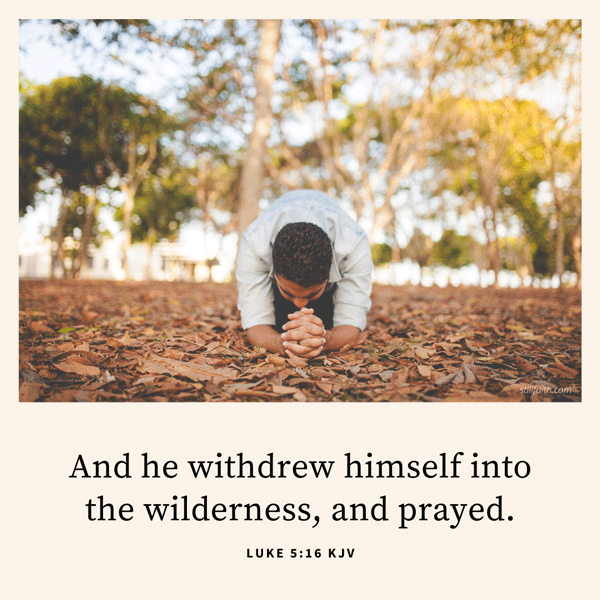 And the Lord, he it is that doth go before thee; he will be with thee, he will not fail thee, neither forsake thee: fear not, neither be dismayed.
There hath no temptation taken you but such as is common to man: but God is faithful, who will not suffer you to be tempted above that ye are able; but will with the temptation also make a way to escape, that ye may be able to bear it.
I will lift up mine eyes unto the hills, from whence cometh my help. My help cometh from the Lord, which made heaven and earth.
Blessed be God, even the Father of our Lord Jesus Christ, the Father of mercies, and the God of all comfort; Who comforteth us in all our tribulation, that we may be able to comfort them which are in any trouble, by the comfort wherewith we ourselves are comforted of God.
Now she that is a widow indeed, and desolate, trusteth in God, and continueth in supplications and prayers night and day.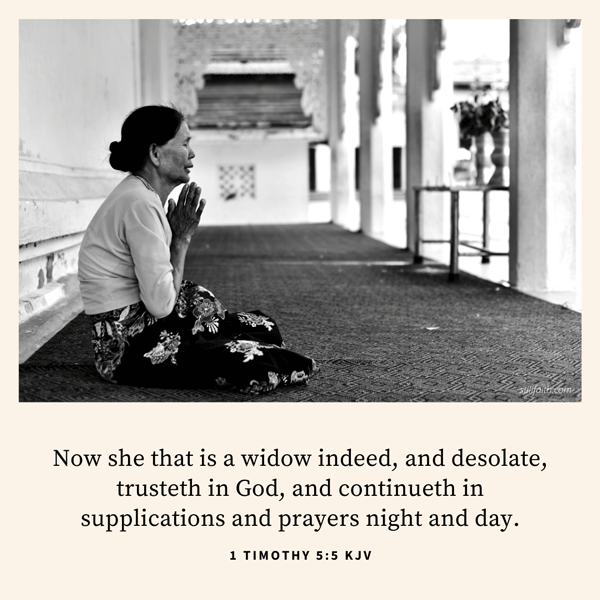 O lord, thou hast searched me, and known me. Thou knowest my downsitting and mine uprising, thou understandest my thought afar off.
God is our refuge and strength, a very present help in trouble.
Have not I commanded thee? Be strong and of a good courage; be not afraid, neither be thou dismayed: for the Lord thy God is with thee whithersoever thou goest.
For I know the thoughts that I think toward you, saith the Lord, thoughts of peace, and not of evil, to give you an expected end.
Peace I leave with you, my peace I give unto you: not as the world giveth, give I unto you. Let not your heart be troubled, neither let it be afraid.
How long wilt thou forget me, O Lord? for ever? how long wilt thou hide thy face from me? How long shall I take counsel in my soul, having sorrow in my heart daily? how long shall mine enemy be exalted over me? Consider and hear me, O Lord my God: lighten mine eyes, lest I sleep the sleep of death; Lest mine enemy say, I have prevailed against him; and those that trouble me rejoice when I am moved. But I have trusted in thy mercy; my heart shall rejoice in thy salvation. I will sing unto the Lord, because he hath dealt bountifully with me.
Behold, the hour cometh, yea, is now come, that ye shall be scattered, every man to his own, and shall leave me alone: and yet I am not alone, because the Father is with me. These things I have spoken unto you, that in me ye might have peace. In the world ye shall have tribulation: but be of good cheer; I have overcome the world.
I waited patiently for the Lord; and he inclined unto me, and heard my cry. He brought me up also out of an horrible pit, out of the miry clay, and set my feet upon a rock, and established my goings. And he hath put a new song in my mouth, even praise unto our God: many shall see it, and fear, and shall trust in the Lord.
Nor height, nor depth, nor any other creature, shall be able to separate us from the love of God, which is in Christ Jesus our Lord.
Seek the Lord and his strength, seek his face continually.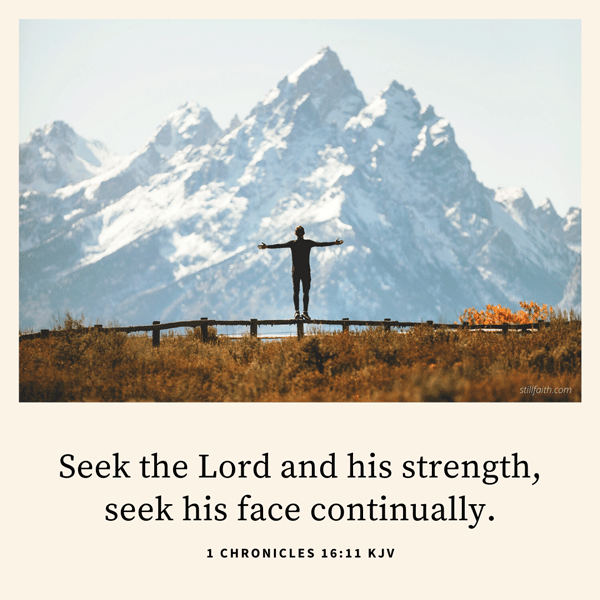 Why art thou cast down, O my soul? and why art thou disquieted within me? hope thou in God: for I shall yet praise him, who is the health of my countenance, and my God.
Keep silence before me, O islands; and let the people renew their strength: let them come near; then let them speak: let us come near together to judgment.
When thou passest through the waters, I will be with thee; and through the rivers, they shall not overflow thee: when thou walkest through the fire, thou shalt not be burned; neither shall the flame kindle upon thee.
And when he had sent the multitudes away, he went up into a mountain apart to pray: and when the evening was come, he was there alone.
When Jesus heard of it, he departed thence by ship into a desert place apart: and when the people had heard thereof, they followed him on foot out of the cities.
He shall call upon me, and I will answer him: I will be with him in trouble; I will deliver him, and honour him.
I looked on my right hand, and beheld, but there was no man that would know me: refuge failed me; no man cared for my soul.
Nevertheless I am continually with thee: thou hast holden me by my right hand. Thou shalt guide me with thy counsel, and afterward receive me to glory. Whom have I in heaven but thee? and there is none upon earth that I desire beside thee. My flesh and my heart faileth: but God is the strength of my heart, and my portion for ever.
In the multitude of my thoughts within me thy comforts delight my soul.
Who shall separate us from the love of Christ? shall tribulation, or distress, or persecution, or famine, or nakedness, or peril, or sword?
He that dwelleth in the secret place of the most High shall abide under the shadow of the Almighty. I will say of the Lord, He is my refuge and my fortress: my God; in him will I trust.
My soul, wait thou only upon God; for my expectation is from him.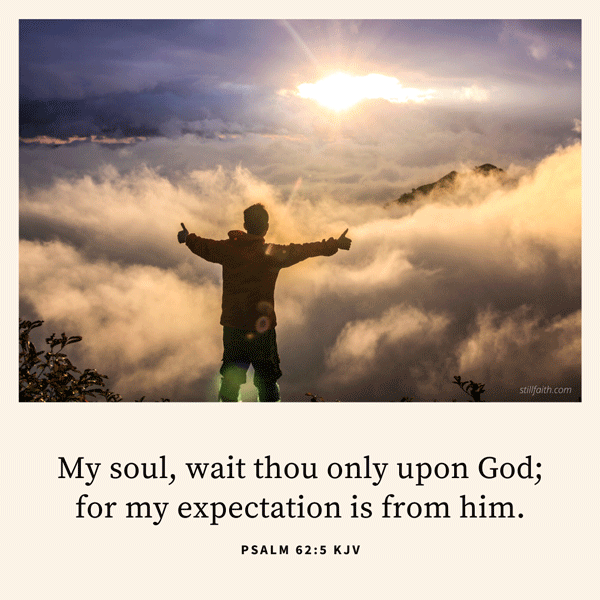 I watch, and am as a sparrow alone upon the house top.
And I will pray the Father, and he shall give you another Comforter, that he may abide with you for ever.
Submit yourselves therefore to God. Resist the devil, and he will flee from you.
But thou, O Lord, art a shield for me; my glory, and the lifter up of mine head.
A merry heart maketh a cheerful countenance: but by sorrow of the heart the spirit is broken. The heart of him that hath understanding seeketh knowledge: but the mouth of fools feedeth on foolishness.
Let not your heart be troubled: ye believe in God, believe also in me.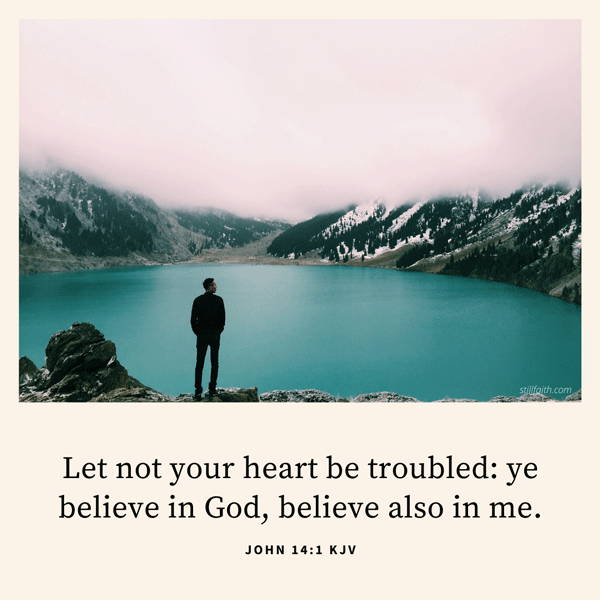 Behold, I stand at the door, and knock: if any man hear my voice, and open the door, I will come in to him, and will sup with him, and he with me.
Woe is me, my mother, that thou hast borne me a man of strife and a man of contention to the whole earth! I have neither lent on usury, nor men have lent to me on usury; yet every one of them doth curse me.
I sat not in the assembly of the mockers, nor rejoiced; I sat alone because of thy hand: for thou hast filled me with indignation.
But it is good for me to draw near to God: I have put my trust in the Lord God, that I may declare all thy works.
Behold, I have graven thee upon the palms of my hands; thy walls are continually before me.
The Lord is good unto them that wait for him, to the soul that seeketh him. It is good that a man should both hope and quietly wait for the salvation of the Lord. It is good for a man that he bear the yoke in his youth. He sitteth alone and keepeth silence, because he hath borne it upon him. He putteth his mouth in the dust; if so be there may be hope. He giveth his cheek to him that smiteth him: he is filled full with reproach.