Here are the 68 Bible Verses about Sports from the Old and New Testaments of The Holy Bible (King James Version) sorted from most to least relevant.
Related topics: Courage · Discipline · Pride · Strength · Unity · Working Together
10 Best Bible Verses about Sports
And if a man also strive for masteries, yet is he not crowned, except he strive lawfully.
For bodily exercise profiteth little: but godliness is profitable unto all things, having promise of the life that now is, and of that which is to come.
I can do all things through Christ which strengtheneth me.
And whosoever shall exalt himself shall be abased; and he that shall humble himself shall be exalted.
All things are lawful unto me, but all things are not expedient: all things are lawful for me, but I will not be brought under the power of any.
Whether therefore ye eat, or drink, or whatsoever ye do, do all to the glory of God.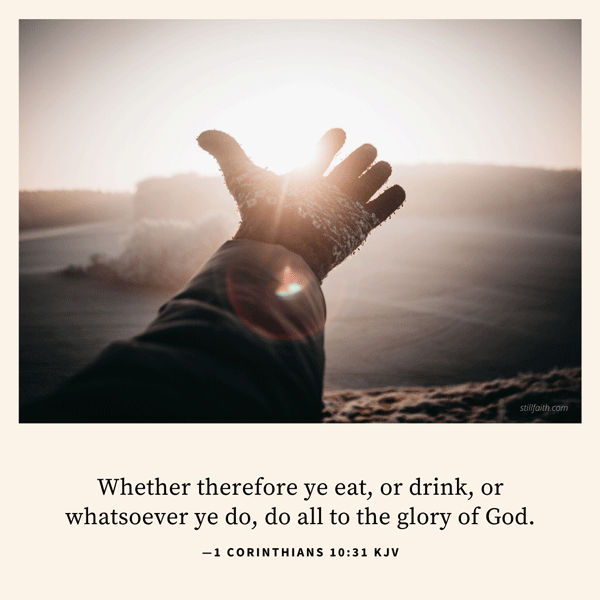 Not as though I had already attained, either were already perfect: but I follow after, if that I may apprehend that for which also I am apprehended of Christ Jesus. Brethren, I count not myself to have apprehended: but this one thing I do, forgetting those things which are behind, and reaching forth unto those things which are before, I press toward the mark for the prize of the high calling of God in Christ Jesus.
And Jacob was left alone; and there wrestled a man with him until the breaking of the day. And when he saw that he prevailed not against him, he touched the hollow of his thigh; and the hollow of Jacob's thigh was out of joint, as he wrestled with him. And he said, Let me go, for the day breaketh. And he said, I will not let thee go, except thou bless me. And he said unto him, What is thy name? And he said, Jacob. And he said, Thy name shall be called no more Jacob, but Israel: for as a prince hast thou power with God and with men, and hast prevailed. And Jacob asked him, and said, Tell me, I pray thee, thy name. And he said, Wherefore is it that thou dost ask after my name? And he blessed him there. And Jacob called the name of the place Peniel: for I have seen God face to face, and my life is preserved.
I have fought a good fight, I have finished my course, I have kept the faith.
But now ye also put off all these; anger, wrath, malice, blasphemy, filthy communication out of your mouth.
More Bible Verses about Sports
The fear of the Lord is to hate evil: pride, and arrogancy, and the evil way, and the froward mouth, do I hate.
If there be therefore any consolation in Christ, if any comfort of love, if any fellowship of the Spirit, if any bowels and mercies, Fulfil ye my joy, that ye be likeminded, having the same love, being of one accord, of one mind. Let nothing be done through strife or vainglory; but in lowliness of mind let each esteem other better than themselves. Look not every man on his own things, but every man also on the things of others.
Here is the patience of the saints: here are they that keep the commandments of God, and the faith of Jesus.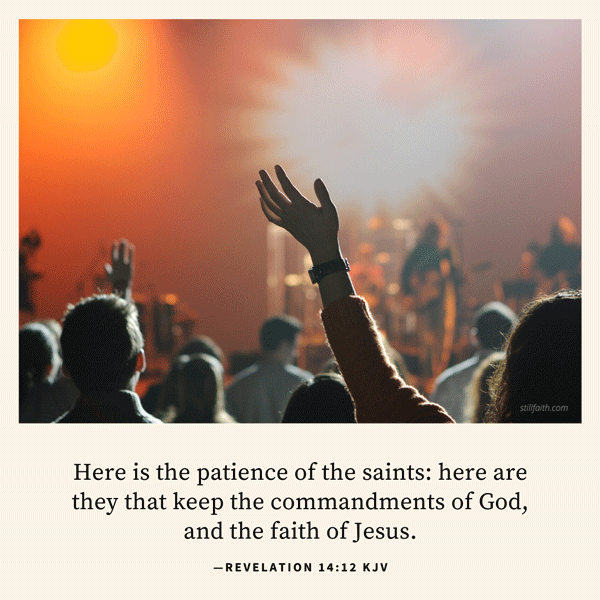 Wherefore seeing we also are compassed about with so great a cloud of witnesses, let us lay aside every weight, and the sin which doth so easily beset us, and let us run with patience the race that is set before us, Looking unto Jesus the author and finisher of our faith; who for the joy that was set before him endured the cross, despising the shame, and is set down at the right hand of the throne of God.
Boast not thyself of to morrow; for thou knowest not what a day may bring forth. Let another man praise thee, and not thine own mouth; a stranger, and not thine own lips.
For a just man falleth seven times, and riseth up again: but the wicked shall fall into mischief. Rejoice not when thine enemy falleth, and let not thine heart be glad when he stumbleth: Lest the Lord see it, and it displease him, and he turn away his wrath from him.
When pride cometh, then cometh shame: but with the lowly is wisdom.
What shall we then say to these things? If God be for us, who can be against us?
A man's pride shall bring him low: but honour shall uphold the humble in spirit.
If thou hast done foolishly in lifting up thyself, or if thou hast thought evil, lay thine hand upon thy mouth. Surely the churning of milk bringeth forth butter, and the wringing of the nose bringeth forth blood: so the forcing of wrath bringeth forth strife.
If I must needs glory, I will glory of the things which concern mine infirmities.
For if a man think himself to be something, when he is nothing, he deceiveth himself.
Know ye not that they which run in a race run all, but one receiveth the prize? So run, that ye may obtain. And every man that striveth for the mastery is temperate in all things. Now they do it to obtain a corruptible crown; but we an incorruptible. I therefore so run, not as uncertainly; so fight I, not as one that beateth the air: But I keep under my body, and bring it into subjection: lest that by any means, when I have preached to others, I myself should be a castaway.
Take heed unto thyself, and unto the doctrine; continue in them: for in doing this thou shalt both save thyself, and them that hear thee.
And I went up by revelation, and communicated unto them that gospel which I preach among the Gentiles, but privately to them which were of reputation, lest by any means I should run, or had run, in vain.
And take heed to yourselves, lest at any time your hearts be overcharged with surfeiting, and drunkenness, and cares of this life, and so that day come upon you unawares.
It is not good to eat much honey: so for men to search their own glory is not glory.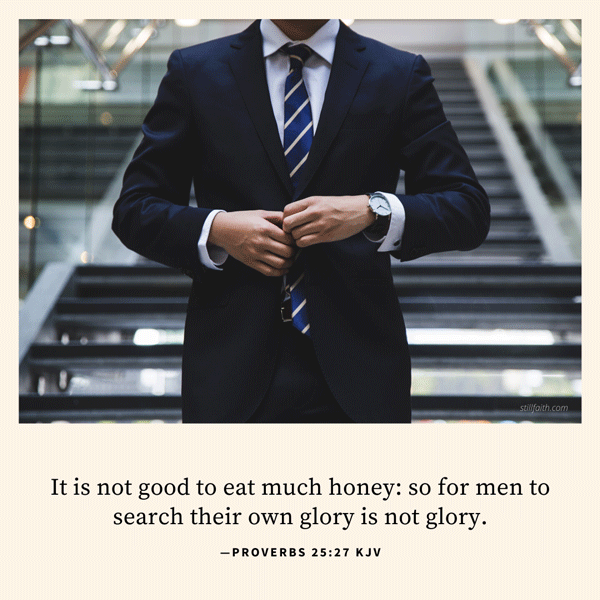 Pride goeth before destruction, and an haughty spirit before a fall.
For ye have need of patience, that, after ye have done the will of God, ye might receive the promise.
For what is our hope, or joy, or crown of rejoicing? Are not even ye in the presence of our Lord Jesus Christ at his coming?
And whatsoever ye do, do it heartily, as to the Lord, and not unto men; Knowing that of the Lord ye shall receive the reward of the inheritance: for ye serve the Lord Christ.
For there is no respect of persons with God.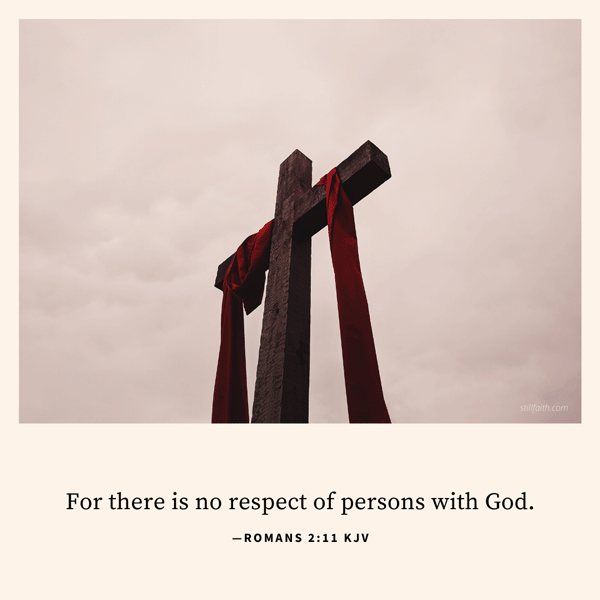 For godly sorrow worketh repentance to salvation not to be repented of: but the sorrow of the world worketh death.
Jesus answered, My kingdom is not of this world: if my kingdom were of this world, then would my servants fight, that I should not be delivered to the Jews: but now is my kingdom not from hence.
For they loved the praise of men more than the praise of God.
And Jesus answering said unto him, It is said, Thou shalt not tempt the Lord thy God.
And through his policy also he shall cause craft to prosper in his hand; and he shall magnify himself in his heart, and by peace shall destroy many: he shall also stand up against the Prince of princes; but he shall be broken without hand.
For mine own sake, even for mine own sake, will I do it: for how should my name be polluted? and I will not give my glory unto another.
Cease ye from man, whose breath is in his nostrils: for wherein is he to be accounted of?
And of his fulness have all we received, and grace for grace.
For with God nothing shall be impossible.
Lord, who shall abide in thy tabernacle? who shall dwell in thy holy hill? He that walketh uprightly, and worketh righteousness, and speaketh the truth in his heart. He that backbiteth not with his tongue, nor doeth evil to his neighbour, nor taketh up a reproach against his neighbour. In whose eyes a vile person is contemned; but he honoureth them that fear the Lord. He that sweareth to his own hurt, and changeth not. He that putteth not out his money to usury, nor taketh reward against the innocent. He that doeth these things shall never be moved.
The Lord trieth the righteous: but the wicked and him that loveth violence his soul hateth.
And they were helped against them, and the Hagarites were delivered into their hand, and all that were with them: for they cried to God in the battle, and he was intreated of them; because they put their trust in him.
This I say then, Walk in the Spirit, and ye shall not fulfil the lust of the flesh. For the flesh lusteth against the Spirit, and the Spirit against the flesh: and these are contrary the one to the other: so that ye cannot do the things that ye would. But if ye be led of the Spirit, ye are not under the law.
Let all things be done decently and in order.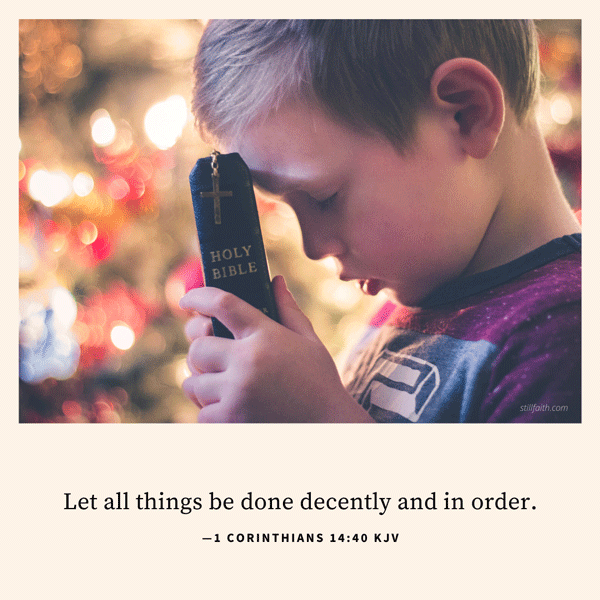 But none of these things move me, neither count I my life dear unto myself, so that I might finish my course with joy, and the ministry, which I have received of the Lord Jesus, to testify the gospel of the grace of God. And now, behold, I know that ye all, among whom I have gone preaching the kingdom of God, shall see my face no more. Wherefore I take you to record this day, that I am pure from the blood of all men. For I have not shunned to declare unto you all the counsel of God. Take heed therefore unto yourselves, and to all the flock, over the which the Holy Ghost hath made you overseers, to feed the church of God, which he hath purchased with his own blood. For I know this, that after my departing shall grievous wolves enter in among you, not sparing the flock. Also of your own selves shall men arise, speaking perverse things, to draw away disciples after them. Therefore watch, and remember, that by the space of three years I ceased not to warn every one night and day with tears.
Thus saith the Lord, Let not the wise man glory in his wisdom, neither let the mighty man glory in his might, let not the rich man glory in his riches: But let him that glorieth glory in this, that he understandeth and knoweth me, that I am the Lord which exercise lovingkindness, judgment, and righteousness, in the earth: for in these things I delight, saith the Lord.
Commit thy way unto the Lord; trust also in him; and he shall bring it to pass.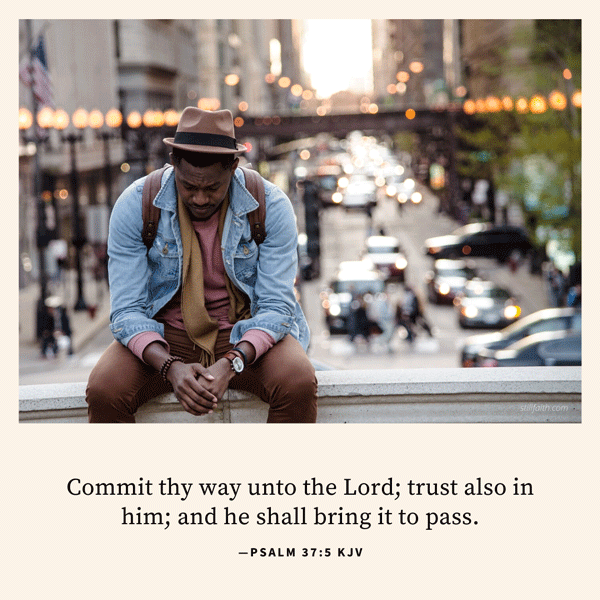 But he said unto her, Thou speakest as one of the foolish women speaketh. What? shall we receive good at the hand of God, and shall we not receive evil? In all this did not Job sin with his lips.
And we know that all things work together for good to them that love God, to them who are the called according to his purpose.
I receive not honour from men.
The righteous also shall hold on his way, and he that hath clean hands shall be stronger and stronger.
Thou hast thrust sore at me that I might fall: but the Lord helped me. The Lord is my strength and song, and is become my salvation.
Let no man despise thy youth; but be thou an example of the believers, in word, in conversation, in charity, in spirit, in faith, in purity.
In all things shewing thyself a pattern of good works: in doctrine shewing uncorruptness, gravity, sincerity
I have set the Lord always before me: because he is at my right hand, I shall not be moved.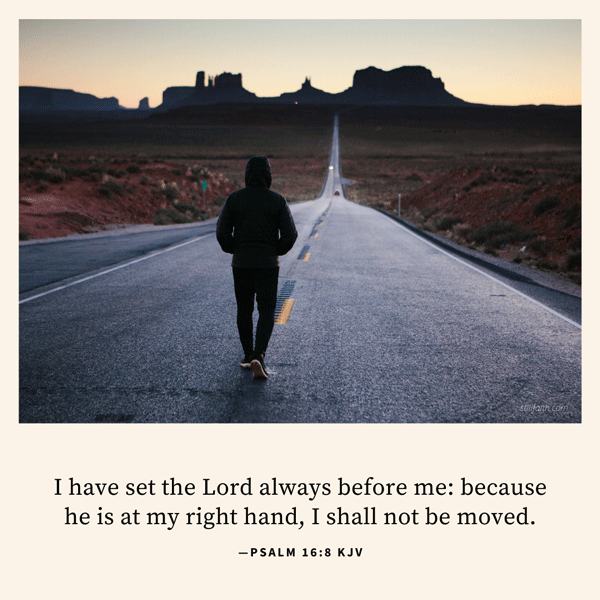 Only fear the Lord, and serve him in truth with all your heart: for consider how great things he hath done for you.
Be ye strong therefore, and let not your hands be weak: for your work shall be rewarded.
Fear thou not; for I am with thee: be not dismayed; for I am thy God: I will strengthen thee; yea, I will help thee; yea, I will uphold thee with the right hand of my righteousness.
And let us consider one another to provoke unto love and to good works.
Let your speech be always with grace, seasoned with salt, that ye may know how ye ought to answer every man.
Let no corrupt communication proceed out of your mouth, but that which is good to the use of edifying, that it may minister grace unto the hearers.
And let us not be weary in well doing: for in due season we shall reap, if we faint not.
Be strong and of a good courage, fear not, nor be afraid of them: for the Lord thy God, he it is that doth go with thee; he will not fail thee, nor forsake thee.
Whatsoever thy hand findeth to do, do it with thy might; for there is no work, nor device, nor knowledge, nor wisdom, in the grave, whither thou goest.
But they that wait upon the Lord shall renew their strength; they shall mount up with wings as eagles; they shall run, and not be weary; and they shall walk, and not faint.
Now no chastening for the present seemeth to be joyous, but grievous: nevertheless afterward it yieldeth the peaceable fruit of righteousness unto them which are exercised thereby.