Here are 97 Bible verses about not worrying from the Old and New Testaments of the Holy Bible, King James Version, sorted from the most relevant to the least relevant.
Related topics: being calm · being still · contentment · God's promises · letting go of things you can't control · trusting God
Philippians 4:6-7 KJV
Be careful for nothing; but in every thing by prayer and supplication with thanksgiving let your requests be made known unto God. And the peace of God, which passeth all understanding, shall keep your hearts and minds through Christ Jesus.
1 John 4:18 KJV
There is no fear in love; but perfect love casteth out fear: because fear hath torment. He that feareth is not made perfect in love.
Matthew 11:28-30 KJV
Come unto me, all ye that labour and are heavy laden, and I will give you rest. Take my yoke upon you, and learn of me; for I am meek and lowly in heart: and ye shall find rest unto your souls. For my yoke is easy, and my burden is light.
Matthew 6:25-27 KJV
Therefore I say unto you, Take no thought for your life, what ye shall eat, or what ye shall drink; nor yet for your body, what ye shall put on. Is not the life more than meat, and the body than raiment? Behold the fowls of the air: for they sow not, neither do they reap, nor gather into barns; yet your heavenly Father feedeth them. Are ye not much better than they? Which of you by taking thought can add one cubit unto his stature?
Jeremiah 17:7 KJV
Blessed is the man that trusteth in the Lord, and whose hope the Lord is.
Proverbs 12:25 KJV
Heaviness in the heart of man maketh it stoop: but a good word maketh it glad.
Psalm 16:8 KJV
I have set the Lord always before me: because he is at my right hand, I shall not be moved.
1 Peter 5:7 KJV
Casting all your care upon him; for he careth for you.
1 Peter 3:14 KJV
But and if ye suffer for righteousness' sake, happy are ye: and be not afraid of their terror, neither be troubled;
John 14:27 KJV
Peace I leave with you, my peace I give unto you: not as the world giveth, give I unto you. Let not your heart be troubled, neither let it be afraid.
Isaiah 41:10 KJV
Fear thou not; for I am with thee: be not dismayed; for I am thy God: I will strengthen thee; yea, I will help thee; yea, I will uphold thee with the right hand of my righteousness.
Matthew 6:34 KJV
Take therefore no thought for the morrow: for the morrow shall take thought for the things of itself. Sufficient unto the day is the evil thereof.
John 14:1-3 KJV
Let not your heart be troubled: ye believe in God, believe also in me. In my Father's house are many mansions: if it were not so, I would have told you. I go to prepare a place for you. And if I go and prepare a place for you, I will come again, and receive you unto myself; that where I am, there ye may be also.
Psalm 23:4 KJV
Yea, though I walk through the valley of the shadow of death, I will fear no evil: for thou art with me; thy rod and thy staff they comfort me.
Deuteronomy 31:6 KJV
Be strong and of a good courage, fear not, nor be afraid of them: for the Lord thy God, he it is that doth go with thee; he will not fail thee, nor forsake thee.
2 Timothy 1:7 KJV
For God hath not given us the spirit of fear; but of power, and of love, and of a sound mind.
Psalm 6:2-4 KJV
Have mercy upon me, O Lord; for I am weak: O Lord, heal me; for my bones are vexed. My soul is also sore vexed: but thou, O Lord, how long? Return, O Lord, deliver my soul: oh save me for thy mercies' sake.
Psalm 139:23 KJV
Search me, O God, and know my heart: try me, and know my thoughts:
Psalm 118:6 KJV
The Lord is on my side; I will not fear: what can man do unto me?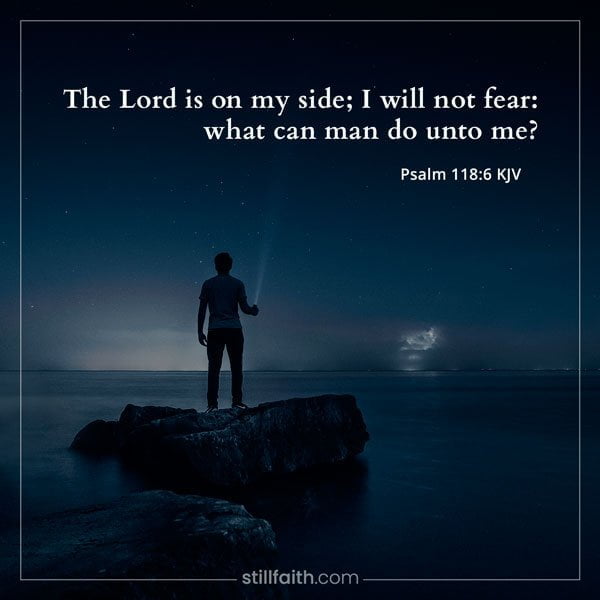 Psalm 46:10 KJV
Be still, and know that I am God: I will be exalted among the heathen, I will be exalted in the earth.
Isaiah 35:4 KJV
Say to them that are of a fearful heart, Be strong, fear not: behold, your God will come with vengeance, even God with a recompence; he will come and save you.
Colossians 3:15 KJV
And let the peace of God rule in your hearts, to the which also ye are called in one body; and be ye thankful.
Luke 12:25 KJV
And which of you with taking thought can add to his stature one cubit?
Luke 24:38-39 KJV
And he said unto them, Why are ye troubled? and why do thoughts arise in your hearts? Behold my hands and my feet, that it is I myself: handle me, and see; for a spirit hath not flesh and bones, as ye see me have.
Psalm 55:22 KJV
Cast thy burden upon the Lord, and he shall sustain thee: he shall never suffer the righteous to be moved.
Psalm 94:19 KJV
In the multitude of my thoughts within me thy comforts delight my soul.
Isaiah 40:31 KJV
But they that wait upon the Lord shall renew their strength; they shall mount up with wings as eagles; they shall run, and not be weary; and they shall walk, and not faint.
2 Thessalonians 3:16 KJV
Now the Lord of peace himself give you peace always by all means. The Lord be with you all.
Psalm 56:3 KJV
What time I am afraid, I will trust in thee.
Psalm 121:1-2 KJV
I will lift up mine eyes unto the hills, from whence cometh my help. My help cometh from the Lord, which made heaven and earth.
Philippians 4:13 KJV
I can do all things through Christ which strengtheneth me.
Hebrews 11:1 KJV
Now faith is the substance of things hoped for, the evidence of things not seen.
Proverbs 3:5-6 KJV
Trust in the Lord with all thine heart; and lean not unto thine own understanding. In all thy ways acknowledge him, and he shall direct thy paths.
Joshua 1:9 KJV
Have not I commanded thee? Be strong and of a good courage; be not afraid, neither be thou dismayed: for the Lord thy God is with thee whithersoever thou goest.
Psalm 18:6 KJV
In my distress I called upon the Lord, and cried unto my God: he heard my voice out of his temple, and my cry came before him, even into his ears.
Romans 8:38-39 KJV
For I am persuaded, that neither death, nor life, nor angels, nor principalities, nor powers, nor things present, nor things to come, Nor height, nor depth, nor any other creature, shall be able to separate us from the love of God, which is in Christ Jesus our Lord.
Jeremiah 29:11 KJV
For I know the thoughts that I think toward you, saith the Lord, thoughts of peace, and not of evil, to give you an expected end.
Luke 12:22 KJV
And he said unto his disciples, Therefore I say unto you, Take no thought for your life, what ye shall eat; neither for the body, what ye shall put on.
Psalm 59:16 KJV
But I will sing of thy power; yea, I will sing aloud of thy mercy in the morning: for thou hast been my defence and refuge in the day of my trouble.
Psalm 34:4 KJV
I sought the Lord, and he heard me, and delivered me from all my fears.
Psalm 27:1 KJV
The Lord is my light and my salvation; whom shall I fear? the Lord is the strength of my life; of whom shall I be afraid?
1 Corinthians 7:32 KJV
But I would have you without carefulness. He that is unmarried careth for the things that belong to the Lord, how he may please the Lord:
Romans 8:31 KJV
What shall we then say to these things? If God be for us, who can be against us?
Psalm 38:9 KJV
Lord, all my desire is before thee; and my groaning is not hid from thee.
Matthew 6:33 KJV
But seek ye first the kingdom of God, and his righteousness; and all these things shall be added unto you.
2 Chronicles 15:3-4 KJV
Now for a long season Israel hath been without the true God, and without a teaching priest, and without law. But when they in their trouble did turn unto the Lord God of Israel, and sought him, he was found of them.
Psalm 34:17 KJV
The righteous cry, and the Lord heareth, and delivereth them out of all their troubles.
Ecclesiastes 1:18 KJV
For in much wisdom is much grief: and he that increaseth knowledge increaseth sorrow.
Hebrews 12:1-2 KJV
Wherefore seeing we also are compassed about with so great a cloud of witnesses, let us lay aside every weight, and the sin which doth so easily beset us, and let us run with patience the race that is set before us, Looking unto Jesus the author and finisher of our faith; who for the joy that was set before him endured the cross, despising the shame, and is set down at the right hand of the throne of God.
Philippians 4:19 KJV
But my God shall supply all your need according to his riches in glory by Christ Jesus.
Luke 12:28-30 KJV
If then God so clothe the grass, which is to day in the field, and to morrow is cast into the oven; how much more will he clothe you, O ye of little faith? And seek not ye what ye shall eat, or what ye shall drink, neither be ye of doubtful mind. For all these things do the nations of the world seek after: and your Father knoweth that ye have need of these things.
Psalm 138:8 KJV
The Lord will perfect that which concerneth me: thy mercy, O Lord, endureth for ever: forsake not the works of thine own hands.
2 Corinthians 9:8 KJV
And God is able to make all grace abound toward you; that ye, always having all sufficiency in all things, may abound to every good work:
Hebrews 13:6 KJV
So that we may boldly say, The Lord is my helper, and I will not fear what man shall do unto me.
Ecclesiastes 11:10 KJV
Therefore remove sorrow from thy heart, and put away evil from thy flesh: for childhood and youth are vanity.
Isaiah 43:1-3 KJV
But now thus saith the Lord that created thee, O Jacob, and he that formed thee, O Israel, Fear not: for I have redeemed thee, I have called thee by thy name; thou art mine. When thou passest through the waters, I will be with thee; and through the rivers, they shall not overflow thee: when thou walkest through the fire, thou shalt not be burned; neither shall the flame kindle upon thee. For I am the Lord thy God, the Holy One of Israel, thy Saviour: I gave Egypt for thy ransom, Ethiopia and Seba for thee.
Mark 13:11 KJV
But when they shall lead you, and deliver you up, take no thought beforehand what ye shall speak, neither do ye premeditate: but whatsoever shall be given you in that hour, that speak ye: for it is not ye that speak, but the Holy Ghost.
Luke 21:14-15 KJV
Settle it therefore in your hearts, not to meditate before what ye shall answer: For I will give you a mouth and wisdom, which all your adversaries shall not be able to gainsay nor resist.
Matthew 13:22 KJV
He also that received seed among the thorns is he that heareth the word; and the care of this world, and the deceitfulness of riches, choke the word, and he becometh unfruitful.
Luke 21:18-19 KJV
But there shall not an hair of your head perish. In your patience possess ye your souls.
Luke 1:37 KJV
For with God nothing shall be impossible.
Revelation 21:3-4 KJV
And I heard a great voice out of heaven saying, Behold, the tabernacle of God is with men, and he will dwell with them, and they shall be his people, and God himself shall be with them, and be their God. And God shall wipe away all tears from their eyes; and there shall be no more death, neither sorrow, nor crying, neither shall there be any more pain: for the former things are passed away.
Job 1:20-21 KJV
Then Job arose, and rent his mantle, and shaved his head, and fell down upon the ground, and worshipped, And said, Naked came I out of my mother's womb, and naked shall I return thither: the Lord gave, and the Lord hath taken away; blessed be the name of the Lord.
Luke 12:24 KJV
Consider the ravens: for they neither sow nor reap; which neither have storehouse nor barn; and God feedeth them: how much more are ye better than the fowls?
Job 19:25 KJV
For I know that my redeemer liveth, and that he shall stand at the latter day upon the earth:
Psalm 112:7 KJV
He shall not be afraid of evil tidings: his heart is fixed, trusting in the Lord.
1 Corinthians 10:13 KJV
There hath no temptation taken you but such as is common to man: but God is faithful, who will not suffer you to be tempted above that ye are able; but will with the temptation also make a way to escape, that ye may be able to bear it.
Isaiah 26:3 KJV
Thou wilt keep him in perfect peace, whose mind is stayed on thee: because he trusteth in thee.
Luke 10:41-42 KJV
And Jesus answered and said unto her, Martha, Martha, thou art careful and troubled about many things: But one thing is needful: and Mary hath chosen that good part, which shall not be taken away from her.
Galatians 6:9 KJV
And let us not be weary in well doing: for in due season we shall reap, if we faint not.
Isaiah 41:13 KJV
For I the Lord thy God will hold thy right hand, saying unto thee, Fear not; I will help thee.
John 16:33 KJV
These things I have spoken unto you, that in me ye might have peace. In the world ye shall have tribulation: but be of good cheer; I have overcome the world.
Romans 8:28 KJV
And we know that all things work together for good to them that love God, to them who are the called according to his purpose.
Psalm 37:8 KJV
Cease from anger, and forsake wrath: fret not thyself in any wise to do evil.
Proverbs 29:25 KJV
The fear of man bringeth a snare: but whoso putteth his trust in the Lord shall be safe.
Romans 15:13 KJV
Now the God of hope fill you with all joy and peace in believing, that ye may abound in hope, through the power of the Holy Ghost.
Deuteronomy 31:8 KJV
And the Lord, he it is that doth go before thee; he will be with thee, he will not fail thee, neither forsake thee: fear not, neither be dismayed.
Ephesians 4:29 KJV
Let no corrupt communication proceed out of your mouth, but that which is good to the use of edifying, that it may minister grace unto the hearers.
2 Corinthians 12:10 KJV
Therefore I take pleasure in infirmities, in reproaches, in necessities, in persecutions, in distresses for Christ's sake: for when I am weak, then am I strong.
James 1:1-27 KJV
James, a servant of God and of the Lord Jesus Christ, to the twelve tribes which are scattered abroad, greeting. My brethren, count it all joy when ye fall into divers temptations; Knowing this, that the trying of your faith worketh patience. But let patience have her perfect work, that ye may be perfect and entire, wanting nothing. If any of you lack wisdom, let him ask of God, that giveth to all men liberally, and upbraideth not; and it shall be given him. But let him ask in faith, nothing wavering. For he that wavereth is like a wave of the sea driven with the wind and tossed. For let not that man think that he shall receive any thing of the Lord. A double minded man is unstable in all his ways. Let the brother of low degree rejoice in that he is exalted: But the rich, in…
John 3:16-17 KJV
For God so loved the world, that he gave his only begotten Son, that whosoever believeth in him should not perish, but have everlasting life. For God sent not his Son into the world to condemn the world; but that the world through him might be saved.
Psalm 37:25 KJV
I have been young, and now am old; yet have I not seen the righteous forsaken, nor his seed begging bread.
Matthew 6:30 KJV
Wherefore, if God so clothe the grass of the field, which to day is, and to morrow is cast into the oven, shall he not much more clothe you, O ye of little faith?
Romans 8:32 KJV
He that spared not his own Son, but delivered him up for us all, how shall he not with him also freely give us all things?
Revelation 1:1 KJV
The Revelation of Jesus Christ, which God gave unto him, to shew unto his servants things which must shortly come to pass; and he sent and signified it by his angel unto his servant John:
Romans 8:6 KJV
For to be carnally minded is death; but to be spiritually minded is life and peace.
Psalm 46:1 KJV
God is our refuge and strength, a very present help in trouble.
Matthew 6:32 KJV
(For after all these things do the Gentiles seek:) for your heavenly Father knoweth that ye have need of all these things.
Psalm 37:1 KJV
Fret not thyself because of evildoers, neither be thou envious against the workers of iniquity.
Matthew 14:31 KJV
And immediately Jesus stretched forth his hand, and caught him, and said unto him, O thou of little faith, wherefore didst thou doubt?
Colossians 3:2 KJV
Set your affection on things above, not on things on the earth.
Ezekiel 12:19 KJV
And say unto the people of the land, Thus saith the Lord God of the inhabitants of Jerusalem, and of the land of Israel; They shall eat their bread with carefulness, and drink their water with astonishment, that her land may be desolate from all that is therein, because of the violence of all them that dwell therein.
Jonah 3:10 KJV
And God saw their works, that they turned from their evil way; and God repented of the evil, that he had said that he would do unto them; and he did it not.
Psalm 91:1-16 KJV
He that dwelleth in the secret place of the most High shall abide under the shadow of the Almighty. I will say of the Lord, He is my refuge and my fortress: my God; in him will I trust. Surely he shall deliver thee from the snare of the fowler, and from the noisome pestilence. He shall cover thee with his feathers, and under his wings shalt thou trust: his truth shall be thy shield and buckler. Thou shalt not be afraid for the terror by night; nor for the arrow that flieth by day; Nor for the pestilence that walketh in darkness; nor for the destruction that wasteth at noonday. A thousand shall fall at thy side, and ten thousand at thy right hand; but it shall not come nigh thee. Only with thine eyes shalt thou behold and see the reward of the wicked. Because thou hast made…
Matthew 16:8 KJV
Which when Jesus perceived, he said unto them, O ye of little faith, why reason ye among yourselves, because ye have brought no bread?
Luke 21:34 KJV
And take heed to yourselves, lest at any time your hearts be overcharged with surfeiting, and drunkenness, and cares of this life, and so that day come upon you unawares.
1 Corinthians 6:19-20 KJV
What? know ye not that your body is the temple of the Holy Ghost which is in you, which ye have of God, and ye are not your own? For ye are bought with a price: therefore glorify God in your body, and in your spirit, which are God's.