Here are the top 25 most popular Bible verses in Philippians. These famous verses are the most searched, used, quoted, and most-read Bible verses in the entire book of Philippians.
See also: Most Popular Bible Verses in Colossians
Philippians 4:13 KJV
I can do all things through Christ which strengtheneth me.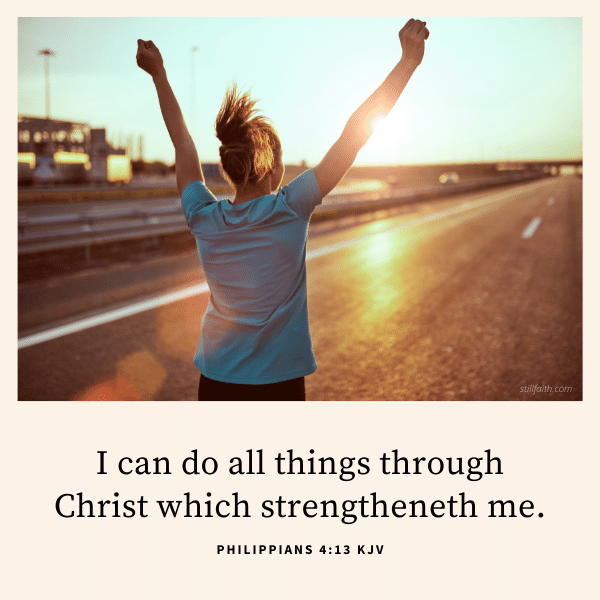 Philippians 1:6 KJV
Being confident of this very thing, that he which hath begun a good work in you will perform it until the day of Jesus Christ:
Philippians 4:19 KJV
But my God shall supply all your need according to his riches in glory by Christ Jesus.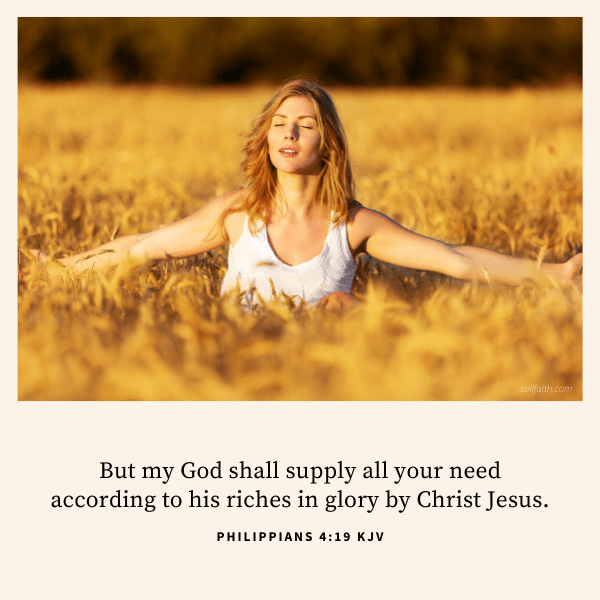 Philippians 4:6 KJV
Be careful for nothing; but in every thing by prayer and supplication with thanksgiving let your requests be made known unto God.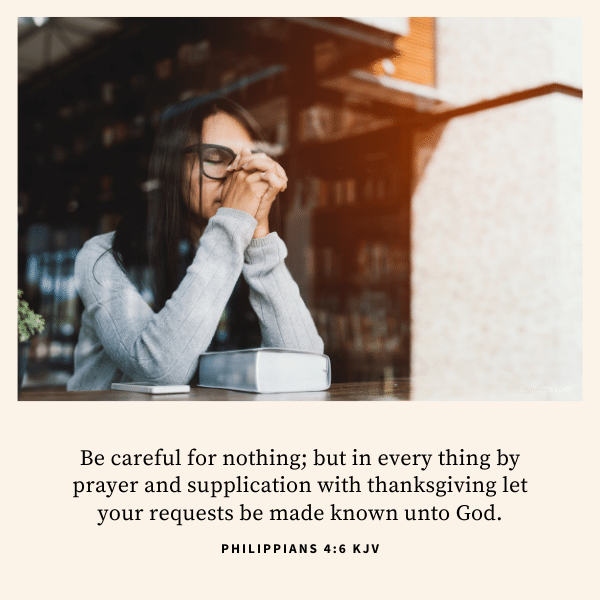 Philippians 4:8 KJV
Finally, brethren, whatsoever things are true, whatsoever things are honest, whatsoever things are just, whatsoever things are pure, whatsoever things are lovely, whatsoever things are of good report; if there be any virtue, and if there be any praise, think on these things.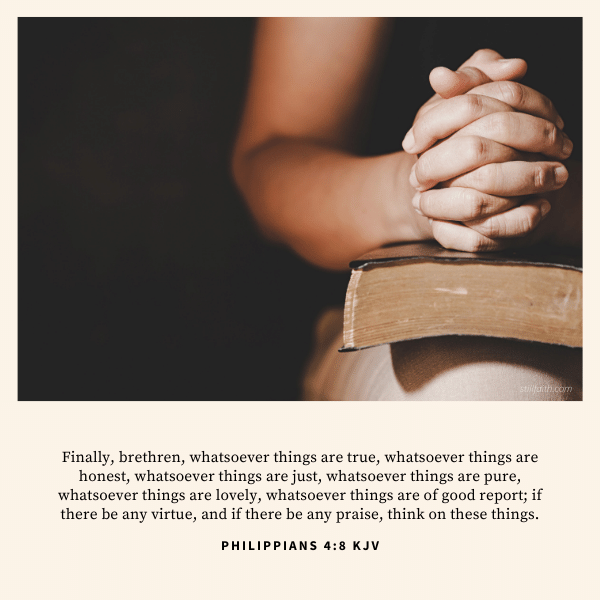 Philippians 1:21 KJV
For to me to live is Christ, and to die is gain.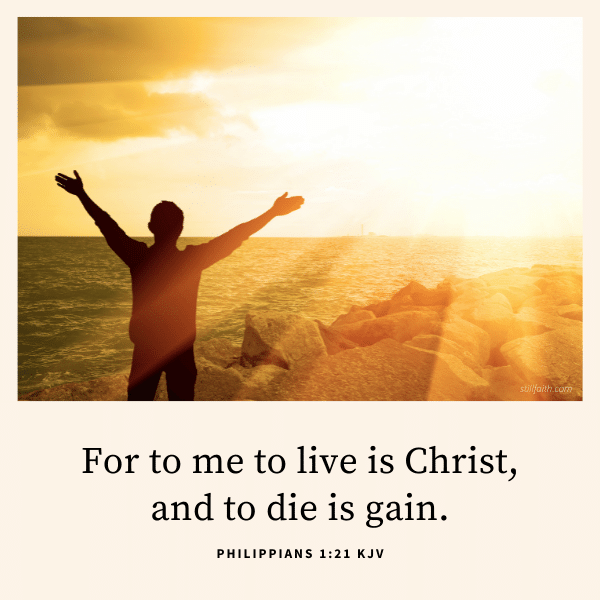 Philippians 1:27 KJV
Only let your conversation be as it becometh the gospel of Christ: that whether I come and see you, or else be absent, I may hear of your affairs, that ye stand fast in one spirit, with one mind striving together for the faith of the gospel;
Philippians 1:29 KJV
For unto you it is given in the behalf of Christ, not only to believe on him, but also to suffer for his sake;
Philippians 1:3 KJV
I thank my God upon every remembrance of you,
Philippians 1:7 KJV
Even as it is meet for me to think this of you all, because I have you in my heart; inasmuch as both in my bonds, and in the defence and confirmation of the gospel, ye all are partakers of my grace.
Philippians 1:9 KJV
And this I pray, that your love may abound yet more and more in knowledge and in all judgment;
Philippians 2:10 KJV
That at the name of Jesus every knee should bow, of things in heaven, and things in earth, and things under the earth;
Philippians 2:12 KJV
Wherefore, my beloved, as ye have always obeyed, not as in my presence only, but now much more in my absence, work out your own salvation with fear and trembling.
Philippians 2:13 KJV
For it is God which worketh in you both to will and to do of his good pleasure.
Philippians 2:14 KJV
Do all things without murmurings and disputings: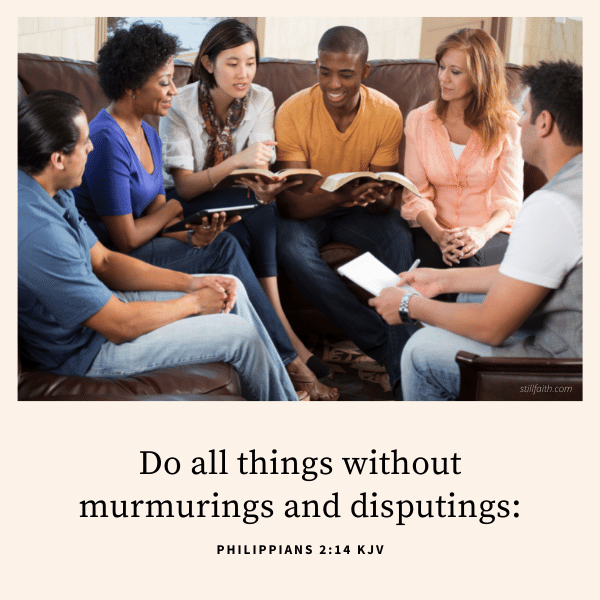 Philippians 2:15 KJV
That ye may be blameless and harmless, the sons of God, without rebuke, in the midst of a crooked and perverse nation, among whom ye shine as lights in the world;
Philippians 2:3 KJV
Let nothing be done through strife or vainglory; but in lowliness of mind let each esteem other better than themselves.
Philippians 2:4 KJV
Look not every man on his own things, but every man also on the things of others.
Philippians 2:5 KJV
Let this mind be in you, which was also in Christ Jesus:
Philippians 2:6 KJV
Who, being in the form of God, thought it not robbery to be equal with God:
Philippians 2:8 KJV
And being found in fashion as a man, he humbled himself, and became obedient unto death, even the death of the cross.
Philippians 2:9 KJV
Wherefore God also hath highly exalted him, and given him a name which is above every name:
Philippians 3:10 KJV
That I may know him, and the power of his resurrection, and the fellowship of his sufferings, being made conformable unto his death;
Philippians 3:12 KJV
Not as though I had already attained, either were already perfect: but I follow after, if that I may apprehend that for which also I am apprehended of Christ Jesus.
Philippians 3:13 KJV
Brethren, I count not myself to have apprehended: but this one thing I do, forgetting those things which are behind, and reaching forth unto those things which are before,