Here are the top 25 most popular Bible verses in Colossians. These famous verses are the most searched, used, quoted, and most-read Bible verses in the entire book of Colossians.
See also: Most Popular Bible Verses in 1 Thessalonians
Colossians 3:23 KJV
And whatsoever ye do, do it heartily, as to the Lord, and not unto men;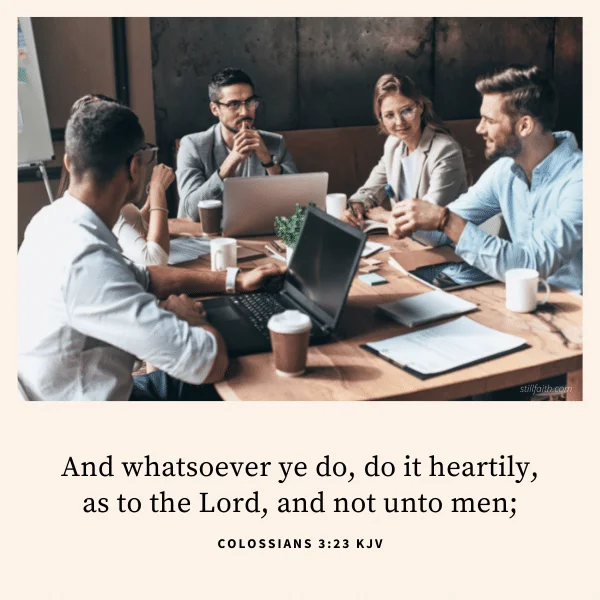 Colossians 1:10 KJV
That ye might walk worthy of the Lord unto all pleasing, being fruitful in every good work, and increasing in the knowledge of God;
Colossians 1:11 KJV
Strengthened with all might, according to his glorious power, unto all patience and longsuffering with joyfulness;
Colossians 1:13 KJV
Who hath delivered us from the power of darkness, and hath translated us into the kingdom of his dear Son:
Colossians 1:15 KJV
Who is the image of the invisible God, the firstborn of every creature:
Colossians 1:16 KJV
For by him were all things created, that are in heaven, and that are in earth, visible and invisible, whether they be thrones, or dominions, or principalities, or powers: all things were created by him, and for him: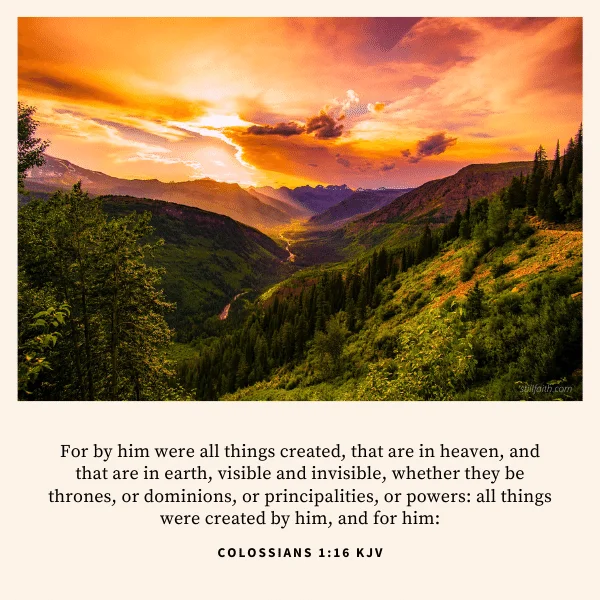 Colossians 1:17 KJV
And he is before all things, and by him all things consist.
Colossians 1:18 KJV
And he is the head of the body, the church: who is the beginning, the firstborn from the dead; that in all things he might have the preeminence.
Colossians 1:24 KJV
Who now rejoice in my sufferings for you, and fill up that which is behind of the afflictions of Christ in my flesh for his body's sake, which is the church:
Colossians 1:27 KJV
To whom God would make known what is the riches of the glory of this mystery among the Gentiles; which is Christ in you, the hope of glory:
Colossians 1:9 KJV
For this cause we also, since the day we heard it, do not cease to pray for you, and to desire that ye might be filled with the knowledge of his will in all wisdom and spiritual understanding;
Colossians 2:10 KJV
And ye are complete in him, which is the head of all principality and power:
Colossians 2:13 KJV
And you, being dead in your sins and the uncircumcision of your flesh, hath he quickened together with him, having forgiven you all trespasses;
Colossians 2:14 KJV
Blotting out the handwriting of ordinances that was against us, which was contrary to us, and took it out of the way, nailing it to his cross;
Colossians 2:15 KJV
And having spoiled principalities and powers, he made a shew of them openly, triumphing over them in it.
Colossians 2:16 KJV
Let no man therefore judge you in meat, or in drink, or in respect of an holyday, or of the new moon, or of the sabbath days:
Colossians 2:23 KJV
Which things have indeed a shew of wisdom in will worship, and humility, and neglecting of the body: not in any honour to the satisfying of the flesh.
Colossians 2:3 KJV
In whom are hid all the treasures of wisdom and knowledge.
Colossians 2:6 KJV
As ye have therefore received Christ Jesus the Lord, so walk ye in him:
Colossians 2:7 KJV
Rooted and built up in him, and stablished in the faith, as ye have been taught, abounding therein with thanksgiving.
Colossians 2:8 KJV
Beware lest any man spoil you through philosophy and vain deceit, after the tradition of men, after the rudiments of the world, and not after Christ.
Colossians 2:9 KJV
For in him dwelleth all the fulness of the Godhead bodily.
Colossians 3:1 KJV
If ye then be risen with Christ, seek those things which are above, where Christ sitteth on the right hand of God.
Colossians 3:10 KJV
And have put on the new man, which is renewed in knowledge after the image of him that created him:
Colossians 3:11 KJV
Where there is neither Greek nor Jew, circumcision nor uncircumcision, Barbarian, Scythian, bond nor free: but Christ is all, and in all.