Here are the top 25 most popular Bible verses in Isaiah. These famous verses are the most searched, used, quoted, and most-read Bible verses in the entire book of Isaiah.
See also: Most Popular Bible Verses in Jeremiah
Isaiah 2:6 KJV
Therefore thou hast forsaken thy people the house of Jacob, because they be replenished from the east, and are soothsayers like the Philistines, and they please themselves in the children of strangers.
Isaiah 26:20 KJV
Come, my people, enter thou into thy chambers, and shut thy doors about thee: hide thyself as it were for a little moment, until the indignation be overpast.
Isaiah 26:3 KJV
Thou wilt keep him in perfect peace, whose mind is stayed on thee: because he trusteth in thee.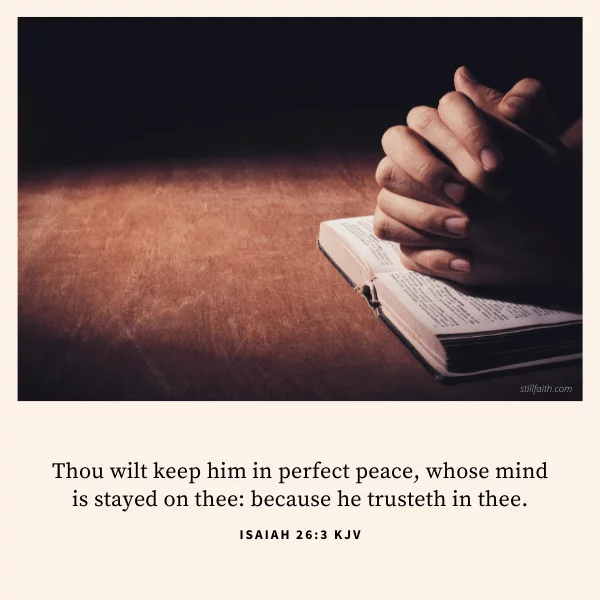 Isaiah 4:1 KJV
And in that day seven women shall take hold of one man, saying, We will eat our own bread, and wear our own apparel: only let us be called by thy name, to take away our reproach.
Isaiah 4:3 KJV
And it shall come to pass, that he that is left in Zion, and he that remaineth in Jerusalem, shall be called holy, even every one that is written among the living in Jerusalem:
Isaiah 4:5 KJV
And the Lord will create upon every dwelling place of mount Zion, and upon her assemblies, a cloud and smoke by day, and the shining of a flaming fire by night: for upon all the glory shall be a defence.
Isaiah 40:31 KJV
But they that wait upon the Lord shall renew their strength; they shall mount up with wings as eagles; they shall run, and not be weary; and they shall walk, and not faint.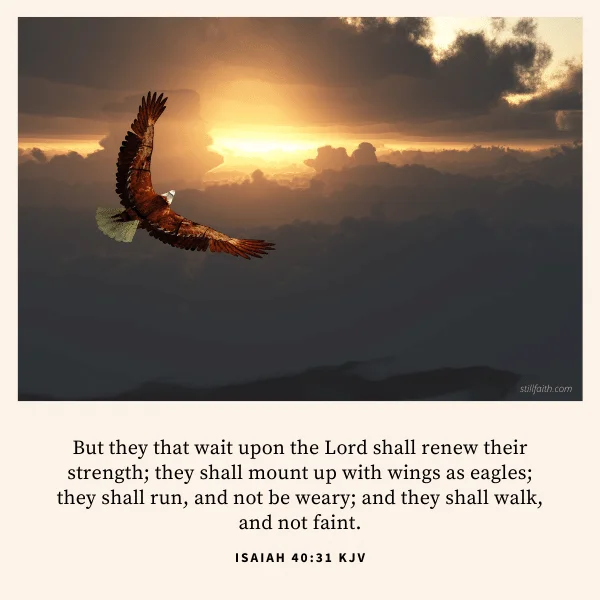 Isaiah 41:10 KJV
Fear thou not; for I am with thee: be not dismayed; for I am thy God: I will strengthen thee; yea, I will help thee; yea, I will uphold thee with the right hand of my righteousness.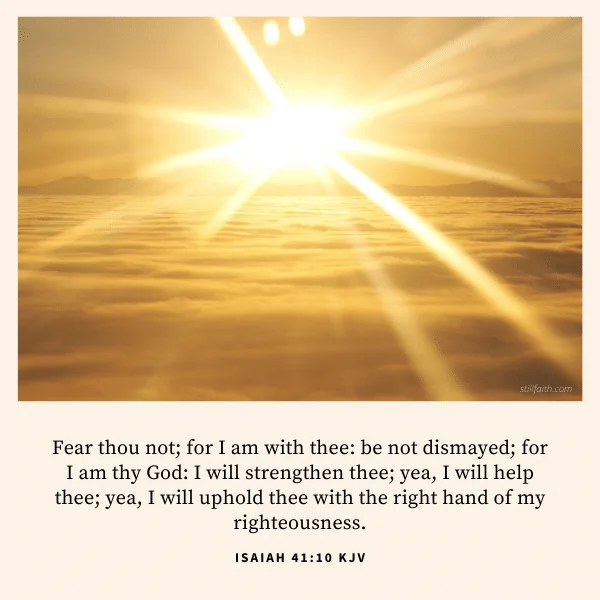 Isaiah 41:13 KJV
For I the Lord thy God will hold thy right hand, saying unto thee, Fear not; I will help thee.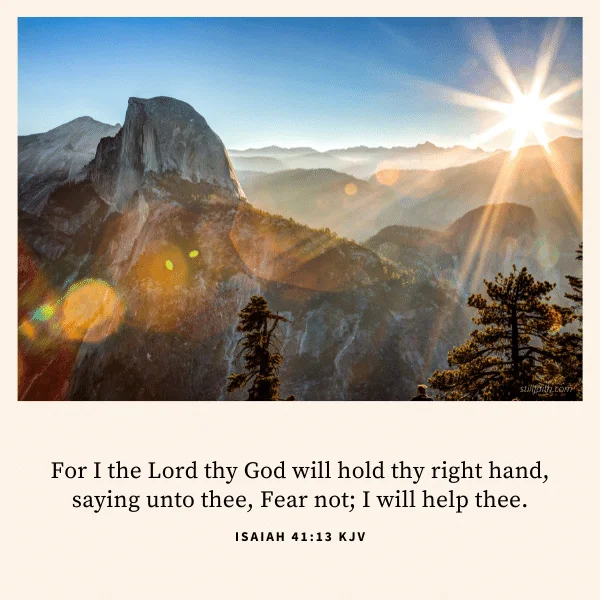 Isaiah 43:19 KJV
Behold, I will do a new thing; now it shall spring forth; shall ye not know it? I will even make a way in the wilderness, and rivers in the desert.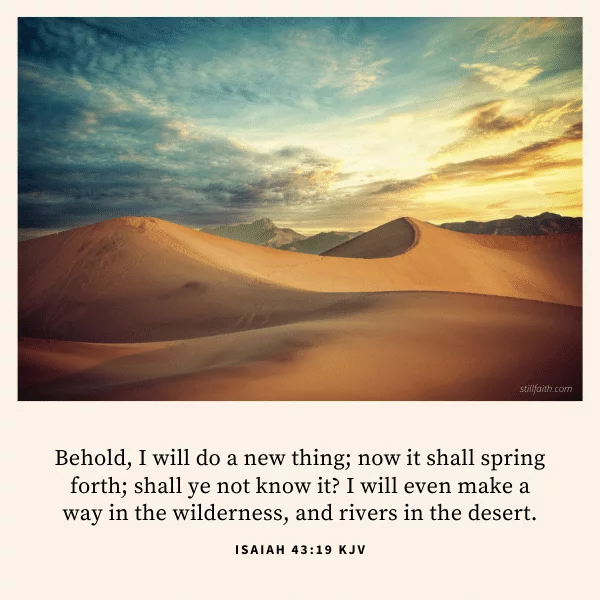 Isaiah 43:2 KJV
When thou passest through the waters, I will be with thee; and through the rivers, they shall not overflow thee: when thou walkest through the fire, thou shalt not be burned; neither shall the flame kindle upon thee.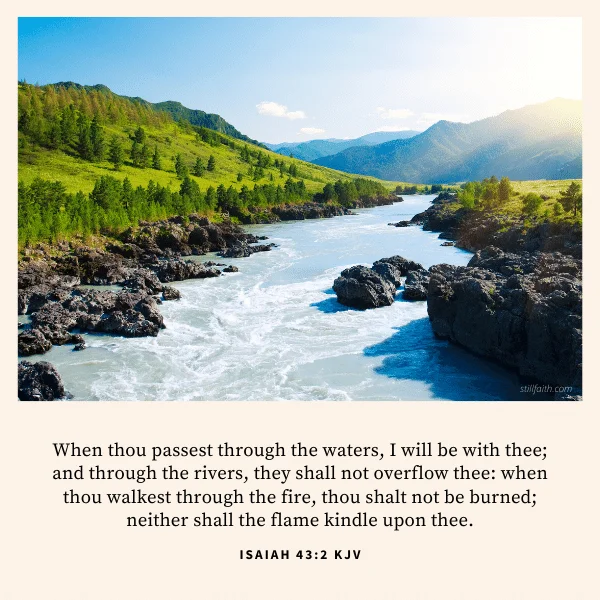 Isaiah 5:3 KJV
And now, O inhabitants of Jerusalem, and men of Judah, judge, I pray you, betwixt me and my vineyard.
Isaiah 5:4 KJV
What could have been done more to my vineyard, that I have not done in it? wherefore, when I looked that it should bring forth grapes, brought it forth wild grapes?
Isaiah 5:5 KJV
And now go to; I will tell you what I will do to my vineyard: I will take away the hedge thereof, and it shall be eaten up; and break down the wall thereof, and it shall be trodden down:
Isaiah 5:8 KJV
Woe unto them that join house to house, that lay field to field, till there be no place, that they may be placed alone in the midst of the earth!
Isaiah 53:5 KJV
But he was wounded for our transgressions, he was bruised for our iniquities: the chastisement of our peace was upon him; and with his stripes we are healed.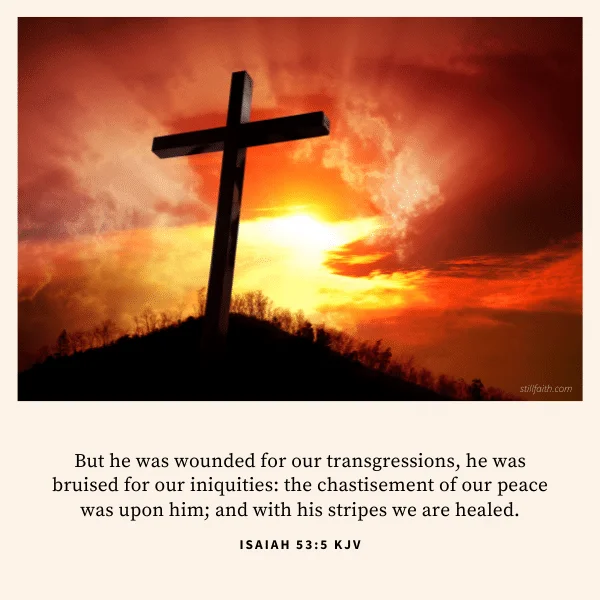 Isaiah 54:17 KJV
No weapon that is formed against thee shall prosper; and every tongue that shall rise against thee in judgment thou shalt condemn. This is the heritage of the servants of the Lord, and their righteousness is of me, saith the Lord.
Isaiah 6:1 KJV
In the year that king Uzziah died I saw also the Lord sitting upon a throne, high and lifted up, and his train filled the temple.
Isaiah 6:8 KJV
Also I heard the voice of the Lord, saying, Whom shall I send, and who will go for us? Then said I, Here am I; send me.
Isaiah 60:22 KJV
A little one shall become a thousand, and a small one a strong nation: I the Lord will hasten it in his time.
Isaiah 9:6 KJV
For unto us a child is born, unto us a son is given: and the government shall be upon his shoulder: and his name shall be called Wonderful, Counsellor, The mighty God, The everlasting Father, The Prince of Peace.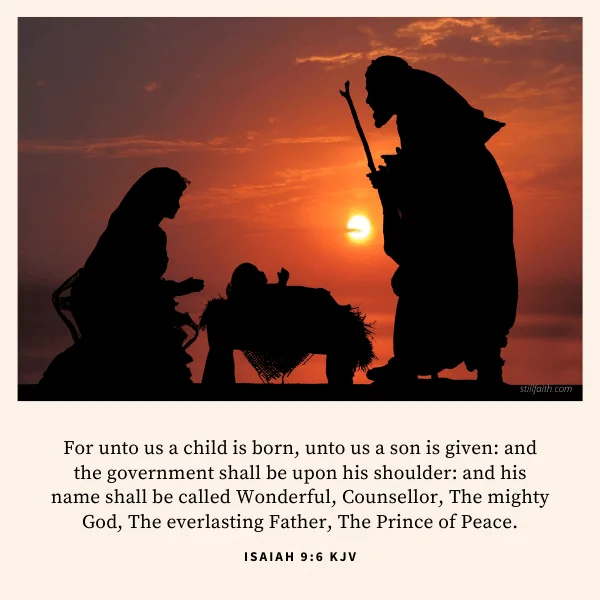 Isaiah 1:1 KJV
The vision of Isaiah the son of Amoz, which he saw concerning Judah and Jerusalem in the days of Uzziah, Jotham, Ahaz, and Hezekiah, kings of Judah.
Isaiah 1:12 KJV
When ye come to appear before me, who hath required this at your hand, to tread my courts?
Isaiah 1:17 KJV
Learn to do well; seek judgment, relieve the oppressed, judge the fatherless, plead for the widow.
Isaiah 1:18 KJV
Come now, and let us reason together, saith the Lord: though your sins be as scarlet, they shall be as white as snow; though they be red like crimson, they shall be as wool.