Here are the top 25 most popular Bible verses in Jeremiah. These famous verses are the most searched, used, quoted, and most-read Bible verses in the entire book of Jeremiah.
See also: Most Popular Bible Verses in Lamentations
Jeremiah 29:11 KJV
For I know the thoughts that I think toward you, saith the Lord, thoughts of peace, and not of evil, to give you an expected end.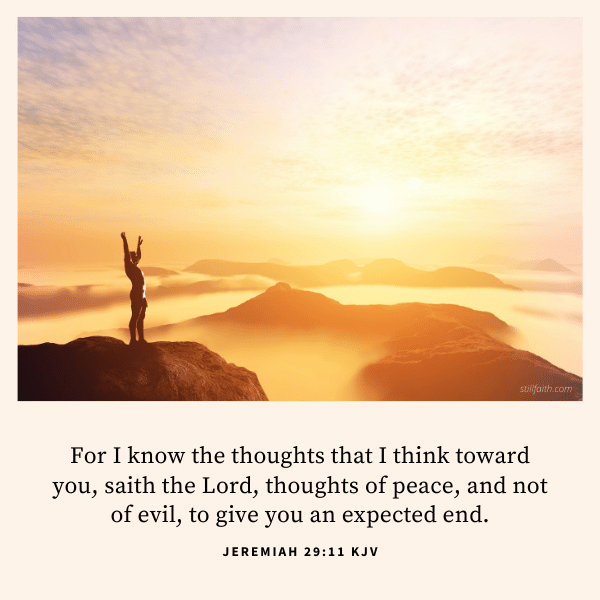 Jeremiah 1:5 KJV
Before I formed thee in the belly I knew thee; and before thou camest forth out of the womb I sanctified thee, and I ordained thee a prophet unto the nations.
Jeremiah 11:11 KJV
Therefore thus saith the Lord, Behold, I will bring evil upon them, which they shall not be able to escape; and though they shall cry unto me, I will not hearken unto them.
Jeremiah 2:9 KJV
Wherefore I will yet plead with you, saith the Lord, and with your children's children will I plead.
Jeremiah 29:13 KJV
And ye shall seek me, and find me, when ye shall search for me with all your heart.
Jeremiah 31:3 KJV
The Lord hath appeared of old unto me, saying, Yea, I have loved thee with an everlasting love: therefore with lovingkindness have I drawn thee.
Jeremiah 33:3 KJV
Call unto me, and I will answer thee, and show thee great and mighty things, which thou knowest not.
Jeremiah 1:1 KJV
The words of Jeremiah the son of Hilkiah, of the priests that were in Anathoth in the land of Benjamin:
Jeremiah 1:12 KJV
Then said the Lord unto me, Thou hast well seen: for I will hasten my word to perform it.
Jeremiah 1:19 KJV
And they shall fight against thee; but they shall not prevail against thee; for I am with thee, saith the Lord, to deliver thee.
Jeremiah 1:2 KJV
To whom the word of the Lord came in the days of Josiah the son of Amon king of Judah, in the thirteenth year of his reign.
Jeremiah 1:3 KJV
It came also in the days of Jehoiakim the son of Josiah king of Judah, unto the end of the eleventh year of Zedekiah the son of Josiah king of Judah, unto the carrying away of Jerusalem captive in the fifth month.
Jeremiah 1:6 KJV
Then said I, Ah, Lord God! behold, I cannot speak: for I am a child.
Jeremiah 1:7 KJV
But the Lord said unto me, Say not, I am a child: for thou shalt go to all that I shall send thee, and whatsoever I command thee thou shalt speak.
Jeremiah 1:8 KJV
Be not afraid of their faces: for I am with thee to deliver thee, saith the Lord.
Jeremiah 1:9 KJV
Then the Lord put forth his hand, and touched my mouth. And the Lord said unto me, Behold, I have put my words in thy mouth.
Jeremiah 10:15 KJV
They are vanity, and the work of errors: in the time of their visitation they shall perish.
Jeremiah 10:23 KJV
O Lord, I know that the way of man is not in himself: it is not in man that walketh to direct his steps.
Jeremiah 10:24 KJV
O Lord, correct me, but with judgment; not in thine anger, lest thou bring me to nothing.
Jeremiah 15:16 KJV
Thy words were found, and I did eat them; and thy word was unto me the joy and rejoicing of mine heart: for I am called by thy name, O Lord God of hosts.
Jeremiah 17:10 KJV
I the Lord search the heart, I try the reins, even to give every man according to his ways, and according to the fruit of his doings.
Jeremiah 17:14 KJV
Heal me, O Lord, and I shall be healed; save me, and I shall be saved: for thou art my praise.
Jeremiah 17:5 KJV
Thus saith the Lord; Cursed be the man that trusteth in man, and maketh flesh his arm, and whose heart departeth from the Lord.
Jeremiah 17:7 KJV
Blessed is the man that trusteth in the Lord, and whose hope the Lord is.
Jeremiah 17:8 KJV
For he shall be as a tree planted by the waters, and that spreadeth out her roots by the river, and shall not see when heat cometh, but her leaf shall be green; and shall not be careful in the year of drought, neither shall cease from yielding fruit.