Here are the top 25 most popular Bible verses in 2 Samuel. These famous verses are the most searched, used, quoted, and most-read Bible verses in the entire book of 2 Samuel.
See also: Most Popular Bible Verses in 1 Kings
2 Samuel 1:1 KJV
Now it came to pass after the death of Saul, when David was returned from the slaughter of the Amalekites, and David had abode two days in Ziklag;
2 Samuel 1:2 KJV
It came even to pass on the third day, that, behold, a man came out of the camp from Saul with his clothes rent, and earth upon his head: and so it was, when he came to David, that he fell to the earth, and did obeisance.
2 Samuel 1:26 KJV
I am distressed for thee, my brother Jonathan: very pleasant hast thou been unto me: thy love to me was wonderful, passing the love of women.
2 Samuel 1:3 KJV
And David said unto him, From whence comest thou? And he said unto him, Out of the camp of Israel am I escaped.
2 Samuel 1:5 KJV
And David said unto the young man that told him, How knowest thou that Saul and Jonathan his son be dead?
2 Samuel 1:6 KJV
And the young man that told him said, As I happened by chance upon mount Gilboa, behold, Saul leaned upon his spear; and, lo, the chariots and horsemen followed hard after him.
2 Samuel 1:7 KJV
And when he looked behind him, he saw me, and called unto me. And I answered, Here am I.
2 Samuel 1:8 KJV
And he said unto me, Who art thou? And I answered him, I am an Amalekite.
2 Samuel 1:9 KJV
He said unto me again, Stand, I pray thee, upon me, and slay me: for anguish is come upon me, because my life is yet whole in me.
2 Samuel 2:1 KJV
And it came to pass after this, that David enquired of the Lord, saying, Shall I go up into any of the cities of Judah? And the Lord said unto him, Go up. And David said, Whither shall I go up? And he said, Unto Hebron.
2 Samuel 2:3 KJV
And his men that were with him did David bring up, every man with his household: and they dwelt in the cities of Hebron.
2 Samuel 2:4 KJV
And the men of Judah came, and there they anointed David king over the house of Judah. And they told David, saying, That the men of Jabeshgilead were they that buried Saul.
2 Samuel 22:33 KJV
God is my strength and power: and he maketh my way perfect.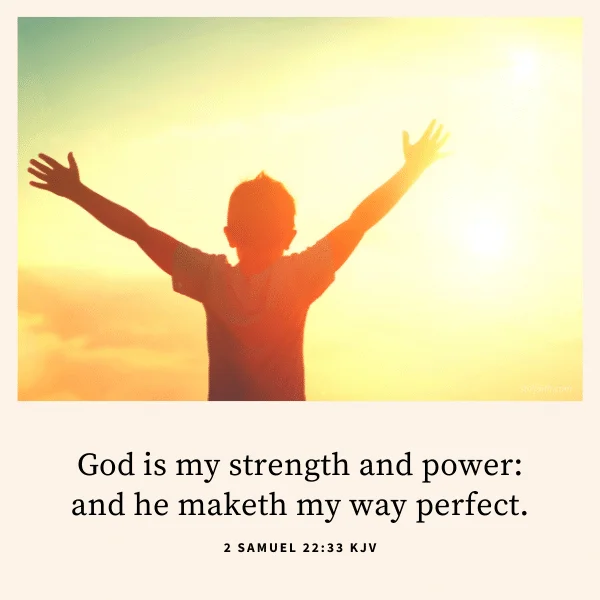 2 Samuel 7:22 KJV
Wherefore thou art great, O Lord God: for there is none like thee, neither is there any God beside thee, according to all that we have heard with our ears.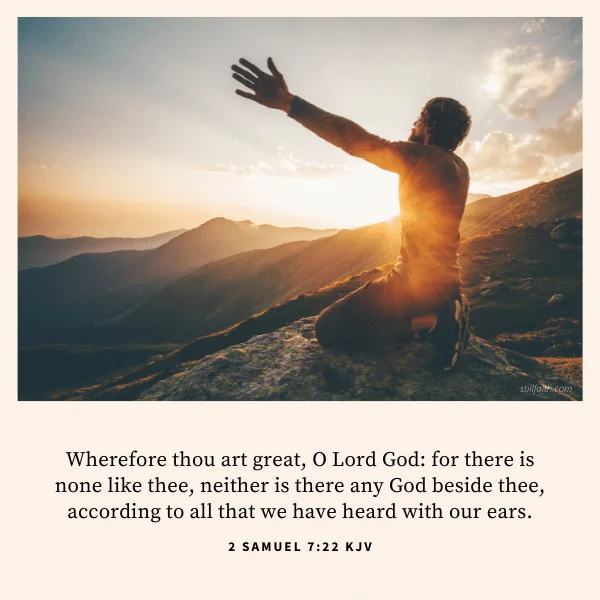 2 Samuel 1:12 KJV
And they mourned, and wept, and fasted until even, for Saul, and for Jonathan his son, and for the people of the Lord, and for the house of Israel; because they were fallen by the sword.
2 Samuel 1:13 KJV
And David said unto the young man that told him, Whence art thou? And he answered, I am the son of a stranger, an Amalekite.
2 Samuel 1:18 KJV
(Also he bade them teach the children of Judah the use of the bow: behold, it is written in the book of Jasher.)
2 Samuel 1:23 KJV
Saul and Jonathan were lovely and pleasant in their lives, and in their death they were not divided: they were swifter than eagles, they were stronger than lions.
2 Samuel 1:27 KJV
How are the mighty fallen, and the weapons of war perished!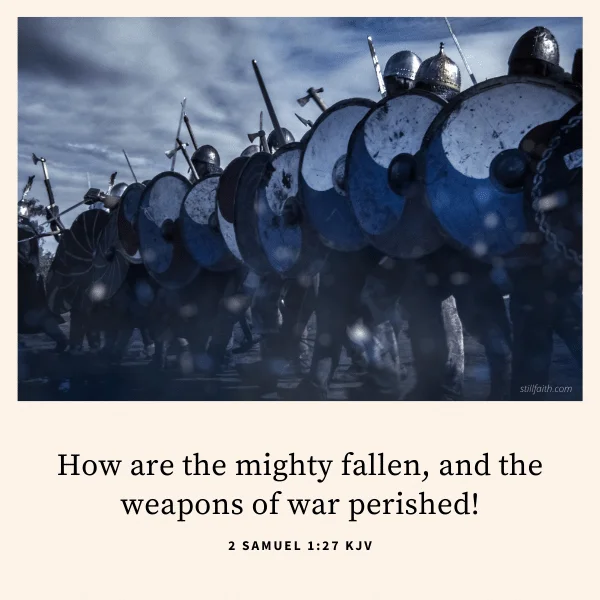 2 Samuel 10:12 KJV
Be of good courage, and let us play the men for our people, and for the cities of our God: and the Lord do that which seemeth him good.
2 Samuel 11:1 KJV
And it came to pass, after the year was expired, at the time when kings go forth to battle, that David sent Joab, and his servants with him, and all Israel; and they destroyed the children of Ammon, and besieged Rabbah. But David tarried still at Jerusalem.
2 Samuel 11:11 KJV
And Uriah said unto David, The ark, and Israel, and Judah, abide in tents; and my lord Joab, and the servants of my lord, are encamped in the open fields; shall I then go into mine house, to eat and to drink, and to lie with my wife? as thou livest, and as thy soul liveth, I will not do this thing.
2 Samuel 11:12 KJV
And David said to Uriah, Tarry here to day also, and to morrow I will let thee depart. So Uriah abode in Jerusalem that day, and the morrow.
2 Samuel 11:15 KJV
And he wrote in the letter, saying, Set ye Uriah in the forefront of the hottest battle, and retire ye from him, that he may be smitten, and die.
2 Samuel 11:27 KJV
And when the mourning was past, David sent and fetched her to his house, and she became his wife, and bare him a son. But the thing that David had done displeased the Lord.