Here are the top 25 most popular Bible verses in 1 Kings. These famous verses are the most searched, used, quoted, and most-read Bible verses in the entire book of 1 Kings.
See also: Most Popular Bible Verses in 2 Kings
1 Kings 1:1 KJV
Now king David was old and stricken in years; and they covered him with clothes, but he gat no heat.
1 Kings 1:2 KJV
Wherefore his servants said unto him, Let there be sought for my lord the king a young virgin: and let her stand before the king, and let her cherish him, and let her lie in thy bosom, that my lord the king may get heat.
1 Kings 1:3 KJV
So they sought for a fair damsel throughout all the coasts of Israel, and found Abishag a Shunammite, and brought her to the king.
1 Kings 1:6 KJV
And his father had not displeased him at any time in saying, Why hast thou done so? and he also was a very goodly man; and his mother bare him after Absalom.
1 Kings 1:7 KJV
And he conferred with Joab the son of Zeruiah, and with Abiathar the priest: and they following Adonijah helped him.
1 Kings 1:9 KJV
And Adonijah slew sheep and oxen and fat cattle by the stone of Zoheleth, which is by Enrogel, and called all his brethren the king's sons, and all the men of Judah the king's servants:
1 Kings 2:1 KJV
Now the days of David drew nigh that he should die; and he charged Solomon his son, saying,
1 Kings 1:13 KJV
Go and get thee in unto king David, and say unto him, Didst not thou, my lord, O king, swear unto thine handmaid, saying, Assuredly Solomon thy son shall reign after me, and he shall sit upon my throne? why then doth Adonijah reign?
1 Kings 1:18 KJV
And now, behold, Adonijah reigneth; and now, my lord the king, thou knowest it not:
1 Kings 10:14 KJV
Now the weight of gold that came to Solomon in one year was six hundred threescore and six talents of gold,
1 Kings 11:4 KJV
For it came to pass, when Solomon was old, that his wives turned away his heart after other gods: and his heart was not perfect with the Lord his God, as was the heart of David his father.
1 Kings 16:31 KJV
And it came to pass, as if it had been a light thing for him to walk in the sins of Jeroboam the son of Nebat, that he took to wife Jezebel the daughter of Ethbaal king of the Zidonians, and went and served Baal, and worshipped him.
1 Kings 16:34 KJV
In his days did Hiel the Bethelite build Jericho: he laid the foundation thereof in Abiram his firstborn, and set up the gates thereof in his youngest son Segub, according to the word of the Lord, which he spake by Joshua the son of Nun.
1 Kings 17:14 KJV
For thus saith the Lord God of Israel, The barrel of meal shall not waste, neither shall the cruse of oil fail, until the day that the Lord sendeth rain upon the earth.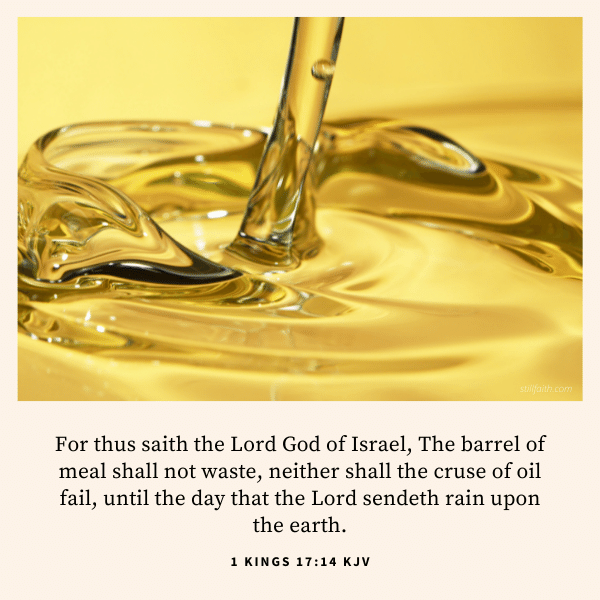 1 Kings 17:16 KJV
And the barrel of meal wasted not, neither did the cruse of oil fail, according to the word of the Lord, which he spake by Elijah.
1 Kings 17:17 KJV
And it came to pass after these things, that the son of the woman, the mistress of the house, fell sick; and his sickness was so sore, that there was no breath left in him.
1 Kings 17:19 KJV
And he said unto her, Give me thy son. And he took him out of her bosom, and carried him up into a loft, where he abode, and laid him upon his own bed.
1 Kings 18:19 KJV
Now therefore send, and gather to me all Israel unto mount Carmel, and the prophets of Baal four hundred and fifty, and the prophets of the groves four hundred, which eat at Jezebel's table.
1 Kings 18:21 KJV
And Elijah came unto all the people, and said, How long halt ye between two opinions? if the Lord be God, follow him: but if Baal, then follow him. And the people answered him not a word.
1 Kings 18:27 KJV
And it came to pass at noon, that Elijah mocked them, and said, Cry aloud: for he is a god; either he is talking, or he is pursuing, or he is in a journey, or peradventure he sleepeth, and must be awaked.
1 Kings 18:37 KJV
Hear me, O Lord, hear me, that this people may know that thou art the Lord God, and that thou hast turned their heart back again.
1 Kings 18:41 KJV
And Elijah said unto Ahab, Get thee up, eat and drink; for there is a sound of abundance of rain.
1 Kings 18:44 KJV
And it came to pass at the seventh time, that he said, Behold, there ariseth a little cloud out of the sea, like a man's hand. And he said, Go up, say unto Ahab, Prepare thy chariot, and get thee down that the rain stop thee not.
1 Kings 18:46 KJV
And the hand of the Lord was on Elijah; and he girded up his loins, and ran before Ahab to the entrance of Jezreel.
1 Kings 19:11 KJV
And he said, Go forth, and stand upon the mount before the Lord. And, behold, the Lord passed by, and a great and strong wind rent the mountains, and brake in pieces the rocks before the Lord; but the Lord was not in the wind: and after the wind an earthquake; but the Lord was not in the earthquake: