Here are 59 Bible verses about viruses from the Old and New Testaments of the Holy Bible, King James Version, sorted from the most relevant to the least relevant.
Related topics: antichrist · being calm · being patient · beliefs · comfort · depression · evil · plagues · praying · quarantine · worrying
Deuteronomy 31:8 KJV
And the Lord, he it is that doth go before thee; he will be with thee, he will not fail thee, neither forsake thee: fear not, neither be dismayed.
Matthew 6:26 KJV
Behold the fowls of the air: for they sow not, neither do they reap, nor gather into barns; yet your heavenly Father feedeth them. Are ye not much better than they?
Matthew 10:1 KJV
And when he had called unto him his twelve disciples, he gave them power against unclean spirits, to cast them out, and to heal all manner of sickness and all manner of disease.
Genesis 16:13 KJV
And she called the name of the Lord that spake unto her, Thou God seest me: for she said, Have I also here looked after him that seeth me?
Isaiah 41:10 KJV
Fear thou not; for I am with thee: be not dismayed; for I am thy God: I will strengthen thee; yea, I will help thee; yea, I will uphold thee with the right hand of my righteousness.
Matthew 24:6 KJV
And ye shall hear of wars and rumours of wars: see that ye be not troubled: for all these things must come to pass, but the end is not yet.
Jonah 2:2 KJV
And said, I cried by reason of mine affliction unto the Lord, and he heard me; out of the belly of hell cried I, and thou heardest my voice.
John 16:22 KJV
And ye now therefore have sorrow: but I will see you again, and your heart shall rejoice, and your joy no man taketh from you.
2 Corinthians 9:6-7 KJV
But this I say, He which soweth sparingly shall reap also sparingly; and he which soweth bountifully shall reap also bountifully. Every man according as he purposeth in his heart, so let him give; not grudgingly, or of necessity: for God loveth a cheerful giver.
Revelation 6:8 KJV
And I looked, and behold a pale horse: and his name that sat on him was Death, and Hell followed with him. And power was given unto them over the fourth part of the earth, to kill with sword, and with hunger, and with death, and with the beasts of the earth.
Psalm 23:4 KJV
Yea, though I walk through the valley of the shadow of death, I will fear no evil: for thou art with me; thy rod and thy staff they comfort me.
Joshua 1:9 KJV
Have not I commanded thee? Be strong and of a good courage; be not afraid, neither be thou dismayed: for the Lord thy God is with thee whithersoever thou goest.
1 Timothy 5:1 KJV
Rebuke not an elder, but intreat him as a father; and the younger men as brethren;
Psalm 91:1-16 KJV
He that dwelleth in the secret place of the most High shall abide under the shadow of the Almighty. I will say of the Lord, He is my refuge and my fortress: my God; in him will I trust. Surely he shall deliver thee from the snare of the fowler, and from the noisome pestilence. He shall cover thee with his feathers, and under his wings shalt thou trust: his truth shall be thy shield and buckler. Thou shalt not be afraid for the terror by night; nor for the arrow that flieth by day; Nor for the pestilence that walketh in darkness; nor for the destruction that wasteth at noonday. A thousand shall fall at thy side, and ten thousand at thy right hand; but it shall not come nigh thee. Only with thine eyes shalt thou behold and see the reward of the wicked. Because thou hast made…
Lamentations 3:33 KJV
For he doth not afflict willingly nor grieve the children of men.
1 John 4:20 KJV
If a man say, I love God, and hateth his brother, he is a liar: for he that loveth not his brother whom he hath seen, how can he love God whom he hath not seen?
Romans 5:12 KJV
Wherefore, as by one man sin entered into the world, and death by sin; and so death passed upon all men, for that all have sinned:
Exodus 2:25 KJV
And God looked upon the children of Israel, and God had respect unto them.
Psalm 4:8 KJV
I will both lay me down in peace, and sleep: for thou, Lord, only makest me dwell in safety.
Romans 8:38-39 KJV
For I am persuaded, that neither death, nor life, nor angels, nor principalities, nor powers, nor things present, nor things to come, Nor height, nor depth, nor any other creature, shall be able to separate us from the love of God, which is in Christ Jesus our Lord.
John 10:10 KJV
The thief cometh not, but for to steal, and to kill, and to destroy: I am come that they might have life, and that they might have it more abundantly.
Psalm 34:18 KJV
The Lord is nigh unto them that are of a broken heart; and saveth such as be of a contrite spirit.
2 Chronicles 15:7 KJV
Be ye strong therefore, and let not your hands be weak: for your work shall be rewarded.
Romans 14:1-23 KJV
Him that is weak in the faith receive ye, but not to doubtful disputations. For one believeth that he may eat all things: another, who is weak, eateth herbs. Let not him that eateth despise him that eateth not; and let not him which eateth not judge him that eateth: for God hath received him. Who art thou that judgest another man's servant? to his own master he standeth or falleth. Yea, he shall be holden up: for God is able to make him stand. One man esteemeth one day above another: another esteemeth every day alike. Let every man be fully persuaded in his own mind. He that regardeth the day, regardeth it unto the Lord; and he that regardeth not the day, to the Lord he doth not regard it. He that eateth, eateth to the Lord, for he giveth God thanks; and he that eateth not, to…
Jeremiah 29:11 KJV
For I know the thoughts that I think toward you, saith the Lord, thoughts of peace, and not of evil, to give you an expected end.
Romans 1:18 KJV
For the wrath of God is revealed from heaven against all ungodliness and unrighteousness of men, who hold the truth in unrighteousness;
Matthew 11:28 KJV
Come unto me, all ye that labour and are heavy laden, and I will give you rest.
Psalm 56:3 KJV
What time I am afraid, I will trust in thee.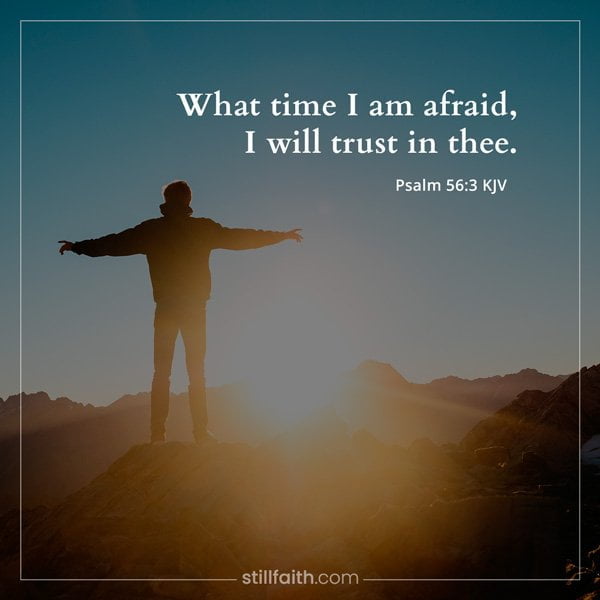 Hebrews 13:5 KJV
Let your conversation be without covetousness; and be content with such things as ye have: for he hath said, I will never leave thee, nor forsake thee.
Exodus 15:26 KJV
And said, If thou wilt diligently hearken to the voice of the Lord thy God, and wilt do that which is right in his sight, and wilt give ear to his commandments, and keep all his statutes, I will put none of these diseases upon thee, which I have brought upon the Egyptians: for I am the Lord that healeth thee.
Romans 8:35 KJV
Who shall separate us from the love of Christ? shall tribulation, or distress, or persecution, or famine, or nakedness, or peril, or sword?
Romans 8:37 KJV
Nay, in all these things we are more than conquerors through him that loved us.
2 Corinthians 12:10 KJV
Therefore I take pleasure in infirmities, in reproaches, in necessities, in persecutions, in distresses for Christ's sake: for when I am weak, then am I strong.
Isaiah 26:20 KJV
Come, my people, enter thou into thy chambers, and shut thy doors about thee: hide thyself as it were for a little moment, until the indignation be overpast.
Habakkuk 3:17-18 KJV
Although the fig tree shall not blossom, neither shall fruit be in the vines; the labour of the olive shall fail, and the fields shall yield no meat; the flock shall be cut off from the fold, and there shall be no herd in the stalls: Yet I will rejoice in the Lord, I will joy in the God of my salvation.
Revelation 6:2 KJV
And I saw, and behold a white horse: and he that sat on him had a bow; and a crown was given unto him: and he went forth conquering, and to conquer.
2 Peter 3:8 KJV
But, beloved, be not ignorant of this one thing, that one day is with the Lord as a thousand years, and a thousand years as one day.
1 Peter 5:7 KJV
Casting all your care upon him; for he careth for you.
Jeremiah 17:14 KJV
Heal me, O Lord, and I shall be healed; save me, and I shall be saved: for thou art my praise.
Luke 17:26 KJV
And as it was in the days of Noe, so shall it be also in the days of the Son of man.
1 John 4:18 KJV
There is no fear in love; but perfect love casteth out fear: because fear hath torment. He that feareth is not made perfect in love.
John 3:16 KJV
For God so loved the world, that he gave his only begotten Son, that whosoever believeth in him should not perish, but have everlasting life.
Galatians 6:2 KJV
Bear ye one another's burdens, and so fulfil the law of Christ.
2 Corinthians 1:10 KJV
Who delivered us from so great a death, and doth deliver: in whom we trust that he will yet deliver us;
Matthew 22:16 KJV
And they sent out unto him their disciples with the Herodians, saying, Master, we know that thou art true, and teachest the way of God in truth, neither carest thou for any man: for thou regardest not the person of men.
Proverbs 17:17 KJV
A friend loveth at all times, and a brother is born for adversity.
1 John 5:14 KJV
And this is the confidence that we have in him, that, if we ask any thing according to his will, he heareth us:
Psalm 128:3-4 KJV
Thy wife shall be as a fruitful vine by the sides of thine house: thy children like olive plants round about thy table. Behold, that thus shall the man be blessed that feareth the Lord.
John 13:34 KJV
A new commandment I give unto you, That ye love one another; as I have loved you, that ye also love one another.
Leviticus 11:44-45 KJV
For I am the Lord your God: ye shall therefore sanctify yourselves, and ye shall be holy; for I am holy: neither shall ye defile yourselves with any manner of creeping thing that creepeth upon the earth. For I am the Lord that bringeth you up out of the land of Egypt, to be your God: ye shall therefore be holy, for I am holy.
Acts 20:35 KJV
I have shewed you all things, how that so labouring ye ought to support the weak, and to remember the words of the Lord Jesus, how he said, It is more blessed to give than to receive.
James 5:11 KJV
Behold, we count them happy which endure. Ye have heard of the patience of Job, and have seen the end of the Lord; that the Lord is very pitiful, and of tender mercy.
Micah 6:4 KJV
For I brought thee up out of the land of Egypt, and redeemed thee out of the house of servants; and I sent before thee Moses, Aaron, and Miriam.
Luke 4:18 KJV
The Spirit of the Lord is upon me, because he hath anointed me to preach the gospel to the poor; he hath sent me to heal the brokenhearted, to preach deliverance to the captives, and recovering of sight to the blind, to set at liberty them that are bruised,
Leviticus 3:17 KJV
It shall be a perpetual statute for your generations throughout all your dwellings, that ye eat neither fat nor blood.
Acts 10:1-48 KJV
There was a certain man in Caesarea called Cornelius, a centurion of the band called the Italian band, A devout man, and one that feared God with all his house, which gave much alms to the people, and prayed to God alway. He saw in a vision evidently about the ninth hour of the day an angel of God coming in to him, and saying unto him, Cornelius. And when he looked on him, he was afraid, and said, What is it, Lord? And he said unto him, Thy prayers and thine alms are come up for a memorial before God. And now send men to Joppa, and call for one Simon, whose surname is Peter: He lodgeth with one Simon a tanner, whose house is by the sea side: he shall tell thee what thou oughtest to do. And when the angel which spake unto Cornelius was departed, he…
Matthew 24:2 KJV
And Jesus said unto them, See ye not all these things? verily I say unto you, There shall not be left here one stone upon another, that shall not be thrown down.
Mark 4:1-41 KJV
And he began again to teach by the sea side: and there was gathered unto him a great multitude, so that he entered into a ship, and sat in the sea; and the whole multitude was by the sea on the land. And he taught them many things by parables, and said unto them in his doctrine, Hearken; Behold, there went out a sower to sow: And it came to pass, as he sowed, some fell by the way side, and the fowls of the air came and devoured it up. And some fell on stony ground, where it had not much earth; and immediately it sprang up, because it had no depth of earth: But when the sun was up, it was scorched; and because it had no root, it withered away. And some fell among thorns, and the thorns grew up, and choked it, and it yielded no…
Leviticus 13:45 KJV
And the leper in whom the plague is, his clothes shall be rent, and his head bare, and he shall put a covering upon his upper lip, and shall cry, Unclean, unclean.