Here are 114 Bible verses about patience in love from the Old and New Testaments of the Holy Bible, King James Version, sorted from the most relevant to the least relevant.
Related topics: being faithful · guarding your heart · heartbreak · joy · love · relationship · wedding
Romans 12:12 KJV
Rejoicing in hope; patient in tribulation; continuing instant in prayer;
Proverbs 15:18 KJV
A wrathful man stirreth up strife: but he that is slow to anger appeaseth strife.
Proverbs 16:32 KJV
He that is slow to anger is better than the mighty; and he that ruleth his spirit than he that taketh a city.
1 Corinthians 13:4-5 KJV
Charity suffereth long, and is kind; charity envieth not; charity vaunteth not itself, is not puffed up, Doth not behave itself unseemly, seeketh not her own, is not easily provoked, thinketh no evil;
Romans 8:25 KJV
But if we hope for that we see not, then do we with patience wait for it.
Psalm 37:4 KJV
Delight thyself also in the Lord: and he shall give thee the desires of thine heart.
Romans 5:2-4 KJV
By whom also we have access by faith into this grace wherein we stand, and rejoice in hope of the glory of God. And not only so, but we glory in tribulations also: knowing that tribulation worketh patience; And patience, experience; and experience, hope:
Galatians 6:9 KJV
And let us not be weary in well doing: for in due season we shall reap, if we faint not.
Ecclesiastes 7:8 KJV
Better is the end of a thing than the beginning thereof: and the patient in spirit is better than the proud in spirit.
Romans 15:1 KJV
We then that are strong ought to bear the infirmities of the weak, and not to please ourselves.
Ephesians 4:2 KJV
With all lowliness and meekness, with longsuffering, forbearing one another in love;
John 15:7 KJV
If ye abide in me, and my words abide in you, ye shall ask what ye will, and it shall be done unto you.
Hebrews 10:36 KJV
For ye have need of patience, that, after ye have done the will of God, ye might receive the promise.
2 Timothy 4:2 KJV
Preach the word; be instant in season, out of season; reprove, rebuke, exhort with all long suffering and doctrine.
Philippians 4:6 KJV
Be careful for nothing; but in every thing by prayer and supplication with thanksgiving let your requests be made known unto God.
Psalm 145:19 KJV
He will fulfil the desire of them that fear him: he also will hear their cry, and will save them.
Genesis 29:20 KJV
And Jacob served seven years for Rachel; and they seemed unto him but a few days, for the love he had to her.
James 5:8 KJV
Be ye also patient; stablish your hearts: for the coming of the Lord draweth nigh.
1 Timothy 1:16 KJV
Howbeit for this cause I obtained mercy, that in me first Jesus Christ might shew forth all longsuffering, for a pattern to them which should hereafter believe on him to life everlasting.
Ecclesiastes 7:9 KJV
Be not hasty in thy spirit to be angry: for anger resteth in the bosom of fools.
1 John 5:14-15 KJV
And this is the confidence that we have in him, that, if we ask any thing according to his will, he heareth us: And if we know that he hear us, whatsoever we ask, we know that we have the petitions that we desired of him.
Romans 12:10 KJV
Be kindly affectioned one to another with brotherly love; in honour preferring one another;
Psalm 37:7-9 KJV
Rest in the Lord, and wait patiently for him: fret not thyself because of him who prospereth in his way, because of the man who bringeth wicked devices to pass. Cease from anger, and forsake wrath: fret not thyself in any wise to do evil. For evildoers shall be cut off: but those that wait upon the Lord, they shall inherit the earth.
Galatians 5:22-23 KJV
But the fruit of the Spirit is love, joy, peace, longsuffering, gentleness, goodness, faith, Meekness, temperance: against such there is no law.
Psalm 21:2 KJV
Thou hast given him his heart's desire, and hast not withholden the request of his lips. Selah.
Colossians 1:10-11 KJV
That ye might walk worthy of the Lord unto all pleasing, being fruitful in every good work, and increasing in the knowledge of God; Strengthened with all might, according to his glorious power, unto all patience and longsuffering with joyfulness;
Jeremiah 29:11 KJV
For I know the thoughts that I think toward you, saith the Lord, thoughts of peace, and not of evil, to give you an expected end.
Job 22:26 KJV
For then shalt thou have thy delight in the Almighty, and shalt lift up thy face unto God.
Colossians 3:14 KJV
And above all these things put on charity, which is the bond of perfectness.
Psalm 40:1 KJV
I waited patiently for the Lord; and he inclined unto me, and heard my cry.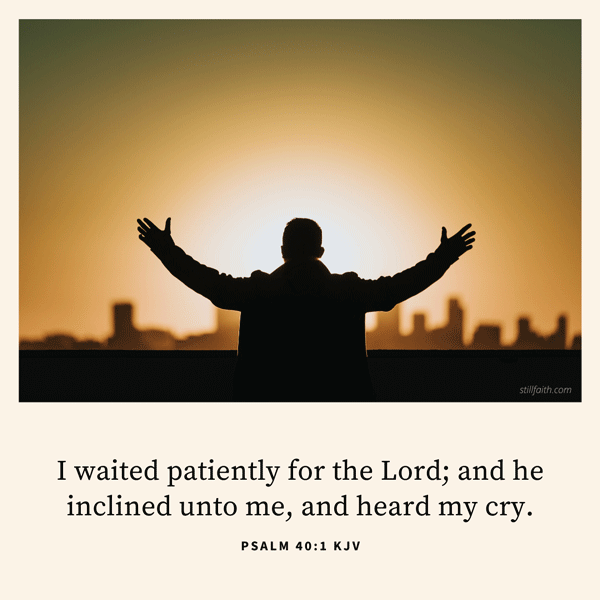 Song of Solomon 2:3 KJV
As the apple tree among the trees of the wood, so is my beloved among the sons. I sat down under his shadow with great delight, and his fruit was sweet to my taste.
1 Thessalonians 3:12 KJV
And the Lord make you to increase and abound in love one toward another, and toward all men, even as we do toward you:
2 Peter 3:9 KJV
The Lord is not slack concerning his promise, as some men count slackness; but is longsuffering to us-ward, not willing that any should perish, but that all should come to repentance.
Isaiah 40:31 KJV
But they that wait upon the Lord shall renew their strength; they shall mount up with wings as eagles; they shall run, and not be weary; and they shall walk, and not faint.
Proverbs 14:29 KJV
He that is slow to wrath is of great understanding: but he that is hasty of spirit exalteth folly.
Psalm 27:14 KJV
Wait on the Lord: be of good courage, and he shall strengthen thine heart: wait, I say, on the Lord.
Proverbs 19:22 KJV
The desire of a man is his kindness: and a poor man is better than a liar.
Romans 14:1 KJV
Him that is weak in the faith receive ye, but not to doubtful disputations.
Colossians 3:12 KJV
Put on therefore, as the elect of God, holy and beloved, bowels of mercies, kindness, humbleness of mind, meekness, longsuffering;
Exodus 14:14 KJV
The Lord shall fight for you, and ye shall hold your peace.
1 Samuel 13:8-14 KJV
And he tarried seven days, according to the set time that Samuel had appointed: but Samuel came not to Gilgal; and the people were scattered from him. And Saul said, Bring hither a burnt offering to me, and peace offerings. And he offered the burnt offering. And it came to pass, that as soon as he had made an end of offering the burnt offering, behold, Samuel came; and Saul went out to meet him, that he might salute him. And Samuel said, What hast thou done? And Saul said, Because I saw that the people were scattered from me, and that thou camest not within the days appointed, and that the Philistines gathered themselves together at Michmash; Therefore said I, The Philistines will come down now upon me to Gilgal, and I have not made supplication unto the Lord: I forced myself therefore, and offered a burnt offering. And…
2 Corinthians 6:6 KJV
By pureness, by knowledge, by long suffering, by kindness, by the Holy Ghost, by love unfeigned,
Romans 15:5 KJV
Now the God of patience and consolation grant you to be likeminded one toward another according to Christ Jesus:
Luke 15:11-24 KJV
And he said, A certain man had two sons: And the younger of them said to his father, Father, give me the portion of goods that falleth to me. And he divided unto them his living. And not many days after the younger son gathered all together, and took his journey into a far country, and there wasted his substance with riotous living. And when he had spent all, there arose a mighty famine in that land; and he began to be in want. And he went and joined himself to a citizen of that country; and he sent him into his fields to feed swine. And he would fain have filled his belly with the husks that the swine did eat: and no man gave unto him. And when he came to himself, he said, How many hired servants of my father's have bread enough and to spare, and…
2 Peter 3:8 KJV
But, beloved, be not ignorant of this one thing, that one day is with the Lord as a thousand years, and a thousand years as one day.
Matthew 24:42 KJV
Watch therefore: for ye know not what hour your Lord doth come.
Psalm 30:5 KJV
For his anger endureth but a moment; in his favour is life: weeping may endure for a night, but joy cometh in the morning.
2 Thessalonians 1:4-5 KJV
So that we ourselves glory in you in the churches of God for your patience and faith in all your persecutions and tribulations that ye endure: Which is a manifest token of the righteous judgment of God, that ye may be counted worthy of the kingdom of God, for which ye also suffer:
Song of Solomon 2:7 KJV
I charge you, O ye daughters of Jerusalem, by the roes, and by the hinds of the field, that ye stir not up, nor awake my love, till he please.
Lamentations 3:25-27 KJV
The Lord is good unto them that wait for him, to the soul that seeketh him. It is good that a man should both hope and quietly wait for the salvation of the Lord. It is good for a man that he bear the yoke in his youth.
Psalm 5:3 KJV
My voice shalt thou hear in the morning, O Lord; in the morning will I direct my prayer unto thee, and will look up.
2 Timothy 2:22 KJV
Flee also youthful lusts: but follow righteousness, faith, charity, peace, with them that call on the Lord out of a pure heart.
2 Chronicles 15:7 KJV
Be ye strong therefore, and let not your hands be weak: for your work shall be rewarded.
James 1:19 KJV
Wherefore, my beloved brethren, let every man be swift to hear, slow to speak, slow to wrath:
Isaiah 30:18 KJV
And therefore will the Lord wait, that he may be gracious unto you, and therefore will he be exalted, that he may have mercy upon you: for the Lord is a God of judgment: blessed are all they that wait for him.
Hebrews 11:13-16 KJV
These all died in faith, not having received the promises, but having seen them afar off, and were persuaded of them, and embraced them, and confessed that they were strangers and pilgrims on the earth. For they that say such things declare plainly that they seek a country. And truly, if they had been mindful of that country from whence they came out, they might have had opportunity to have returned. But now they desire a better country, that is, an heavenly: wherefore God is not ashamed to be called their God: for he hath prepared for them a city.
1 Peter 3:11 KJV
Let him eschew evil, and do good; let him seek peace, and ensue it.
Psalm 103:8 KJV
The Lord is merciful and gracious, slow to anger, and plenteous in mercy.
1 Peter 2:11 KJV
Dearly beloved, I beseech you as strangers and pilgrims, abstain from fleshly lusts, which war against the soul;
1 Thessalonians 5:14 KJV
Now we exhort you, brethren, warn them that are unruly, comfort the feebleminded, support the weak, be patient toward all men.
2 Samuel 5:4-5 KJV
David was thirty years old when he began to reign, and he reigned forty years. In Hebron he reigned over Judah seven years and six months: and in Jerusalem he reigned thirty and three years over all Israel and Judah.
1 Corinthians 6:18 KJV
Flee fornication. Every sin that a man doeth is without the body; but he that committeth fornication sinneth against his own body.
John 13:7 KJV
Jesus answered and said unto him, What I do thou knowest not now; but thou shalt know hereafter.
Psalm 75:2 KJV
When I shall receive the congregation I will judge uprightly.
1 Timothy 6:11 KJV
But thou, O man of God, flee these things; and follow after righteousness, godliness, faith, love, patience, meekness.
Habakkuk 2:3 KJV
For the vision is yet for an appointed time, but at the end it shall speak, and not lie: though it tarry, wait for it; because it will surely come, it will not tarry.
1 Timothy 4:12 KJV
Let no man despise thy youth; but be thou an example of the believers, in word, in conversation, in charity, in spirit, in faith, in purity.
Matthew 24:13 KJV
But he that shall endure unto the end, the same shall be saved.
3 John 11 KJV
Beloved, follow not that which is evil, but that which is good. He that doeth good is of God: but he that doeth evil hath not seen God.
Revelation 6:9-11 KJV
And when he had opened the fifth seal, I saw under the altar the souls of them that were slain for the word of God, and for the testimony which they held: And they cried with a loud voice, saying, How long, O Lord, holy and true, dost thou not judge and avenge our blood on them that dwell on the earth? And white robes were given unto every one of them; and it was said unto them, that they should rest yet for a little season, until their fellowservants also and their brethren, that should be killed as they were, should be fulfilled.
Song of Solomon 8:6 KJV
Set me as a seal upon thine heart, as a seal upon thine arm: for love is strong as death; jealousy is cruel as the grave: the coals thereof are coals of fire, which hath a most vehement flame.
Revelation 3:11 KJV
Behold, I come quickly: hold that fast which thou hast, that no man take thy crown.
Song of Solomon 8:7 KJV
Many waters cannot quench love, neither can the floods drown it: if a man would give all the substance of his house for love, it would utterly be contemned.
Joel 2:13 KJV
And rend your heart, and not your garments, and turn unto the Lord your God: for he is gracious and merciful, slow to anger, and of great kindness, and repenteth him of the evil.
Proverbs 3:5-6 KJV
Trust in the Lord with all thine heart; and lean not unto thine own understanding. In all thy ways acknowledge him, and he shall direct thy paths.
Proverbs 10:28 KJV
The hope of the righteous shall be gladness: but the expectation of the wicked shall perish.
Hebrews 6:12 KJV
That ye be not slothful, but followers of them who through faith and patience inherit the promises.
1 Peter 2:19-23 KJV
For this is thankworthy, if a man for conscience toward God endure grief, suffering wrongfully. For what glory is it, if, when ye be buffeted for your faults, ye shall take it patiently? but if, when ye do well, and suffer for it, ye take it patiently, this is acceptable with God. For even hereunto were ye called: because Christ also suffered for us, leaving us an example, that ye should follow his steps: Who did no sin, neither was guile found in his mouth: Who, when he was reviled, reviled not again; when he suffered, he threatened not; but committed himself to him that judgeth righteously:
Luke 8:15 KJV
But that on the good ground are they, which in an honest and good heart, having heard the word, keep it, and bring forth fruit with patience.
Proverbs 25:15 KJV
By long forbearing is a prince persuaded, and a soft tongue breaketh the bone.
James 5:7 KJV
Be patient therefore, brethren, unto the coming of the Lord. Behold, the husbandman waiteth for the precious fruit of the earth, and hath long patience for it, until he receive the early and latter rain.
Luke 21:19 KJV
In your patience possess ye your souls.
Hebrews 6:15 KJV
And so, after he had patiently endured, he obtained the promise.
Hebrews 12:1 KJV
Wherefore seeing we also are compassed about with so great a cloud of witnesses, let us lay aside every weight, and the sin which doth so easily beset us, and let us run with patience the race that is set before us,
Romans 2:4 KJV
Or despisest thou the riches of his goodness and forbearance and longsuffering; not knowing that the goodness of God leadeth thee to repentance?
2 Timothy 2:24 KJV
And the servant of the Lord must not strive; but be gentle unto all men, apt to teach, patient,
James 1:3 KJV
Knowing this, that the trying of your faith worketh patience.
Revelation 14:12 KJV
Here is the patience of the saints: here are they that keep the commandments of God, and the faith of Jesus.
Titus 2:2 KJV
That the aged men be sober, grave, temperate, sound in faith, in charity, in patience.
James 5:10 KJV
Take, my brethren, the prophets, who have spoken in the name of the Lord, for an example of suffering affliction, and of patience.
Psalm 46:10 KJV
Be still, and know that I am God: I will be exalted among the heathen, I will be exalted in the earth.
James 1:4 KJV
But let patience have her perfect work, that ye may be perfect and entire, wanting nothing.
2 Thessalonians 3:5 KJV
And the Lord direct your hearts into the love of God, and into the patient waiting for Christ.
Revelation 2:3 KJV
And hast borne, and hast patience, and for my name's sake hast laboured, and hast not fainted.
2 Peter 3:15 KJV
And account that the longsuffering of our Lord is salvation; even as our beloved brother Paul also according to the wisdom given unto him hath written unto you;
1 Thessalonians 1:3 KJV
Remembering without ceasing your work of faith, and labour of love, and patience of hope in our Lord Jesus Christ, in the sight of God and our Father;
Romans 15:4 KJV
For whatsoever things were written aforetime were written for our learning, that we through patience and comfort of the scriptures might have hope.
James 5:11 KJV
Behold, we count them happy which endure. Ye have heard of the patience of Job, and have seen the end of the Lord; that the Lord is very pitiful, and of tender mercy.
Exodus 34:6 KJV
And the Lord passed by before him, and proclaimed, The Lord, The Lord God, merciful and gracious, longsuffering, and abundant in goodness and truth,
Romans 2:7 KJV
To them who by patient continuance in well doing seek for glory and honour and immortality, eternal life:
2 Corinthians 12:12 KJV
Truly the signs of an apostle were wrought among you in all patience, in signs, and wonders, and mighty deeds.
Psalm 86:15 KJV
But thou, O Lord, art a God full of compassion, and gracious, long suffering, and plenteous in mercy and truth.
Revelation 2:19 KJV
I know thy works, and charity, and service, and faith, and thy patience, and thy works; and the last to be more than the first.
2 Peter 1:6 KJV
And to knowledge temperance; and to temperance patience; and to patience godliness;
Revelation 3:10 KJV
Because thou hast kept the word of my patience, I also will keep thee from the hour of temptation, which shall come upon all the world, to try them that dwell upon the earth.
2 Timothy 3:10 KJV
But thou hast fully known my doctrine, manner of life, purpose, faith, longsuffering, charity, patience,
Revelation 1:9 KJV
I John, who also am your brother, and companion in tribulation, and in the kingdom and patience of Jesus Christ, was in the isle that is called Patmos, for the word of God, and for the testimony of Jesus Christ.
Revelation 13:10 KJV
He that leadeth into captivity shall go into captivity: he that killeth with the sword must be killed with the sword. Here is the patience and the faith of the saints.
Hebrews 12:2 KJV
Looking unto Jesus the author and finisher of our faith; who for the joy that was set before him endured the cross, despising the shame, and is set down at the right hand of the throne of God.
Numbers 14:18 KJV
The Lord is longsuffering, and of great mercy, forgiving iniquity and transgression, and by no means clearing the guilty, visiting the iniquity of the fathers upon the children unto the third and fourth generation.
Psalm 130:5 KJV
I wait for the Lord, my soul doth wait, and in his word do I hope.
Revelation 2:2 KJV
I know thy works, and thy labour, and thy patience, and how thou canst not bear them which are evil: and thou hast tried them which say they are apostles, and are not, and hast found them liars:
1 Peter 4:8 KJV
And above all things have fervent charity among yourselves: for charity shall cover the multitude of sins.
Colossians 3:13 KJV
Forbearing one another, and forgiving one another, if any man have a quarrel against any: even as Christ forgave you, so also do ye.