Here are 154 Bible verses about hypocrites from the Old and New Testaments of the Holy Bible, King James Version, sorted from the most relevant to the least relevant.
Related topics: anger · bad behavior · compromise · gossip · grief · hatred · humility · sin
1 John 4:20 KJV
If a man say, I love God, and hateth his brother, he is a liar: for he that loveth not his brother whom he hath seen, how can he love God whom he hath not seen?
Matthew 7:1-5 KJV
Judge not, that ye be not judged. For with what judgment ye judge, ye shall be judged: and with what measure ye mete, it shall be measured to you again. And why beholdest thou the mote that is in thy brother's eye, but considerest not the beam that is in thine own eye? Or how wilt thou say to thy brother, Let me pull out the mote out of thine eye; and, behold, a beam is in thine own eye? Thou hypocrite, first cast out the beam out of thine own eye; and then shalt thou see clearly to cast out the mote out of thy brother's eye.
1 Timothy 4:2 KJV
Speaking lies in hypocrisy; having their conscience seared with a hot iron;
Matthew 23:17 KJV
Ye fools and blind: for whether is greater, the gold, or the temple that sanctifieth the gold?
Romans 8:6-7 KJV
For to be carnally minded is death; but to be spiritually minded is life and peace. Because the carnal mind is enmity against God: for it is not subject to the law of God, neither indeed can be.
Job 15:34 KJV
For the congregation of hypocrites shall be desolate, and fire shall consume the tabernacles of bribery.
Matthew 7:5 KJV
Thou hypocrite, first cast out the beam out of thine own eye; and then shalt thou see clearly to cast out the mote out of thy brother's eye.
1 Peter 2:16 KJV
As free, and not using your liberty for a cloke of maliciousness, but as the servants of God.
Romans 2:21-22 KJV
Thou therefore which teachest another, teachest thou not thyself? thou that preachest a man should not steal, dost thou steal? Thou that sayest a man should not commit adultery, dost thou commit adultery? thou that abhorrest idols, dost thou commit sacrilege?
Luke 12:56 KJV
Ye hypocrites, ye can discern the face of the sky and of the earth; but how is it that ye do not discern this time?
Isaiah 32:6 KJV
For the vile person will speak villany, and his heart will work iniquity, to practise hypocrisy, and to utter error against the Lord, to make empty the soul of the hungry, and he will cause the drink of the thirsty to fail.
Jeremiah 17:9 KJV
The heart is deceitful above all things, and desperately wicked: who can know it?
Job 36:13 KJV
But the hypocrites in heart heap up wrath: they cry not when he bindeth them.
Matthew 23:27 KJV
Woe unto you, scribes and Pharisees, hypocrites! for ye are like unto whited sepulchres, which indeed appear beautiful outward, but are within full of dead men's bones, and of all uncleanness.
James 1:26 KJV
If any man among you seem to be religious, and bridleth not his tongue, but deceiveth his own heart, this man's religion is vain.
Galatians 6:3 KJV
For if a man think himself to be something, when he is nothing, he deceiveth himself.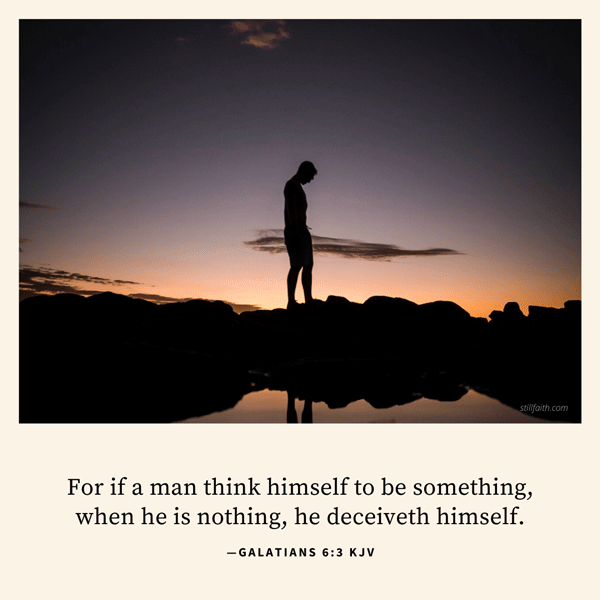 Matthew 7:21-23 KJV
Not every one that saith unto me, Lord, Lord, shall enter into the kingdom of heaven; but he that doeth the will of my Father which is in heaven. Many will say to me in that day, Lord, Lord, have we not prophesied in thy name? and in thy name have cast out devils? and in thy name done many wonderful works? And then will I profess unto them, I never knew you: depart from me, ye that work iniquity.
Luke 12:1 KJV
In the mean time, when there were gathered together an innumerable multitude of people, insomuch that they trode one upon another, he began to say unto his disciples first of all, Beware ye of the leaven of the Pharisees, which is hypocrisy.
Isaiah 65:5 KJV
Which say, Stand by thyself, come not near to me; for I am holier than thou. These are a smoke in my nose, a fire that burneth all the day.
Psalm 15:1-3 KJV
Lord, who shall abide in thy tabernacle? who shall dwell in thy holy hill? He that walketh uprightly, and worketh righteousness, and speaketh the truth in his heart. He that backbiteth not with his tongue, nor doeth evil to his neighbour, nor taketh up a reproach against his neighbour.
Isaiah 33:14 KJV
The sinners in Zion are afraid; fearfulness hath surprised the hypocrites. Who among us shall dwell with the devouring fire? who among us shall dwell with everlasting burnings?
2 Corinthians 11:14 KJV
And no marvel; for Satan himself is transformed into an angel of light.
Matthew 6:1 KJV
Take heed that ye do not your alms before men, to be seen of them: otherwise ye have no reward of your Father which is in heaven.
Jeremiah 23:11 KJV
For both prophet and priest are profane; yea, in my house have I found their wickedness, saith the Lord.
Philippians 3:9 KJV
And be found in him, not having mine own righteousness, which is of the law, but that which is through the faith of Christ, the righteousness which is of God by faith:
Luke 13:15 KJV
The Lord then answered him, and said, Thou hypocrite, doth not each one of you on the sabbath loose his ox or his ass from the stall, and lead him away to watering?
Luke 18:11 KJV
The Pharisee stood and prayed thus with himself, God, I thank thee, that I am not as other men are, extortioners, unjust, adulterers, or even as this publican.
Romans 10:2-3 KJV
For I bear them record that they have a zeal of God, but not according to knowledge. For they being ignorant of God's righteousness, and going about to establish their own righteousness, have not submitted themselves unto the righteousness of God.
Matthew 6:2 KJV
Therefore when thou doest thine alms, do not sound a trumpet before thee, as the hypocrites do in the synagogues and in the streets, that they may have glory of men. Verily I say unto you, They have their reward.
Job 8:13 KJV
So are the paths of all that forget God; and the hypocrite's hope shall perish:
Matthew 23:23 KJV
Woe unto you, scribes and Pharisees, hypocrites! for ye pay tithe of mint and anise and cummin, and have omitted the weightier matters of the law, judgment, mercy, and faith: these ought ye to have done, and not to leave the other undone.
Ezekiel 33:31 KJV
And they come unto thee as the people cometh, and they sit before thee as my people, and they hear thy words, but they will not do them: for with their mouth they shew much love, but their heart goeth after their covetousness.
Isaiah 29:13 KJV
Wherefore the Lord said, Forasmuch as this people draw near me with their mouth, and with their lips do honour me, but have removed their heart far from me, and their fear toward me is taught by the precept of men:
Matthew 6:5 KJV
And when thou prayest, thou shalt not be as the hypocrites are: for they love to pray standing in the synagogues and in the corners of the streets, that they may be seen of men. Verily I say unto you, They have their reward.
1 John 3:10 KJV
In this the children of God are manifest, and the children of the devil: whosoever doeth not righteousness is not of God, neither he that loveth not his brother.
Matthew 15:7-9 KJV
Ye hypocrites, well did Esaias prophesy of you, saying, This people draweth nigh unto me with their mouth, and honoureth me with their lips; but their heart is far from me. But in vain they do worship me, teaching for doctrines the commandments of men.
Luke 6:46 KJV
And why call ye me, Lord, Lord, and do not the things which I say?
Mark 7:6 KJV
He answered and said unto them, Well hath Esaias prophesied of you hypocrites, as it is written, This people honoureth me with their lips, but their heart is far from me.
2 Peter 2:3 KJV
And through covetousness shall they with feigned words make merchandise of you: whose judgment now of a long time lingereth not, and their damnation slumbereth not.
Matthew 15:8 KJV
This people draweth nigh unto me with their mouth, and honoureth me with their lips; but their heart is far from me.
Matthew 6:16 KJV
Moreover when ye fast, be not, as the hypocrites, of a sad countenance: for they disfigure their faces, that they may appear unto men to fast. Verily I say unto you, They have their reward.
Romans 2:3 KJV
And thinkest thou this, O man, that judgest them which do such things, and doest the same, that thou shalt escape the judgment of God?
Luke 12:2 KJV
For there is nothing covered, that shall not be revealed; neither hid, that shall not be known.
James 1:22-23 KJV
But be ye doers of the word, and not hearers only, deceiving your own selves. For if any be a hearer of the word, and not a doer, he is like unto a man beholding his natural face in a glass:
Matthew 23:28 KJV
Even so ye also outwardly appear righteous unto men, but within ye are full of hypocrisy and iniquity.
Proverbs 26:23-28 KJV
Burning lips and a wicked heart are like a potsherd covered with silver dross. He that hateth dissembleth with his lips, and layeth up deceit within him; When he speaketh fair, believe him not: for there are seven abominations in his heart. Whose hatred is covered by deceit, his wickedness shall be shewed before the whole congregation. Whoso diggeth a pit shall fall therein: and he that rolleth a stone, it will return upon him. A lying tongue hateth those that are afflicted by it; and a flattering mouth worketh ruin.
Matthew 23:13 KJV
But woe unto you, scribes and Pharisees, hypocrites! for ye shut up the kingdom of heaven against men: for ye neither go in yourselves, neither suffer ye them that are entering to go in.
1 John 2:9 KJV
He that saith he is in the light, and hateth his brother, is in darkness even until now.
Matthew 27:3-5 KJV
Then Judas, which had betrayed him, when he saw that he was condemned, repented himself, and brought again the thirty pieces of silver to the chief priests and elders, Saying, I have sinned in that I have betrayed the innocent blood. And they said, What is that to us? see thou to that. And he cast down the pieces of silver in the temple, and departed, and went and hanged himself.
Matthew 23:5 KJV
But all their works they do for to be seen of men: they make broad their phylacteries, and enlarge the borders of their garments,
Isaiah 1:11-17 KJV
To what purpose is the multitude of your sacrifices unto me? saith the Lord: I am full of the burnt offerings of rams, and the fat of fed beasts; and I delight not in the blood of bullocks, or of lambs, or of he goats. When ye come to appear before me, who hath required this at your hand, to tread my courts? Bring no more vain oblations; incense is an abomination unto me; the new moons and sabbaths, the calling of assemblies, I cannot away with; it is iniquity, even the solemn meeting. Your new moons and your appointed feasts my soul hateth: they are a trouble unto me; I am weary to bear them. And when ye spread forth your hands, I will hide mine eyes from you: yea, when ye make many prayers, I will not hear: your hands are full of blood. Wash you, make you…
Matthew 16:3 KJV
And in the morning, It will be foul weather to day: for the sky is red and lowering. O ye hypocrites, ye can discern the face of the sky; but can ye not discern the signs of the times?
Ephesians 5:11 KJV
And have no fellowship with the unfruitful works of darkness, but rather reprove them.
Psalm 26:4 KJV
I have not sat with vain persons, neither will I go in with dissemblers.
Isaiah 29:15 KJV
Woe unto them that seek deep to hide their counsel from the Lord, and their works are in the dark, and they say, Who seeth us? and who knoweth us?
Matthew 22:18 KJV
But Jesus perceived their wickedness, and said, Why tempt ye me, ye hypocrites?
2 Timothy 3:5 KJV
Having a form of godliness, but denying the power thereof: from such turn away.
Daniel 11:34 KJV
Now when they shall fall, they shall be holpen with a little help: but many shall cleave to them with flatteries.
Isaiah 66:1-2 KJV
Thus saith the Lord, The heaven is my throne, and the earth is my footstool: where is the house that ye build unto me? and where is the place of my rest? For all those things hath mine hand made, and all those things have been, saith the Lord: but to this man will I look, even to him that is poor and of a contrite spirit, and trembleth at my word.
Matthew 23:15 KJV
Woe unto you, scribes and Pharisees, hypocrites! for ye compass sea and land to make one proselyte, and when he is made, ye make him twofold more the child of hell than yourselves.
Matthew 7:15 KJV
Beware of false prophets, which come to you in sheep's clothing, but inwardly they are ravening wolves.
Titus 1:16 KJV
They profess that they know God; but in works they deny him, being abominable, and disobedient, and unto every good work reprobate.
John 7:24 KJV
Judge not according to the appearance, but judge righteous judgment.
Matthew 15:1-3 KJV
Then came to Jesus scribes and Pharisees, which were of Jerusalem, saying, Why do thy disciples transgress the tradition of the elders? for they wash not their hands when they eat bread. But he answered and said unto them, Why do ye also transgress the commandment of God by your tradition?
Matthew 23:14 KJV
Woe unto you, scribes and Pharisees, hypocrites! for ye devour widows' houses, and for a pretence make long prayer: therefore ye shall receive the greater damnation.
James 2:14 KJV
What doth it profit, my brethren, though a man say he hath faith, and have not works? can faith save him?
Romans 14:1-3 KJV
Him that is weak in the faith receive ye, but not to doubtful disputations. For one believeth that he may eat all things: another, who is weak, eateth herbs. Let not him that eateth despise him that eateth not; and let not him which eateth not judge him that eateth: for God hath received him.
1 Peter 2:1 KJV
Wherefore laying aside all malice, and all guile, and hypocrisies, and envies, and all evil speakings,
1 John 2:4 KJV
He that saith, I know him, and keepeth not his commandments, is a liar, and the truth is not in him.
Luke 20:46-47 KJV
Beware of the scribes, which desire to walk in long robes, and love greetings in the markets, and the highest seats in the synagogues, and the chief rooms at feasts; Which devour widows' houses, and for a shew make long prayers: the same shall receive greater damnation.
Matthew 24:51 KJV
And shall cut him asunder, and appoint him his portion with the hypocrites: there shall be weeping and gnashing of teeth.
Matthew 12:35-37 KJV
A good man out of the good treasure of the heart bringeth forth good things: and an evil man out of the evil treasure bringeth forth evil things. But I say unto you, That every idle word that men shall speak, they shall give account thereof in the day of judgment. For by thy words thou shalt be justified, and by thy words thou shalt be condemned.
Romans 3:23-24 KJV
For all have sinned, and come short of the glory of God; Being justified freely by his grace through the redemption that is in Christ Jesus:
Luke 11:39 KJV
And the Lord said unto him, Now do ye Pharisees make clean the outside of the cup and the platter; but your inward part is full of ravening and wickedness.
Matthew 15:19 KJV
For out of the heart proceed evil thoughts, murders, adulteries, fornications, thefts, false witness, blasphemies:
Matthew 23:25 KJV
Woe unto you, scribes and Pharisees, hypocrites! for ye make clean the outside of the cup and of the platter, but within they are full of extortion and excess.
1 John 1:8-9 KJV
If we say that we have no sin, we deceive ourselves, and the truth is not in us. If we confess our sins, he is faithful and just to forgive us our sins, and to cleanse us from all unrighteousness.
James 3:17 KJV
But the wisdom that is from above is first pure, then peaceable, gentle, and easy to be intreated, full of mercy and good fruits, without partiality, and without hypocrisy.
Mark 12:15 KJV
Shall we give, or shall we not give? But he, knowing their hypocrisy, said unto them, Why tempt ye me? bring me a penny, that I may see it.
Matthew 23:3 KJV
All therefore whatsoever they bid you observe, that observe and do; but do not ye after their works: for they say, and do not.
Matthew 23:29 KJV
Woe unto you, scribes and Pharisees, hypocrites! because ye build the tombs of the prophets, and garnish the sepulchres of the righteous,
Romans 1:18-22 KJV
For the wrath of God is revealed from heaven against all ungodliness and unrighteousness of men, who hold the truth in unrighteousness; Because that which may be known of God is manifest in them; for God hath shewed it unto them. For the invisible things of him from the creation of the world are clearly seen, being understood by the things that are made, even his eternal power and Godhead; so that they are without excuse: Because that, when they knew God, they glorified him not as God, neither were thankful; but became vain in their imaginations, and their foolish heart was darkened. Professing themselves to be wise, they became fools,
Acts 5:1-2 KJV
But a certain man named Ananias, with Sapphira his wife, sold a possession, And kept back part of the price, his wife also being privy to it, and brought a certain part, and laid it at the apostles' feet.
Romans 2:1-5 KJV
Therefore thou art inexcusable, O man, whosoever thou art that judgest: for wherein thou judgest another, thou condemnest thyself; for thou that judgest doest the same things. But we are sure that the judgment of God is according to truth against them which commit such things. And thinkest thou this, O man, that judgest them which do such things, and doest the same, that thou shalt escape the judgment of God? Or despisest thou the riches of his goodness and forbearance and longsuffering; not knowing that the goodness of God leadeth thee to repentance? But after thy hardness and impenitent heart treasurest up unto thyself wrath against the day of wrath and revelation of the righteous judgment of God;
Romans 2:14-15 KJV
For when the Gentiles, which have not the law, do by nature the things contained in the law, these, having not the law, are a law unto themselves: Which shew the work of the law written in their hearts, their conscience also bearing witness, and their thoughts the mean while accusing or else excusing one another;)
Acts 5:5 KJV
And Ananias hearing these words fell down, and gave up the ghost: and great fear came on all them that heard these things.
1 Peter 1:22 KJV
Seeing ye have purified your souls in obeying the truth through the Spirit unto unfeigned love of the brethren, see that ye love one another with a pure heart fervently:
Luke 11:44 KJV
Woe unto you, scribes and Pharisees, hypocrites! for ye are as graves which appear not, and the men that walk over them are not aware of them.
Job 34:30 KJV
That the hypocrite reign not, lest the people be ensnared.
2 Corinthians 5:12 KJV
For we commend not ourselves again unto you, but give you occasion to glory on our behalf, that ye may have somewhat to answer them which glory in appearance, and not in heart.
Jeremiah 7:4 KJV
Trust ye not in lying words, saying, The temple of the Lord, The temple of the Lord, The temple of the Lord, are these.
1 Samuel 2:29-30 KJV
Wherefore kick ye at my sacrifice and at mine offering, which I have commanded in my habitation; and honourest thy sons above me, to make yourselves fat with the chiefest of all the offerings of Israel my people? Wherefore the Lord God of Israel saith, I said indeed that thy house, and the house of thy father, should walk before me for ever: but now the Lord saith, Be it far from me; for them that honour me I will honour, and they that despise me shall be lightly esteemed.
2 Thessalonians 3:6 KJV
Now we command you, brethren, in the name of our Lord Jesus Christ, that ye withdraw yourselves from every brother that walketh disorderly, and not after the tradition which he received of us.
Romans 12:9 KJV
Let love be without dissimulation. Abhor that which is evil; cleave to that which is good.
Matthew 3:9 KJV
And think not to say within yourselves, We have Abraham to our father: for I say unto you, that God is able of these stones to raise up children unto Abraham.
1 Kings 18:21 KJV
And Elijah came unto all the people, and said, How long halt ye between two opinions? if the Lord be God, follow him: but if Baal, then follow him. And the people answered him not a word.
Psalm 55:21 KJV
The words of his mouth were smoother than butter, but war was in his heart: his words were softer than oil, yet were they drawn swords.
Proverbs 11:9 KJV
An hypocrite with his mouth destroyeth his neighbour: but through knowledge shall the just be delivered.
Isaiah 58:2 KJV
Yet they seek me daily, and delight to know my ways, as a nation that did righteousness, and forsook not the ordinance of their God: they ask of me the ordinances of justice; they take delight in approaching to God.
Job 31:33 KJV
If I covered my transgressions as Adam, by hiding mine iniquity in my bosom:
Psalm 12:2 KJV
They speak vanity every one with his neighbour: with flattering lips and with a double heart do they speak.
Job 27:8 KJV
For what is the hope of the hypocrite, though he hath gained, when God taketh away his soul?
Psalm 51:6 KJV
Behold, thou desirest truth in the inward parts: and in the hidden part thou shalt make me to know wisdom.
Matthew 13:20-21 KJV
But he that received the seed into stony places, the same is he that heareth the word, and anon with joy receiveth it; Yet hath he not root in himself, but dureth for a while: for when tribulation or persecution ariseth because of the word, by and by he is offended.
Matthew 23:6-7 KJV
And love the uppermost rooms at feasts, and the chief seats in the synagogues, And greetings in the markets, and to be called of men, Rabbi, Rabbi.
Proverbs 14:8 KJV
The wisdom of the prudent is to understand his way: but the folly of fools is deceit.
Ecclesiastes 5:1-3 KJV
Keep thy foot when thou goest to the house of God, and be more ready to hear, than to give the sacrifice of fools: for they consider not that they do evil. Be not rash with thy mouth, and let not thine heart be hasty to utter any thing before God: for God is in heaven, and thou upon earth: therefore let thy words be few. For a dream cometh through the multitude of business; and a fool's voice is known by multitude of words.
Isaiah 5:21 KJV
Woe unto them that are wise in their own eyes, and prudent in their own sight!
Job 13:16 KJV
He also shall be my salvation: for an hypocrite shall not come before him.
Luke 6:42 KJV
Either how canst thou say to thy brother, Brother, let me pull out the mote that is in thine eye, when thou thyself beholdest not the beam that is in thine own eye? Thou hypocrite, cast out first the beam out of thine own eye, and then shalt thou see clearly to pull out the mote that is in thy brother's eye.
Galatians 2:13 KJV
And the other Jews dissembled likewise with him; insomuch that Barnabas also was carried away with their dissimulation.
Job 20:5 KJV
That the triumphing of the wicked is short, and the joy of the hypocrite but for a moment?
Isaiah 9:17 KJV
Therefore the Lord shall have no joy in their young men, neither shall have mercy on their fatherless and widows: for every one is an hypocrite and an evildoer, and every mouth speaketh folly. For all this his anger is not turned away, but his hand is stretched out still.
Matthew 23:33 KJV
Ye serpents, ye generation of vipers, how can ye escape the damnation of hell?
Matthew 7:3 KJV
And why beholdest thou the mote that is in thy brother's eye, but considerest not the beam that is in thine own eye?
Colossians 2:1-23 KJV
For I would that ye knew what great conflict I have for you, and for them at Laodicea, and for as many as have not seen my face in the flesh; That their hearts might be comforted, being knit together in love, and unto all riches of the full assurance of understanding, to the acknowledgement of the mystery of God, and of the Father, and of Christ; In whom are hid all the treasures of wisdom and knowledge. And this I say, lest any man should beguile you with enticing words. For though I be absent in the flesh, yet am I with you in the spirit, joying and beholding your order, and the stedfastness of your faith in Christ. As ye have therefore received Christ Jesus the Lord, so walk ye in him: Rooted and built up in him, and stablished in the faith, as ye have been taught,…
Colossians 1:1-29 KJV
Paul, an apostle of Jesus Christ by the will of God, and Timotheus our brother, To the saints and faithful brethren in Christ which are at Colosse: Grace be unto you, and peace, from God our Father and the Lord Jesus Christ. We give thanks to God and the Father of our Lord Jesus Christ, praying always for you, Since we heard of your faith in Christ Jesus, and of the love which ye have to all the saints, For the hope which is laid up for you in heaven, whereof ye heard before in the word of the truth of the gospel; Which is come unto you, as it is in all the world; and bringeth forth fruit, as it doth also in you, since the day ye heard of it, and knew the grace of God in truth: As ye also learned of Epaphras our dear fellowservant, who…
1 Corinthians 1:26-29 KJV
For ye see your calling, brethren, how that not many wise men after the flesh, not many mighty, not many noble, are called: But God hath chosen the foolish things of the world to confound the wise; and God hath chosen the weak things of the world to confound the things which are mighty; And base things of the world, and things which are despised, hath God chosen, yea, and things which are not, to bring to nought things that are: That no flesh should glory in his presence.
John 3:3 KJV
Jesus answered and said unto him, Verily, verily, I say unto thee, Except a man be born again, he cannot see the kingdom of God.
1 Corinthians 11:1-2 KJV
Be ye followers of me, even as I also am of Christ. Now I praise you, brethren, that ye remember me in all things, and keep the ordinances, as I delivered them to you.
Hebrews 10:1 KJV
For the law having a shadow of good things to come, and not the very image of the things, can never with those sacrifices which they offered year by year continually make the comers thereunto perfect.
1 Timothy 2:5 KJV
For there is one God, and one mediator between God and men, the man Christ Jesus;
Jeremiah 42:20 KJV
For ye dissembled in your hearts, when ye sent me unto the Lord your God, saying, Pray for us unto the Lord our God; and according unto all that the Lord our God shall say, so declare unto us, and we will do it.
Acts 20:28 KJV
Take heed therefore unto yourselves, and to all the flock, over the which the Holy Ghost hath made you overseers, to feed the church of God, which he hath purchased with his own blood.
Matthew 5:28 KJV
But I say unto you, That whosoever looketh on a woman to lust after her hath committed adultery with her already in his heart.
1 Corinthians 15:1-4 KJV
Moreover, brethren, I declare unto you the gospel which I preached unto you, which also ye have received, and wherein ye stand; By which also ye are saved, if ye keep in memory what I preached unto you, unless ye have believed in vain. For I delivered unto you first of all that which I also received, how that Christ died for our sins according to the scriptures; And that he was buried, and that he rose again the third day according to the scriptures:
2 Thessalonians 2:14-15 KJV
Whereunto he called you by our gospel, to the obtaining of the glory of our Lord Jesus Christ. Therefore, brethren, stand fast, and hold the traditions which ye have been taught, whether by word, or our epistle.
James 4:17 KJV
Therefore to him that knoweth to do good, and doeth it not, to him it is sin.
Job 17:8 KJV
Upright men shall be astonied at this, and the innocent shall stir up himself against the hypocrite.
2 Timothy 3:16 KJV
All scripture is given by inspiration of God, and is profitable for doctrine, for reproof, for correction, for instruction in righteousness:
Psalm 101:7 KJV
He that worketh deceit shall not dwell within my house: he that telleth lies shall not tarry in my sight.
Luke 16:15 KJV
And he said unto them, Ye are they which justify yourselves before men; but God knoweth your hearts: for that which is highly esteemed among men is abomination in the sight of God.
Matthew 6:24 KJV
No man can serve two masters: for either he will hate the one, and love the other; or else he will hold to the one, and despise the other. Ye cannot serve God and mammon.
1 John 1:6 KJV
If we say that we have fellowship with him, and walk in darkness, we lie, and do not the truth:
Psalm 50:16 KJV
But unto the wicked God saith, What hast thou to do to declare my statutes, or that thou shouldest take my covenant in thy mouth?
Jeremiah 9:4 KJV
Take ye heed every one of his neighbour, and trust ye not in any brother: for every brother will utterly supplant, and every neighbour will walk with slanders.
Romans 16:18 KJV
For they that are such serve not our Lord Jesus Christ, but their own belly; and by good words and fair speeches deceive the hearts of the simple.
Jude 16 KJV
These are murmurers, complainers, walking after their own lusts; and their mouth speaketh great swelling words, having men's persons in admiration because of advantage.
Luke 16:13 KJV
No servant can serve two masters: for either he will hate the one, and love the other; or else he will hold to the one, and despise the other. Ye cannot serve God and mammon.
Psalm 5:9 KJV
For there is no faithfulness in their mouth; their inward part is very wickedness; their throat is an open sepulchre; they flatter with their tongue.
Psalm 52:4 KJV
Thou lovest all devouring words, O thou deceitful tongue.
Amos 5:21-27 KJV
I hate, I despise your feast days, and I will not smell in your solemn assemblies. Though ye offer me burnt offerings and your meat offerings, I will not accept them: neither will I regard the peace offerings of your fat beasts. Take thou away from me the noise of thy songs; for I will not hear the melody of thy viols. But let judgment run down as waters, and righteousness as a mighty stream. Have ye offered unto me sacrifices and offerings in the wilderness forty years, O house of Israel? But ye have borne the tabernacle of your Moloch and Chiun your images, the star of your god, which ye made to yourselves. Therefore will I cause you to go into captivity beyond Damascus, saith the Lord, whose name is The God of hosts.
Proverbs 25:19 KJV
Confidence in an unfaithful man in time of trouble is like a broken tooth, and a foot out of joint.
Psalm 50:17 KJV
Seeing thou hatest instruction, and casteth my words behind thee.
2 Timothy 3:13 KJV
But evil men and seducers shall wax worse and worse, deceiving, and being deceived.
Matthew 21:28-32 KJV
But what think ye? A certain man had two sons; and he came to the first, and said, Son, go work to day in my vineyard. He answered and said, I will not: but afterward he repented, and went. And he came to the second, and said likewise. And he answered and said, I go, sir: and went not. Whether of them twain did the will of his father? They say unto him, The first. Jesus saith unto them, Verily I say unto you, That the publicans and the harlots go into the kingdom of God before you. For John came unto you in the way of righteousness, and ye believed him not: but the publicans and the harlots believed him: and ye, when ye had seen it, repented not afterward, that ye might believe him.
Micah 3:11 KJV
The heads thereof judge for reward, and the priests thereof teach for hire, and the prophets thereof divine for money: yet will they lean upon the Lord, and say, Is not the Lord among us? none evil can come upon us.
Jeremiah 7:8-10 KJV
Behold, ye trust in lying words, that cannot profit. Will ye steal, murder, and commit adultery, and swear falsely, and burn incense unto Baal, and walk after other gods whom ye know not; And come and stand before me in this house, which is called by my name, and say, We are delivered to do all these abominations?
John 8:4-9 KJV
They say unto him, Master, this woman was taken in adultery, in the very act. Now Moses in the law commanded us, that such should be stoned: but what sayest thou? This they said, tempting him, that they might have to accuse him. But Jesus stooped down, and with his finger wrote on the ground, as though he heard them not. So when they continued asking him, he lifted up himself, and said unto them, He that is without sin among you, let him first cast a stone at her. And again he stooped down, and wrote on the ground. And they which heard it, being convicted by their own conscience, went out one by one, beginning at the eldest, even unto the last: and Jesus was left alone, and the woman standing in the midst.
1 John 1:10 KJV
If we say that we have not sinned, we make him a liar, and his word is not in us.
James 4:8 KJV
Draw nigh to God, and he will draw nigh to you. Cleanse your hands, ye sinners; and purify your hearts, ye double minded.
1 John 3:17 KJV
But whoso hath this world's good, and seeth his brother have need, and shutteth up his bowels of compassion from him, how dwelleth the love of God in him?
Romans 2:13 KJV
(For not the hearers of the law are just before God, but the doers of the law shall be justified.
Luke 11:28 KJV
But he said, Yea rather, blessed are they that hear the word of God, and keep it.