Here are the top 25 most popular Bible verses in Ruth. These famous verses are the most searched, used, quoted, and most-read Bible verses in the entire book of Ruth.
See also: Most Popular Bible Verses in 1 Samuel
Ruth 1:16 KJV
And Ruth said, Intreat me not to leave thee, or to return from following after thee: for whither thou goest, I will go; and where thou lodgest, I will lodge: thy people shall be my people, and thy God my God:
Ruth 2:12 KJV
The Lord recompense thy work, and a full reward be given thee of the Lord God of Israel, under whose wings thou art come to trust.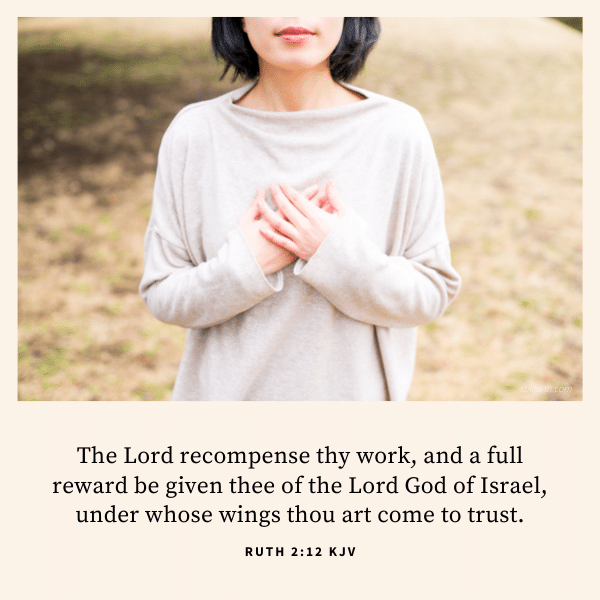 Ruth 1:1 KJV
Now it came to pass in the days when the judges ruled, that there was a famine in the land. And a certain man of Bethlehemjudah went to sojourn in the country of Moab, he, and his wife, and his two sons.
Ruth 1:12 KJV
Turn again, my daughters, go your way; for I am too old to have an husband. If I should say, I have hope, if I should have an husband also to night, and should also bear sons;
Ruth 1:14 KJV
And they lifted up their voice, and wept again: and Orpah kissed her mother in law; but Ruth clave unto her.
Ruth 1:15 KJV
And she said, Behold, thy sister in law is gone back unto her people, and unto her gods: return thou after thy sister in law.
Ruth 1:17 KJV
Where thou diest, will I die, and there will I be buried: the Lord do so to me, and more also, if ought but death part thee and me.
Ruth 1:18 KJV
When she saw that she was stedfastly minded to go with her, then she left speaking unto her.
Ruth 1:19 KJV
So they two went until they came to Bethlehem. And it came to pass, when they were come to Bethlehem, that all the city was moved about them, and they said, Is this Naomi?
Ruth 1:2 KJV
And the name of the man was Elimelech, and the name of his wife Naomi, and the name of his two sons Mahlon and Chilion, Ephrathites of Bethlehemjudah. And they came into the country of Moab, and continued there.
Ruth 1:20 KJV
And she said unto them, Call me not Naomi, call me Mara: for the Almighty hath dealt very bitterly with me.
Ruth 1:22 KJV
So Naomi returned, and Ruth the Moabitess, her daughter in law, with her, which returned out of the country of Moab: and they came to Bethlehem in the beginning of barley harvest.
Ruth 1:3 KJV
And Elimelech Naomi's husband died; and she was left, and her two sons.
Ruth 1:4 KJV
And they took them wives of the women of Moab; the name of the one was Orpah, and the name of the other Ruth: and they dwelled there about ten years.
Ruth 1:6 KJV
Then she arose with her daughters in law, that she might return from the country of Moab: for she had heard in the country of Moab how that the Lord had visited his people in giving them bread.
Ruth 1:8 KJV
And Naomi said unto her two daughters in law, Go, return each to her mother's house: the Lord deal kindly with you, as ye have dealt with the dead, and with me.
Ruth 2:1 KJV
And Naomi had a kinsman of her husband's, a mighty man of wealth, of the family of Elimelech; and his name was Boaz.
Ruth 2:10 KJV
Then she fell on her face, and bowed herself to the ground, and said unto him, Why have I found grace in thine eyes, that thou shouldest take knowledge of me, seeing I am a stranger?
Ruth 2:13 KJV
Then she said, Let me find favour in thy sight, my lord; for that thou hast comforted me, and for that thou hast spoken friendly unto thine handmaid, though I be not like unto one of thine handmaidens.
Ruth 2:14 KJV
And Boaz said unto her, At mealtime come thou hither, and eat of the bread, and dip thy morsel in the vinegar. And she sat beside the reapers: and he reached her parched corn, and she did eat, and was sufficed, and left.
Ruth 2:20 KJV
And Naomi said unto her daughter in law, Blessed be he of the Lord, who hath not left off his kindness to the living and to the dead. And Naomi said unto her, The man is near of kin unto us, one of our next kinsmen.
Ruth 2:3 KJV
And she went, and came, and gleaned in the field after the reapers: and her hap was to light on a part of the field belonging unto Boaz, who was of the kindred of Elimelech.
Ruth 2:4 KJV
And, behold, Boaz came from Bethlehem, and said unto the reapers, The Lord be with you. And they answered him, The Lord bless thee.
Ruth 3:1 KJV
Then Naomi her mother in law said unto her, My daughter, shall I not seek rest for thee, that it may be well with thee?
Ruth 3:10 KJV
And he said, Blessed be thou of the Lord, my daughter: for thou hast shewed more kindness in the latter end than at the beginning, inasmuch as thou followedst not young men, whether poor or rich.