Here are the top 25 most popular Bible verses in Habakkuk. These famous verses are the most searched, used, quoted, and most-read Bible verses in the entire book of Habakkuk.
See also: Most Popular Bible Verses in Zephaniah
Habakkuk 1:5 KJV
Behold ye among the heathen, and regard, and wonder marvelously: for I will work a work in your days which ye will not believe, though it be told you.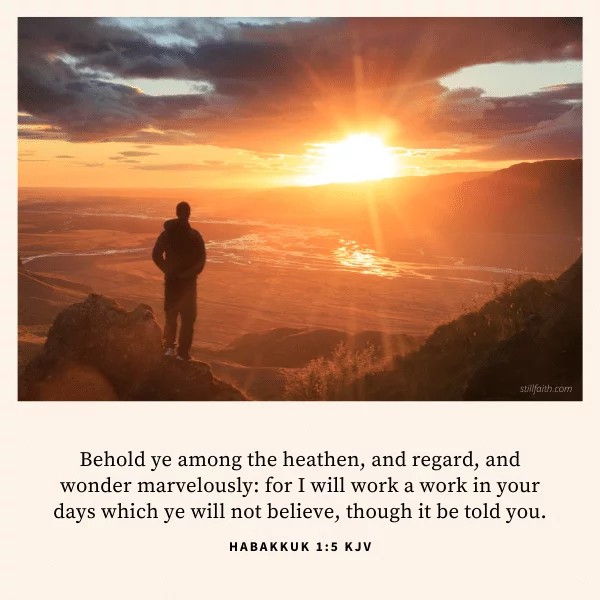 Habakkuk 2:14 KJV
For the earth shall be filled with the knowledge of the glory of the Lord, as the waters cover the sea.
Habakkuk 2:3 KJV
For the vision is yet for an appointed time, but at the end it shall speak, and not lie: though it tarry, wait for it; because it will surely come, it will not tarry.
Habakkuk 2:4 KJV
Behold, his soul which is lifted up is not upright in him: but the just shall live by his faith.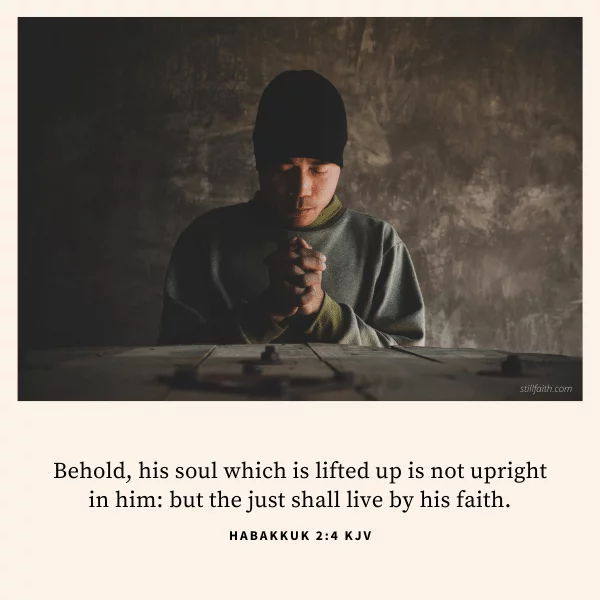 Habakkuk 3:17 KJV
Although the fig tree shall not blossom, neither shall fruit be in the vines; the labour of the olive shall fail, and the fields shall yield no meat; the flock shall be cut off from the fold, and there shall be no herd in the stalls:
Habakkuk 3:19 KJV
The Lord God is my strength, and he will make my feet like hinds' feet, and he will make me to walk upon mine high places. To the chief singer on my stringed instruments.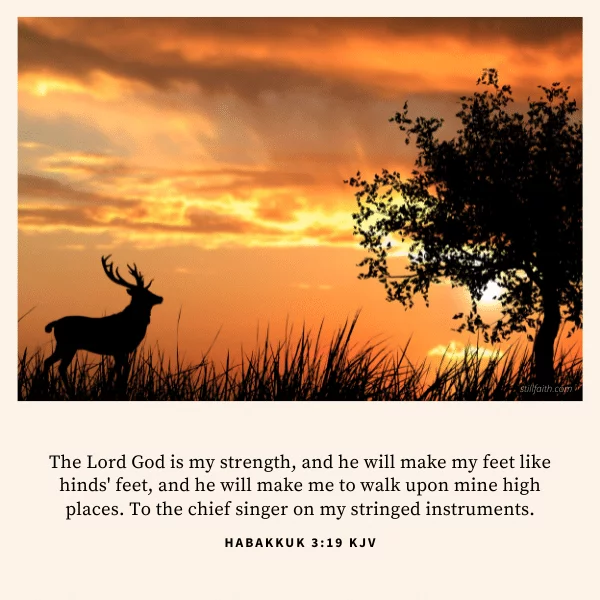 Habakkuk 1:13 KJV
Thou art of purer eyes than to behold evil, and canst not look on iniquity: wherefore lookest thou upon them that deal treacherously, and holdest thy tongue when the wicked devoureth the man that is more righteous than he?
Habakkuk 1:2 KJV
O Lord, how long shall I cry, and thou wilt not hear! even cry out unto thee of violence, and thou wilt not save!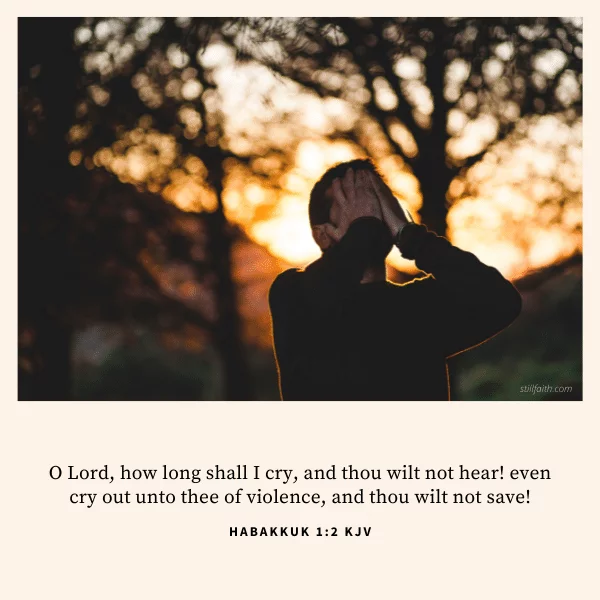 Habakkuk 1:3 KJV
Why dost thou shew me iniquity, and cause me to behold grievance? for spoiling and violence are before me: and there are that raise up strife and contention.
Habakkuk 1:4 KJV
Therefore the law is slacked, and judgment doth never go forth: for the wicked doth compass about the righteous; therefore wrong judgment proceedeth.
Habakkuk 2:1 KJV
I will stand upon my watch, and set me upon the tower, and will watch to see what he will say unto me, and what I shall answer when I am reproved.
Habakkuk 2:15 KJV
Woe unto him that giveth his neighbour drink, that puttest thy bottle to him, and makest him drunken also, that thou mayest look on their nakedness!
Habakkuk 2:20 KJV
But the Lord is in his holy temple: let all the earth keep silence before him.
Habakkuk 3:16 KJV
When I heard, my belly trembled; my lips quivered at the voice: rottenness entered into my bones, and I trembled in myself, that I might rest in the day of trouble: when he cometh up unto the people, he will invade them with his troops.
Habakkuk 3:18 KJV
Yet I will rejoice in the Lord, I will joy in the God of my salvation.
Habakkuk 3:2 KJV
O Lord, I have heard thy speech, and was afraid: O Lord, revive thy work in the midst of the years, in the midst of the years make known; in wrath remember mercy.
Habakkuk 3:3 KJV
God came from Teman, and the Holy One from mount Paran. Selah. His glory covered the heavens, and the earth was full of his praise.
Habakkuk 3:4 KJV
And his brightness was as the light; he had horns coming out of his hand: and there was the hiding of his power.
Habakkuk 1:1 KJV
The burden which Habakkuk the prophet did see.
Habakkuk 1:11 KJV
Then shall his mind change, and he shall pass over, and offend, imputing this his power unto his god.
Habakkuk 1:12 KJV
Art thou not from everlasting, O Lord my God, mine Holy One? we shall not die. O Lord, thou hast ordained them for judgment; and, O mighty God, thou hast established them for correction.
Habakkuk 1:14 KJV
And makest men as the fishes of the sea, as the creeping things, that have no ruler over them?
Habakkuk 1:17 KJV
Shall they therefore empty their net, and not spare continually to slay the nations?
Habakkuk 1:6 KJV
For, lo, I raise up the Chaldeans, that bitter and hasty nation, which shall march through the breadth of the land, to possess the dwellingplaces that are not their's.
Habakkuk 1:7 KJV
They are terrible and dreadful: their judgment and their dignity shall proceed of themselves.