Here are the 76 Bible Verses about Self-Love from the Old and New Testaments of The Holy Bible (King James Version) sorted from most to least relevant.
Related topics: Being Thankful · Generosity · Joy · Love · Self-Control
10 Best Bible Verses about Self-Love
For no man ever yet hated his own flesh; but nourisheth and cherisheth it, even as the Lord the church.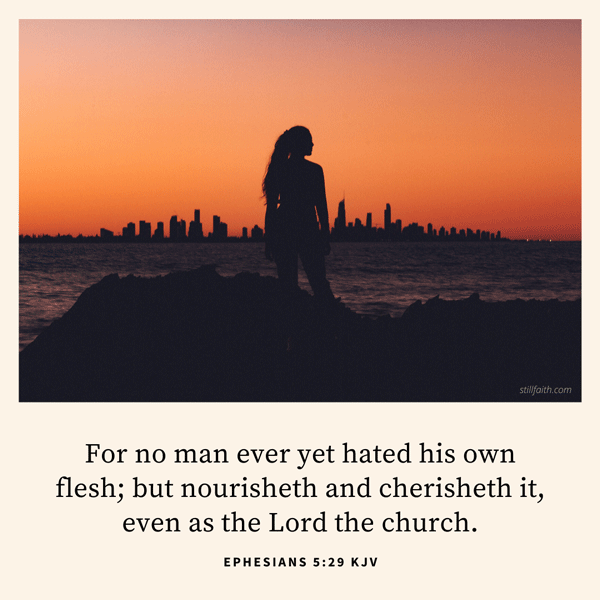 For thou hast possessed my reins: thou hast covered me in my mother's womb. I will praise thee; for I am fearfully and wonderfully made: marvellous are thy works; and that my soul knoweth right well.
This know also, that in the last days perilous times shall come. For men shall be lovers of their own selves, covetous, boasters, proud, blasphemers, disobedient to parents, unthankful, unholy, Without natural affection, trucebreakers, false accusers, incontinent, fierce, despisers of those that are good, Traitors, heady, highminded, lovers of pleasures more than lovers of God; Having a form of godliness, but denying the power thereof: from such turn away.
Jesus said unto him, Thou shalt love the Lord thy God with all thy heart, and with all thy soul, and with all thy mind. This is the first and great commandment. And the second is like unto it, Thou shalt love thy neighbour as thyself.
And the second is like, namely this, Thou shalt love thy neighbour as thyself. There is none other commandment greater than these.
Let nothing be done through strife or vainglory; but in lowliness of mind let each esteem other better than themselves.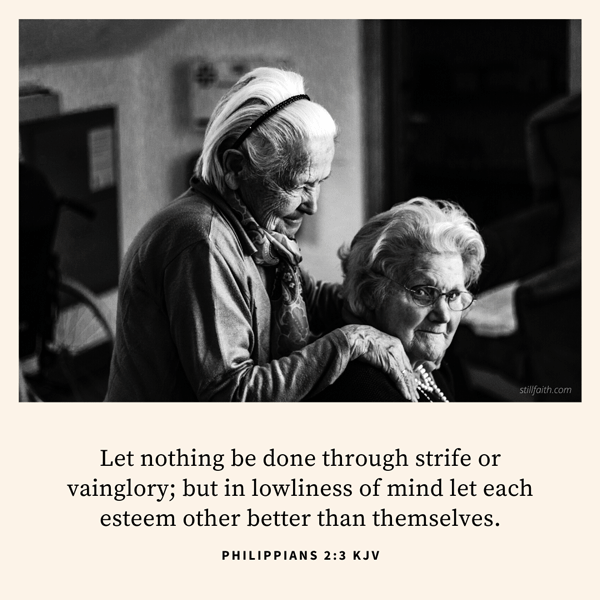 This is my commandment, That ye love one another, as I have loved you.
But God commendeth his love toward us, in that, while we were yet sinners, Christ died for us.
Keep thy heart with all diligence; for out of it are the issues of life.
I am crucified with Christ: nevertheless I live; yet not I, but Christ liveth in me: and the life which I now live in the flesh I live by the faith of the Son of God, who loved me, and gave himself for me.
More Bible Verses about Self-Love
For God hath not given us the spirit of fear; but of power, and of love, and of a sound mind.
Favour is deceitful, and beauty is vain: but a woman that feareth the Lord, she shall be praised.
But even the very hairs of your head are all numbered. Fear not therefore: ye are of more value than many sparrows.
There is no fear in love; but perfect love casteth out fear: because fear hath torment. He that feareth is not made perfect in love. We love him, because he first loved us. If a man say, I love God, and hateth his brother, he is a liar: for he that loveth not his brother whom he hath seen, how can he love God whom he hath not seen? And this commandment have we from him, That he who loveth God love his brother also.
Now the Spirit speaketh expressly, that in the latter times some shall depart from the faith, giving heed to seducing spirits, and doctrines of devils.
And above all these things put on charity, which is the bond of perfectness.
I can do all things through Christ which strengtheneth me.
I can of mine own self do nothing: as I hear, I judge: and my judgment is just; because I seek not mine own will, but the will of the Father which hath sent me.
Then said Jesus unto his disciples, If any man will come after me, let him deny himself, and take up his cross, and follow me. For whosoever will save his life shall lose it: and whosoever will lose his life for my sake shall find it.
For I say, through the grace given unto me, to every man that is among you, not to think of himself more highly than he ought to think; but to think soberly, according as God hath dealt to every man the measure of faith.
And above all things have fervent charity among yourselves: for charity shall cover the multitude of sins.
Husbands, love your wives, even as Christ also loved the church, and gave himself for it.
For we dare not make ourselves of the number, or compare ourselves with some that commend themselves: but they measuring themselves by themselves, and comparing themselves among themselves, are not wise.
Let love be without dissimulation. Abhor that which is evil; cleave to that which is good.
Nevertheless let every one of you in particular so love his wife even as himself; and the wife see that she reverence her husband.
With all lowliness and meekness, with longsuffering, forbearing one another in love.
For we are his workmanship, created in Christ Jesus unto good works, which God hath before ordained that we should walk in them.For we are his workmanship, created in Christ Jesus unto good works, which God hath before ordained that we should walk in them.
Therefore if any man be in Christ, he is a new creature: old things are passed away; behold, all things are become new.
Come unto me, all ye that labour and are heavy laden, and I will give you rest. Take my yoke upon you, and learn of me; for I am meek and lowly in heart: and ye shall find rest unto your souls. For my yoke is easy, and my burden is light.
Hatred stirreth up strifes: but love covereth all sins.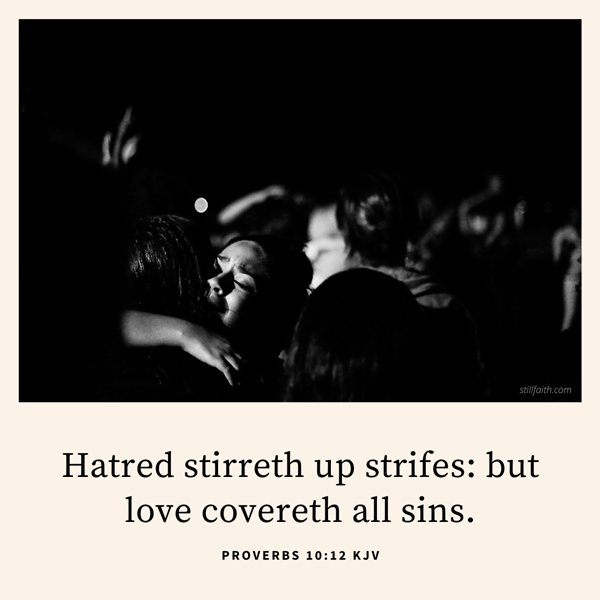 Behold, what manner of love the Father hath bestowed upon us, that we should be called the sons of God: therefore the world knoweth us not, because it knew him not.
Behold, I was shapen in iniquity; and in sin did my mother conceive me.
Put on therefore, as the elect of God, holy and beloved, bowels of mercies, kindness, humbleness of mind, meekness, longsuffering.
But we all, with open face beholding as in a glass the glory of the Lord, are changed into the same image from glory to glory, even as by the Spirit of the Lord.
For all have sinned, and come short of the glory of God.
For I know the thoughts that I think toward you, saith the Lord, thoughts of peace, and not of evil, to give you an expected end.
Forasmuch as ye know that ye were not redeemed with corruptible things, as silver and gold, from your vain conversation received by tradition from your fathers; But with the precious blood of Christ, as of a lamb without blemish and without spot.
For godly sorrow worketh repentance to salvation not to be repented of: but the sorrow of the world worketh death.
Let no man seek his own, but every man another's wealth.
But put ye on the Lord Jesus Christ, and make not provision for the flesh, to fulfil the lusts thereof.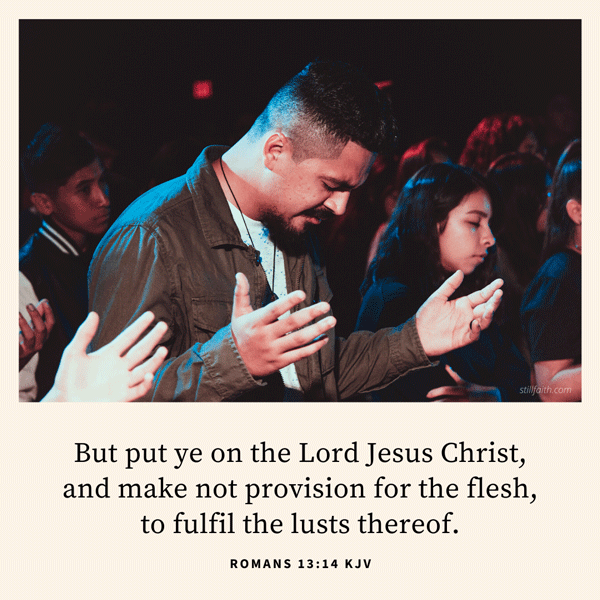 Dearly beloved, I beseech you as strangers and pilgrims, abstain from fleshly lusts, which war against the soul.
Looking diligently lest any man fail of the grace of God; lest any root of bitterness springing up trouble you, and thereby many be defiled.
Brethren, I count not myself to have apprehended: but this one thing I do, forgetting those things which are behind, and reaching forth unto those things which are before, I press toward the mark for the prize of the high calling of God in Christ Jesus.
According as he hath chosen us in him before the foundation of the world, that we should be holy and without blame before him in love.
Fear thou not; for I am with thee: be not dismayed; for I am thy God: I will strengthen thee; yea, I will help thee; yea, I will uphold thee with the right hand of my righteousness.
Being confident of this very thing, that he which hath begun a good work in you will perform it until the day of Jesus Christ.
And he said unto me, My grace is sufficient for thee: for my strength is made perfect in weakness. Most gladly therefore will I rather glory in my infirmities, that the power of Christ may rest upon me. Therefore I take pleasure in infirmities, in reproaches, in necessities, in persecutions, in distresses for Christ's sake: for when I am weak, then am I strong.
But by the grace of God I am what I am: and his grace which was bestowed upon me was not in vain; but I laboured more abundantly than they all: yet not I, but the grace of God which was with me.
For ye are bought with a price: therefore glorify God in your body, and in your spirit, which are God's.
A new commandment I give unto you, That ye love one another; as I have loved you, that ye also love one another. By this shall all men know that ye are my disciples, if ye have love one to another.
Let not mercy and truth forsake thee: bind them about thy neck; write them upon the table of thine heart: So shalt thou find favour and good understanding in the sight of God and man.
If ye fulfil the royal law according to the scripture, Thou shalt love thy neighbour as thyself, ye do well.
Let us therefore come boldly unto the throne of grace, that we may obtain mercy, and find grace to help in time of need.
Submitting yourselves one to another in the fear of God.
Let us not be desirous of vain glory, provoking one another, envying one another.
But unto them that are contentious, and do not obey the truth, but obey unrighteousness, indignation and wrath.
He that loveth his life shall lose it; and he that hateth his life in this world shall keep it unto life eternal.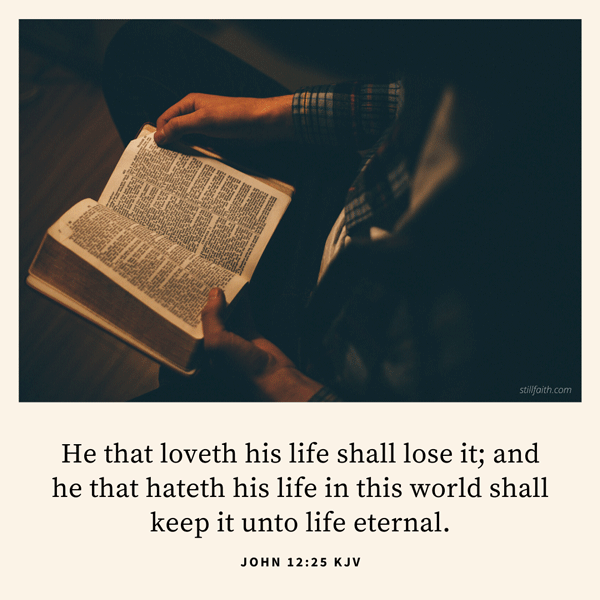 But ye are a chosen generation, a royal priesthood, an holy nation, a peculiar people; that ye should shew forth the praises of him who hath called you out of darkness into his marvellous light.
This is a faithful saying, and worthy of all acceptation, that Christ Jesus came into the world to save sinners; of whom I am chief.
For if a man think himself to be something, when he is nothing, he deceiveth himself. But let every man prove his own work, and then shall he have rejoicing in himself alone, and not in another.
For his letters, say they, are weighty and powerful; but his bodily presence is weak, and his speech contemptible.
Let all your things be done with charity.
But with me it is a very small thing that I should be judged of you, or of man's judgment: yea, I judge not mine own self. For I know nothing by myself; yet am I not hereby justified: but he that judgeth me is the Lord. Therefore judge nothing before the time, until the Lord come, who both will bring to light the hidden things of darkness, and will make manifest the counsels of the hearts: and then shall every man have praise of God.
Owe no man any thing, but to love one another: for he that loveth another hath fulfilled the law.
Since thou wast precious in my sight, thou hast been honourable, and I have loved thee: therefore will I give men for thee, and people for thy life.
Have not I commanded thee? Be strong and of a good courage; be not afraid, neither be thou dismayed: for the Lord thy God is with thee whithersoever thou goest.
No man hath seen God at any time. If we love one another, God dwelleth in us, and his love is perfected in us.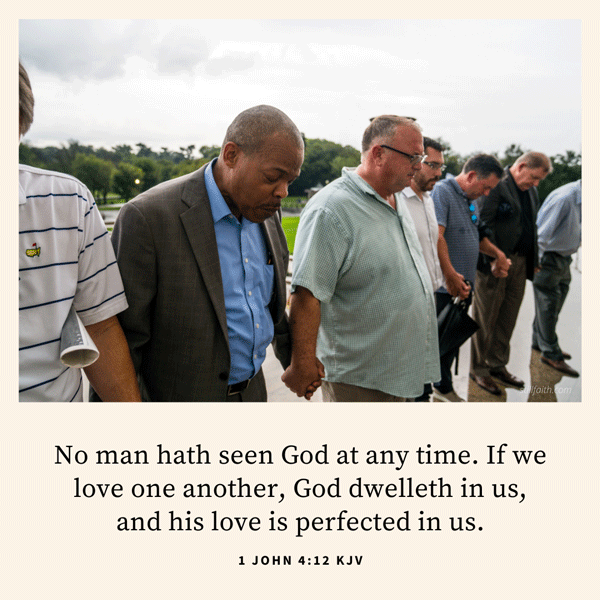 But God, who is rich in mercy, for his great love wherewith he loved us, Even when we were dead in sins, hath quickened us together with Christ, (by grace ye are saved;)
God is in the midst of her; she shall not be moved: God shall help her, and that right early.
Strength and honour are her clothing; and she shall rejoice in time to come.
My soul, wait thou only upon God; for my expectation is from him. He only is my rock and my salvation: he is my defence; I shall not be moved.
Thou shalt not avenge, nor bear any grudge against the children of thy people, but thou shalt love thy neighbour as thyself: I am the Lord.
He that loveth not knoweth not God; for God is love.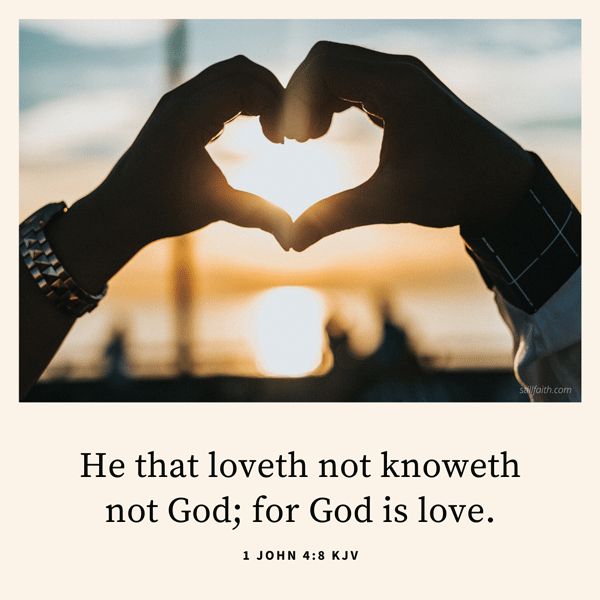 He that getteth wisdom loveth his own soul: he that keepeth understanding shall find good.
How excellent is thy lovingkindness, O God! therefore the children of men put their trust under the shadow of thy wings.
Therefore all things whatsoever ye would that men should do to you, do ye even so to them: for this is the law and the prophets.