Here are the top 25 most popular Bible verses in Ezra. These famous verses are the most searched, used, quoted, and most-read Bible verses in the entire book of Ezra.
See also: Most Popular Bible Verses in Nehemiah
Ezra 10:4 KJV
Arise; for this matter belongeth unto thee: we also will be with thee: be of good courage, and do it.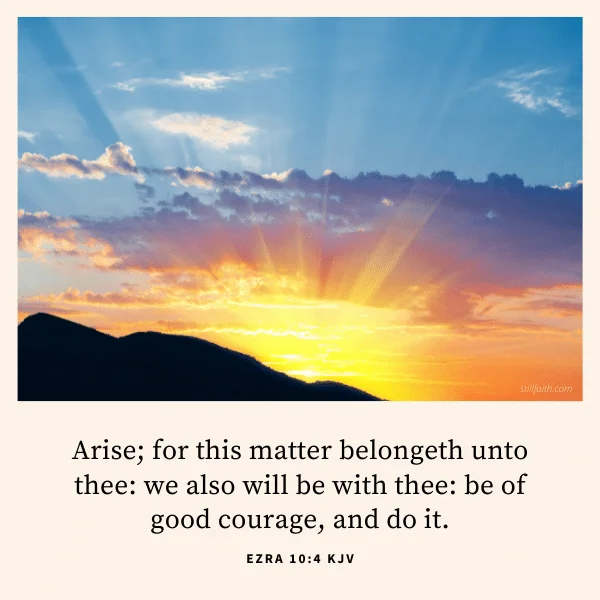 Ezra 1:1 KJV
Now in the first year of Cyrus king of Persia, that the word of the Lord by the mouth of Jeremiah might be fulfilled, the Lord stirred up the spirit of Cyrus king of Persia, that he made a proclamation throughout all his kingdom, and put it also in writing, saying,
Ezra 3:11 KJV
And they sang together by course in praising and giving thanks unto the Lord; because he is good, for his mercy endureth for ever toward Israel. And all the people shouted with a great shout, when they praised the Lord, because the foundation of the house of the Lord was laid.
Ezra 7:10 KJV
For Ezra had prepared his heart to seek the law of the Lord, and to do it, and to teach in Israel statutes and judgments.
Ezra 8:21 KJV
Then I proclaimed a fast there, at the river of Ahava, that we might afflict ourselves before our God, to seek of him a right way for us, and for our little ones, and for all our substance.
Ezra 8:22 KJV
For I was ashamed to require of the king a band of soldiers and horsemen to help us against the enemy in the way: because we had spoken unto the king, saying, The hand of our God is upon all them for good that seek him; but his power and his wrath is against all them that forsake him.
Ezra 8:23 KJV
So we fasted and besought our God for this: and he was intreated of us.
Ezra 9:10 KJV
And now, O our God, what shall we say after this? for we have forsaken thy commandments,
Ezra 1:10 KJV
Thirty basons of gold, silver basons of a second sort four hundred and ten, and other vessels a thousand.
Ezra 1:11 KJV
All the vessels of gold and of silver were five thousand and four hundred. All these did Sheshbazzar bring up with them of the captivity that were brought up from Babylon unto Jerusalem.
Ezra 1:2 KJV
Thus saith Cyrus king of Persia, The Lord God of heaven hath given me all the kingdoms of the earth; and he hath charged me to build him an house at Jerusalem, which is in Judah.
Ezra 1:3 KJV
Who is there among you of all his people? his God be with him, and let him go up to Jerusalem, which is in Judah, and build the house of the Lord God of Israel, (he is the God,) which is in Jerusalem.
Ezra 1:5 KJV
Then rose up the chief of the fathers of Judah and Benjamin, and the priests, and the Levites, with all them whose spirit God had raised, to go up to build the house of the Lord which is in Jerusalem.
Ezra 1:6 KJV
And all they that were about them strengthened their hands with vessels of silver, with gold, with goods, and with beasts, and with precious things, beside all that was willingly offered.
Ezra 1:7 KJV
Also Cyrus the king brought forth the vessels of the house of the Lord, which Nebuchadnezzar had brought forth out of Jerusalem, and had put them in the house of his gods;
Ezra 1:8 KJV
Even those did Cyrus king of Persia bring forth by the hand of Mithredath the treasurer, and numbered them unto Sheshbazzar, the prince of Judah.
Ezra 10:1 KJV
Now when Ezra had prayed, and when he had confessed, weeping and casting himself down before the house of God, there assembled unto him out of Israel a very great congregation of men and women and children: for the people wept very sore.
Ezra 10:10 KJV
And Ezra the priest stood up, and said unto them, Ye have transgressed, and have taken strange wives, to increase the trespass of Israel.
Ezra 10:11 KJV
Now therefore make confession unto the Lord God of your fathers, and do his pleasure: and separate yourselves from the people of the land, and from the strange wives.
Ezra 10:13 KJV
But the people are many, and it is a time of much rain, and we are not able to stand without, neither is this a work of one day or two: for we are many that have transgressed in this thing.
Ezra 10:19 KJV
And they gave their hands that they would put away their wives; and being guilty, they offered a ram of the flock for their trespass.
Ezra 10:2 KJV
And Shechaniah the son of Jehiel, one of the sons of Elam, answered and said unto Ezra, We have trespassed against our God, and have taken strange wives of the people of the land: yet now there is hope in Israel concerning this thing.
Ezra 10:3 KJV
Now therefore let us make a covenant with our God to put away all the wives, and such as are born of them, according to the counsel of my lord, and of those that tremble at the commandment of our God; and let it be done according to the law.
Ezra 10:6 KJV
Then Ezra rose up from before the house of God, and went into the chamber of Johanan the son of Eliashib: and when he came thither, he did eat no bread, nor drink water: for he mourned because of the transgression of them that had been carried away.
Ezra 2:1 KJV
Now these are the children of the province that went up out of the captivity, of those which had been carried away, whom Nebuchadnezzar the king of Babylon had carried away unto Babylon, and came again unto Jerusalem and Judah, every one unto his city;